[Update]: This article was updated on September 13, 2021.
Creating and adding your email signature to Apple Mail (or Mac Mail, whichever name you like more) should be as easy as possible. Is it, though? If you've ever had any problem with setting up your email signature in Apple Mail, this guide is for you. I'll show you how to create an email signature with a free email signature generator and how to add it to the Apple's native email client.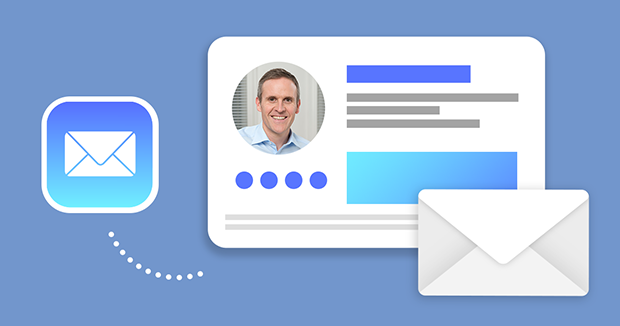 How to add an HTML email signature in Apple Mail – the easy way
[UPDATE]: We've updated our free email signature generator with a dedicated option for Apple Mail. There's no longer any need to browse through the file system or paste HTML code directly into text files. You're welcome.
To set up a professional email signature in Apple Mail, follow this short instruction:
Before you begin, a word of warning. If possible, don't use the email signature generator with the Safari browser. I don't want to point fingers, but this browser has the tendency of adding unnecessary formatting to signatures. So, unless you want to give a slight Picasso vibe with an abstract signature formatting, use another browser, or proceed at your own risk.
Go to the signature generator, choose Apple Mail and follow the intuitive interface to create your own email signature. When in doubt, you can always refer to the user's manual. When the email signature preview on the right looks great, click Apply your signature.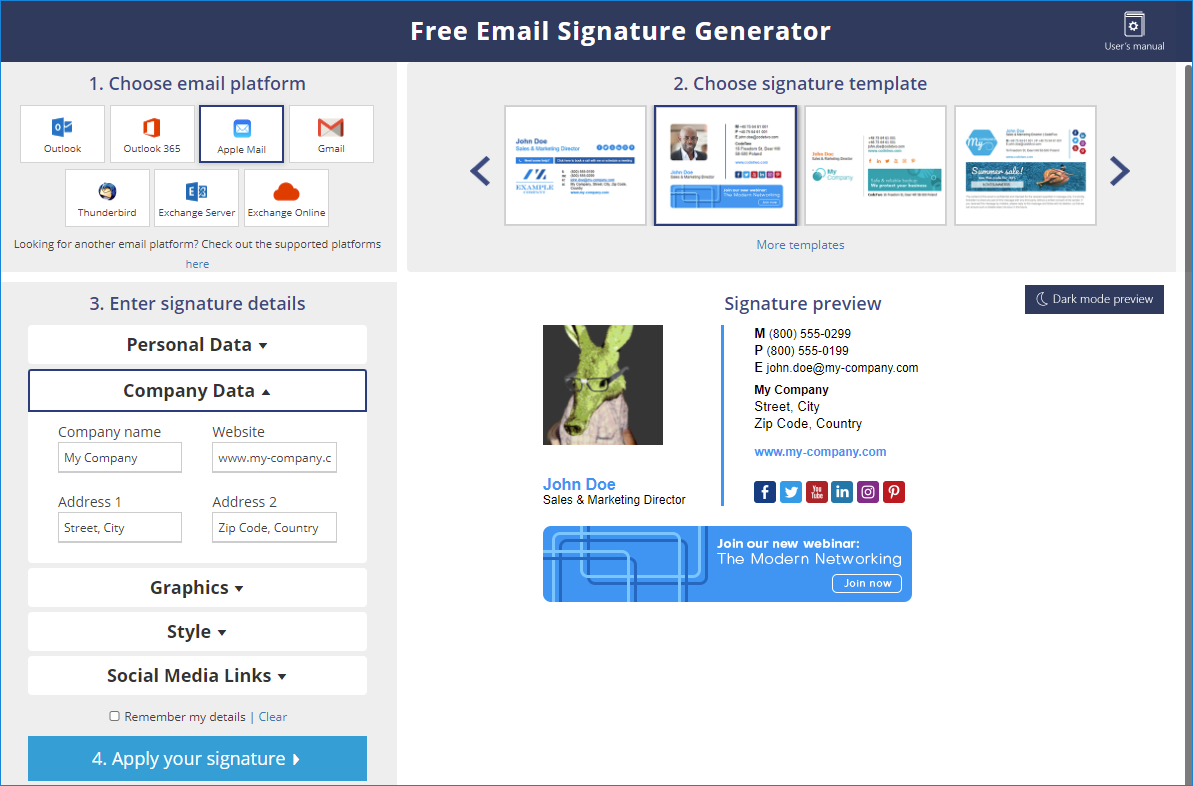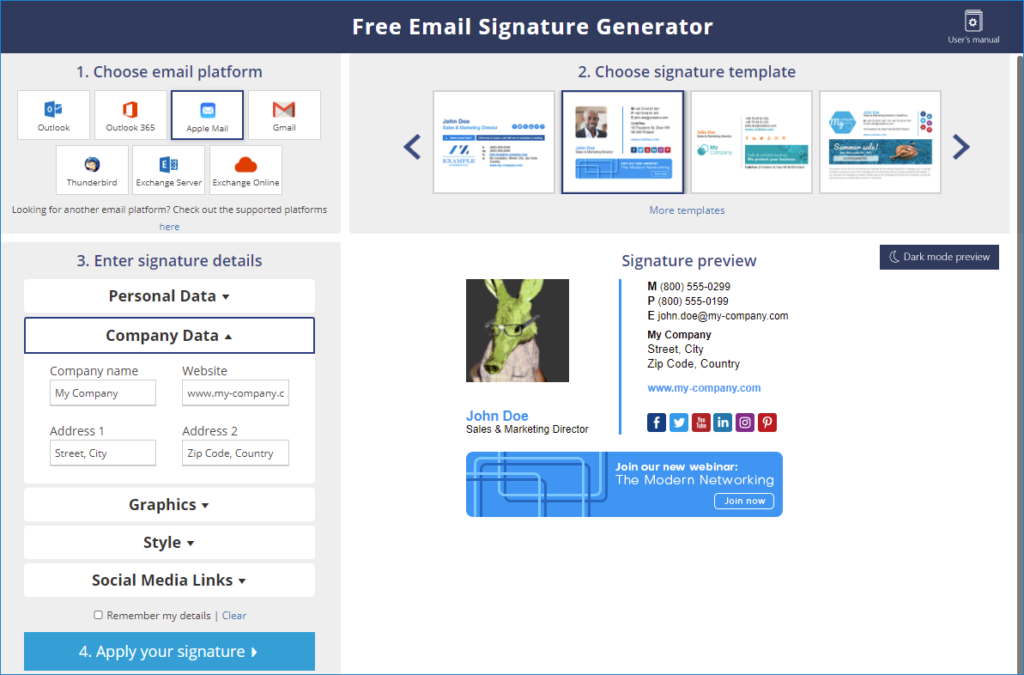 Next, Copy your signature to the clipboard.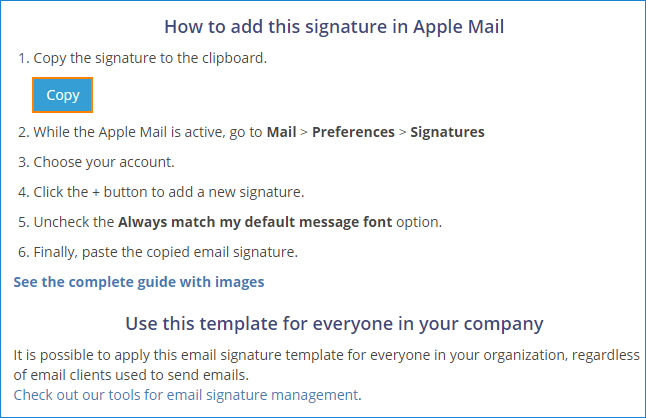 Start Apple Mail.

Then, go to Mail > Preferences > Signatures.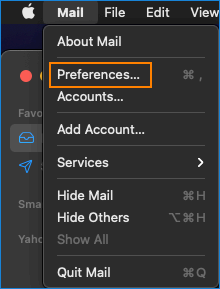 Before you proceed with anything else, switch from All signatures to your email account (1), add a new email signature with the + button (2) and uncheck the Always match my default message font option (3). If you don't do it, the signature probably won't turn out right. Next, paste the signature you have copied earlier (4) and (optionally) select it as the default one (5). Note that the signature won't look right in the Apple Mail's editor at this point – don't worry about that.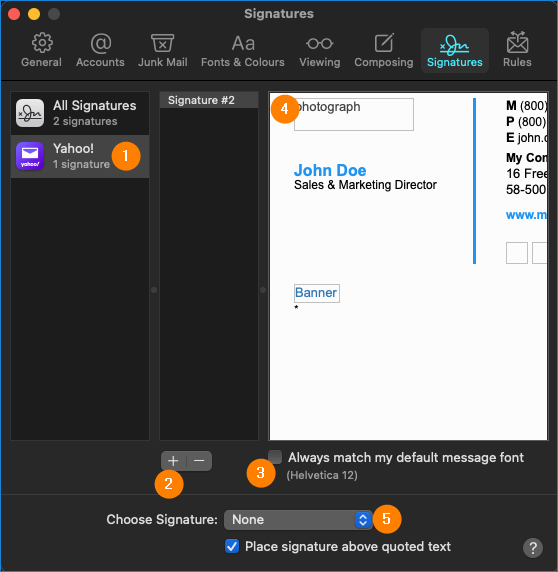 When you compose a new email, the signature should be there with all the formatting and images displayed correctly (even if they were missing in the signature editor).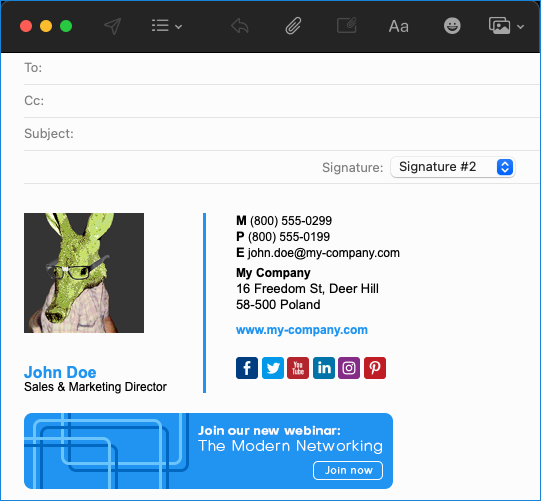 That wasn't so hard, was it?
Now you have a professional email signature in your Apple Mail client. But what if you want everyone in your company to get a similar signature? You could rinse and repeat the whole procedure for everyone, but it might take you ages to complete such a task. Especially, if some users use more than one email client. That's why I saved the best method for last.
---
Organization-wide email signature management (the easiest way)
If your company uses Microsoft 365 or Exchange Server as the email platform, you can manage email signatures for everyone, the smart way. No matter what email clients are used, no matter how many users there are, you can deploy signatures to everyone in a matter of minutes. Whether it's Apple Mail, Outlook for iOS, or any other client used on any other device, email signature management tools let you provide instant updates to the signatures in your company.
CodeTwo Email Signatures 365 – the #1 email signature solution for Microsoft 365 tenants. With this flexible web-based email signature service, you can manage your Microsoft 365 signatures easily from any device. It can be integrated with web analytics tools, CSAT survey tools and meeting scheduling solutions, and it is the first among competition to use the newest technologies to help you manage your branding effectively.
CodeTwo Exchange Rules – the best signature solution if you use Exchange Server. It lets you change a simple email signature into an effective marketing channel.
And if you want to do much more than just manage email signatures, it includes a Pro variant which gives you full control over your mail flow.
Read more