Creating and adding your email signature to Apple Mail should be as easy as possible. Is it, though? If you've ever had any problem with setting up your email signature in Apple Mail, this guide is for you. I'll show you how to create an email signature with a free email signature generator and how to add it to the Apple's native email client.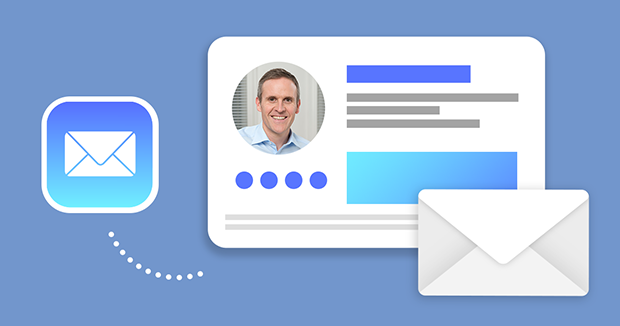 How to add an HTML email signature in Apple Mail – the easy way
To set up a professional email signature in Apple Mail, follow this short instruction:
Before you begin, a word of warning. If possible, don't use the email signature generator with the Safari browser. I don't want to point fingers, but this browser has the tendency of adding unnecessary formatting to signatures. So, unless you want to give a slight Picasso vibe with an abstract signature formatting, use another browser, or proceed at your own risk.
Go to the signature generator, leave the default email client (Outlook) and follow the intuitive interface to create your own email signature. When in doubt, you can always refer to the user's manual. When the email signature preview on the right looks great, click Apply your signature.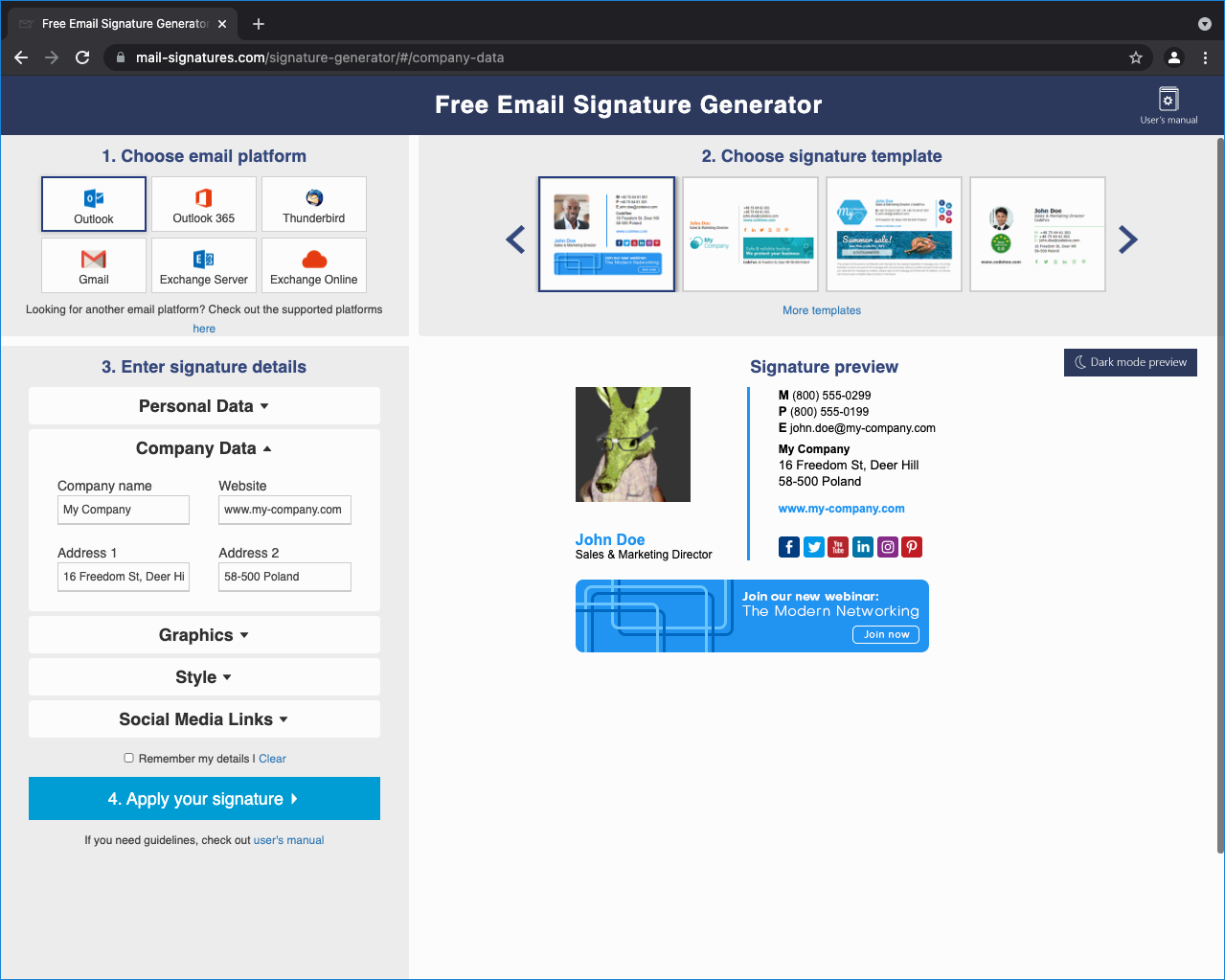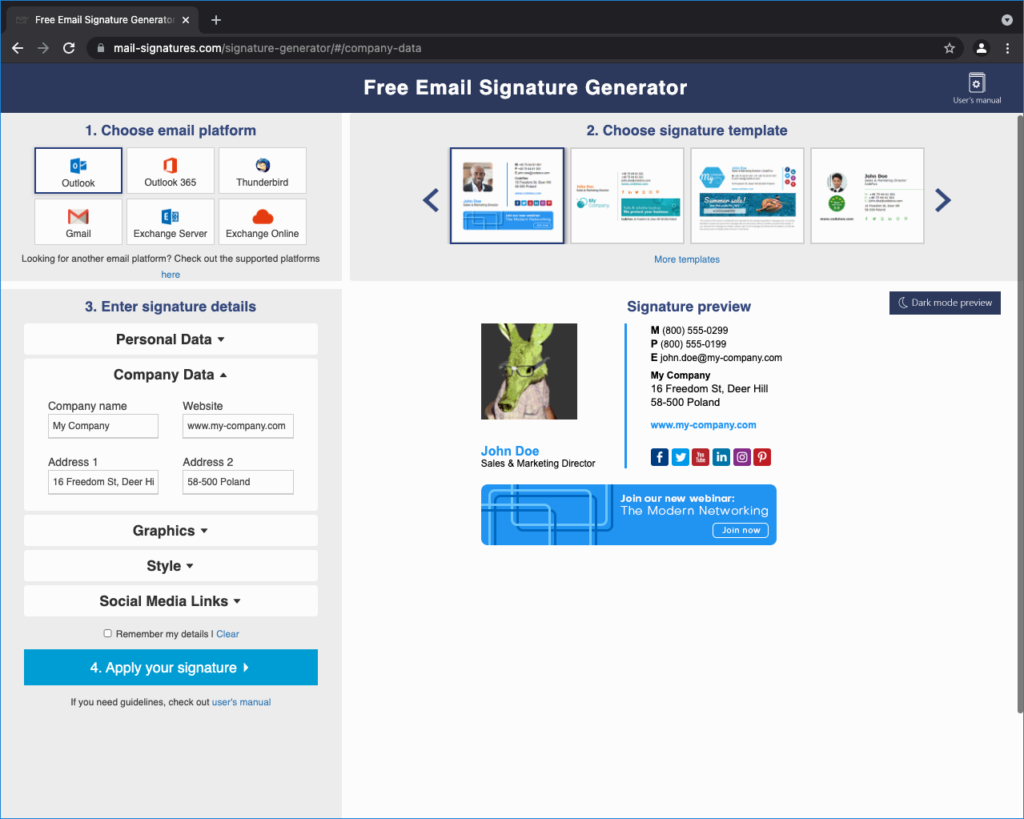 Next, Copy your signature to the clipboard.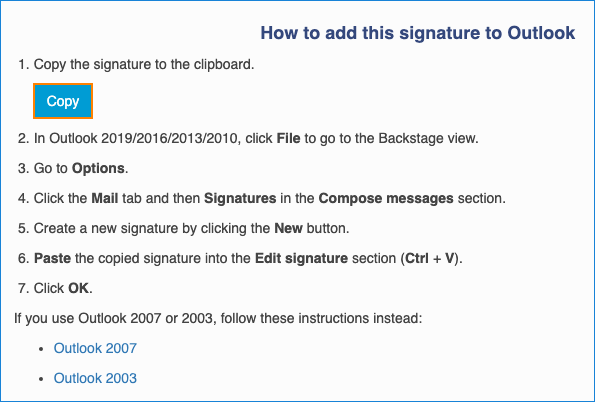 Start your Mail App.

Then, in Mac Mail, go to Mail > Preferences > Signatures.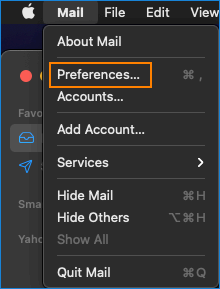 Before you proceed with anything else, switch from All signatures to your email account (1), add a new email signature with the + button (2) and uncheck the Always match my default message font option (3). If you don't do it, the signature probably won't turn out right. Next, paste the signature you have copied earlier (4) and (optionally) select it as the default one (5). The signature won't look right in the Apple Mail's editor at this point.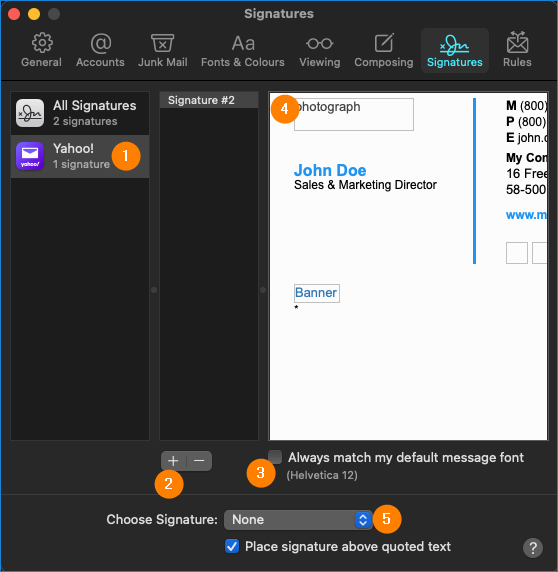 When you compose a new email, the signature should be there with all the formatting and images displayed correctly (even if they were missing in the signature editor).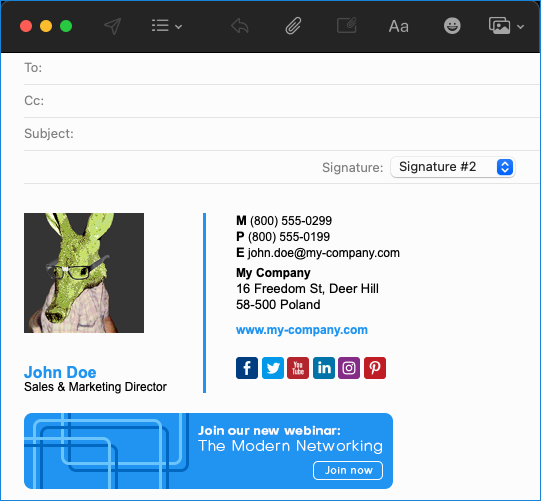 Not so hard, was it?
How to add an HTML email signature in Apple Mail – the hard way
This method is not that hard, but definitely takes more time than the previous one. You might wonder why would anyone want to choose the hard way when the first method is so easy and works well?
I might have failed to mention one tiny detail. If you use the easy way, your email signature will not be entirely dark mode friendly: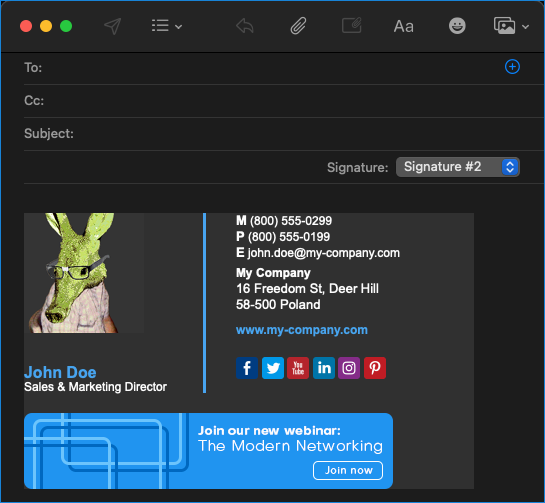 While dark mode in Apple Mail isn't the most reliable and tends to behave unexpectedly (whenever I open any email for the second time, the background magically becomes white), you can set up your signature to be completely dark mode friendly. The method described below is also a fallback option if you can't set up your HTML email signature the easy way, whatever the reason.
In the email signature generator, follow the same steps you would follow in the easy way. But instead of Outlook, choose Thunderbird as your email platform. When you click Apply your signature, you will be able to Generate the HTML code of your signature. Highlight and copy everything starting from <BODY to </BODY> (included). Copy it to the clipboard or a text file: you will need it later.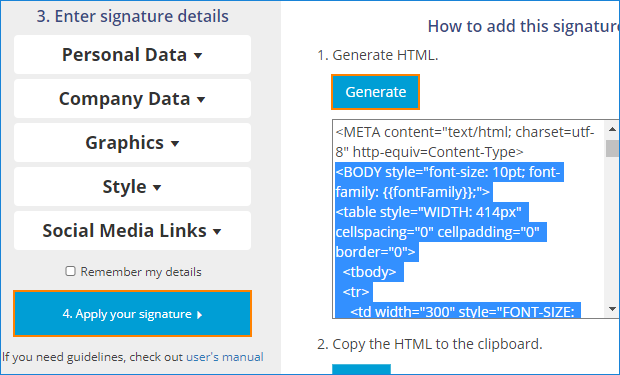 Then, launch your Apple Mail and go to Mail > Preferences.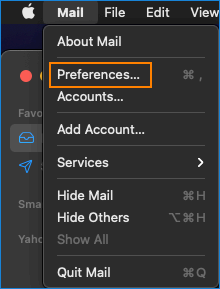 On the Signatures tab, select your email account in the leftmost column, add a new email signature using the + button and close the Mail App.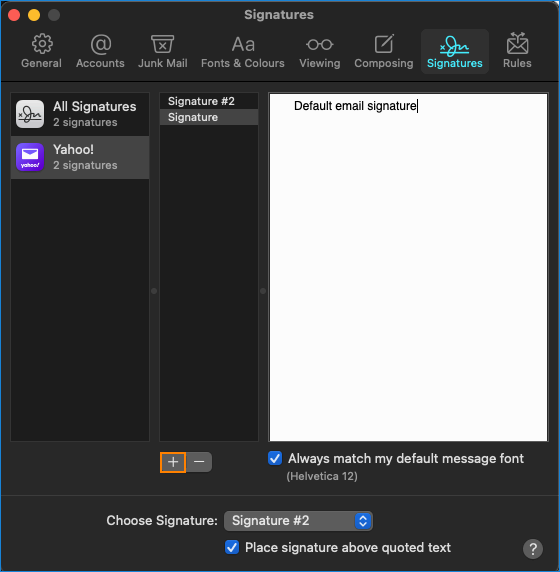 You may ask, "What about the signature?". It needs to be added in a completely different way. Now comes the hard part. Click your Finder app.

Click the Go menu, hold your Command key and click Library. Remember that this directory will be hidden unless you hold the Command key.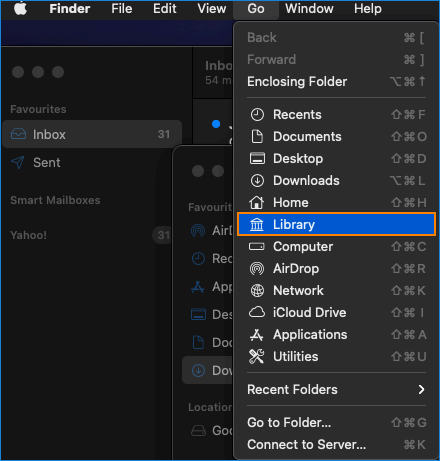 Go to Mail > V8 > Mail Data > Signatures (the V8 folder can have a different number). In this folder, take a look at the Date Modified values and find the most recent file, ignoring the AllSignatures.plist and AccountsMap.plist ones. Your file will have a long ID and the .mailsignature extension. Right-click this file (or ctrl+click if you are the owner of a one-button mouse) to bring out the context menu. Choose Open With > Text Edit (the Notepad of Apple users).

Now, you need to delete everything below the line which starts with Mime-Version. Everything in the orange frame below should be deleted. Then, paste the HTML code from step 1.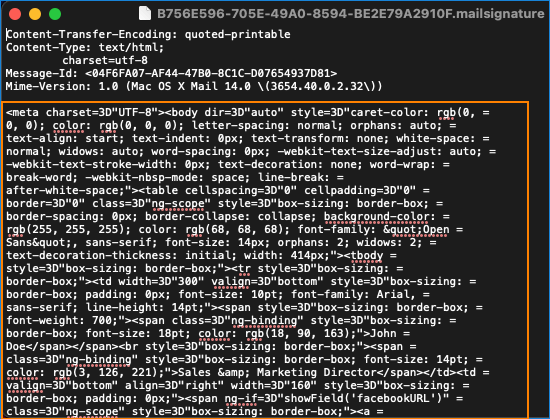 After you paste the HTML code, go to File > Save and close TextEdit.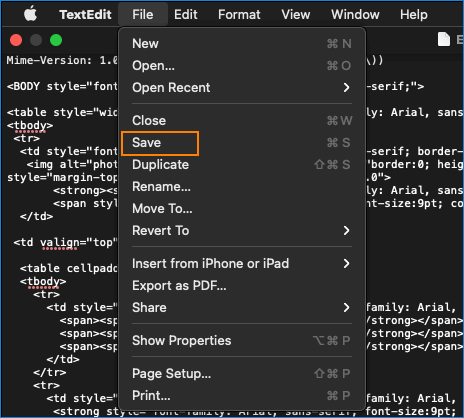 The next time you compose an email, you should be able to pick the new dark mode friendly email signature.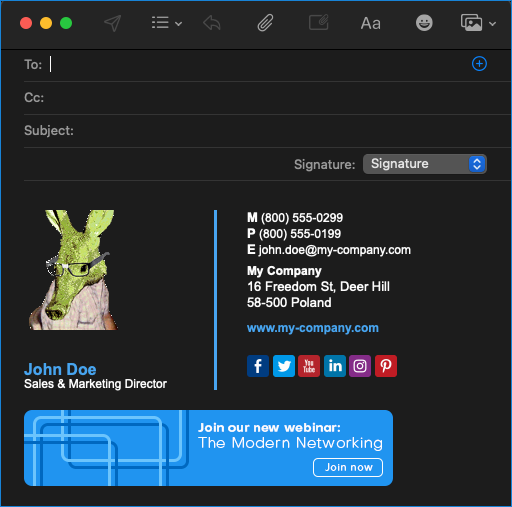 Now you have a professional email signature in your Apple Mail client. But what if you wanted everyone in your company to get such a footer? You could rinse and repeat the whole procedure for everyone, but it will take a lot of time. Especially, if some users use more than one email client. That's why I saved the best method for last.
Organization-wide email signature management (the easiest way)
If your company uses Microsoft 365 or Exchange Server as the email platform, you can manage email signatures for everyone, the smart way. No matter what email clients are used, no matter how many users there are, you can deploy signatures to everyone in a matter of minutes. Whether it's Apple Mail, Outlook for iOS, or any other client used on any other device, email signature management tools let you provide instant updates to the signatures in your company.
CodeTwo Email Signatures for Office 365 – the #1 email signature solution for Microsoft 365 tenants. With this flexible web-based email signature service, you can manage your Microsoft 365 signatures easily from any device. It can be integrated with web analytics tools, CSAT survey tools and meeting scheduling solutions, and it is the first among competition to use the newest technologies to help you manage your branding effectively.
CodeTwo Exchange Rules – the best signature solution if you use Exchange Server. It lets you change a simple email signature into an effective marketing channel.
And if you want to do much more than just manage email signatures, it includes a Pro variant which gives you full control over your mail flow.
Read more