Nowadays, more and more people check email on their mobile devices rather than desktops.1 Also, according to the latest data, iOS is currently the second most popular mobile operating system in the world.2 If you connect these two facts, you are very likely to conclude that your emails are read on iOS every day.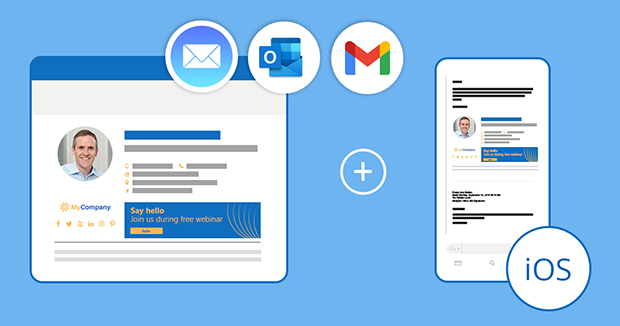 It's a known fact (at least to industry insiders) that email clients may take some liberties when displaying your messages. In other words, your message may look different depending on which app your recipient uses to read it. To make things more complex, apps on mobile devices are even more prone to cause problems, especially with regard to multimedia content.
So, if you already use or plan to use an email signature template from mail-signatures.com, and wonder if you can expect any issues when your recipients open your emails on iPhone devices, read on to get more details. You'll also find helpful information if you plan to send emails stamped with a signature directly from your iPhone.
Focus on your recipients
Try to put yourself in your recipients' shoes. In this section, I discuss potential issues related to receiving emails with signatures in the most popular email clients for iOS.
1:1 layout
If you devote your precious time to design a signature, you most probably want your recipient to view it as intended by you. Any potential deviations from the original appearance are unwelcome.
In this respect, there is no clear leader. During my tests, Outlook for iOS generally presented signatures quite well regardless of sender's email client. On the downside, it tended to display graphical elements (see e.g. company logo below) not as big as they should be, introducing unnecessary gaps between elements of my signature.
Next email client, Gmail for iOS, initially seemed to win the contest. In fact, it was able to keep 1:1 formatting for all signature elements and stretch the signature to almost full screen width to make it look best on a mobile device. However, it turned out later that the app repeatedly fails to properly display multimedia content for all emails sent from an Outlook desktop app, either ignoring text formatting and spacing between elements (a Gmail account) or failing to display all non-text elements altogether (other account types).
Finally, Apple Mail, the default iOS email app, invariably displays a signature in a too narrow fashion, making it appear smaller than intended, as shown below. You can also see that spacing between some signature elements is too small as well (e.g. contact details). On the upside, the position and aspect ratio for signature elements is always preserved.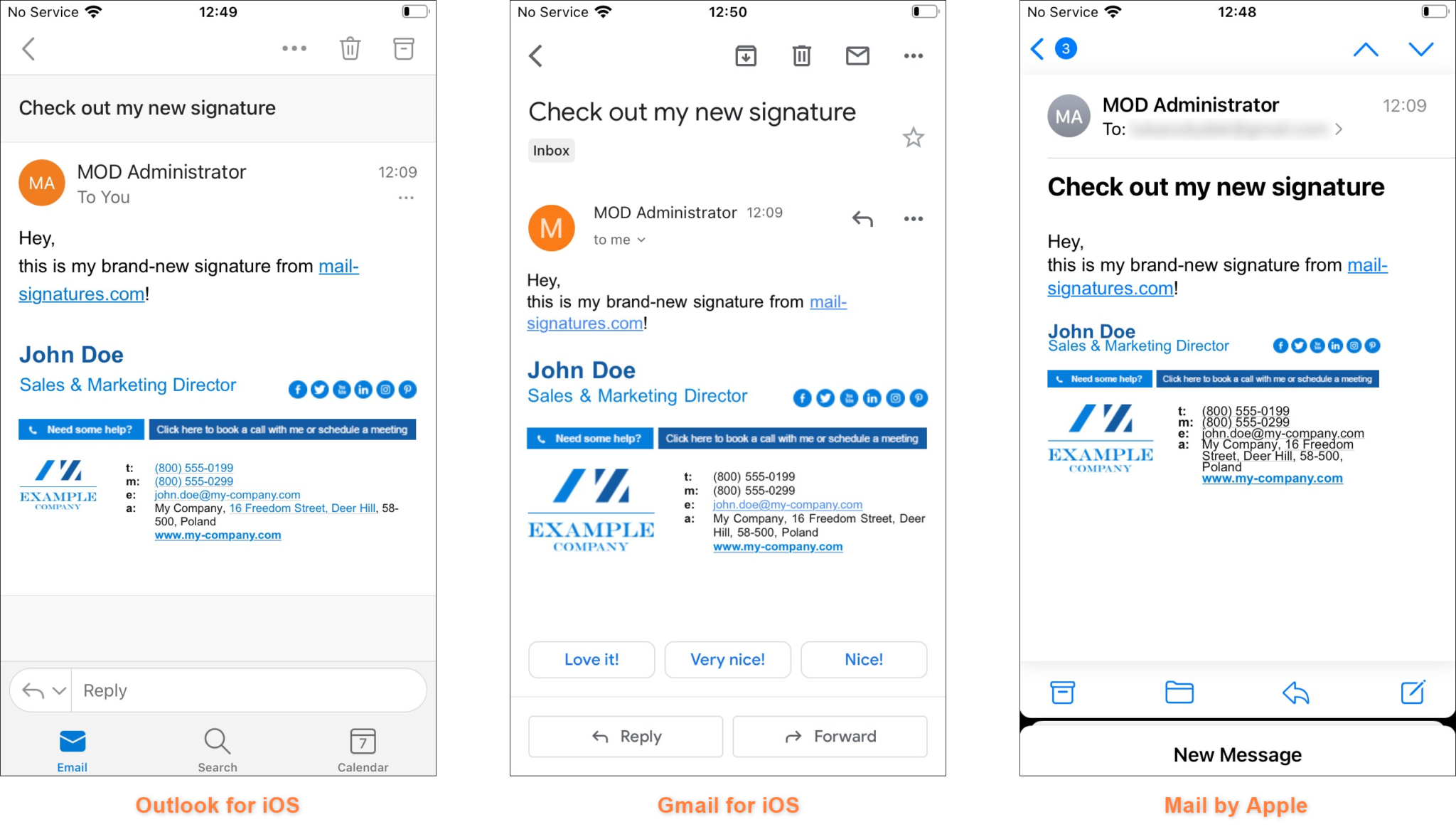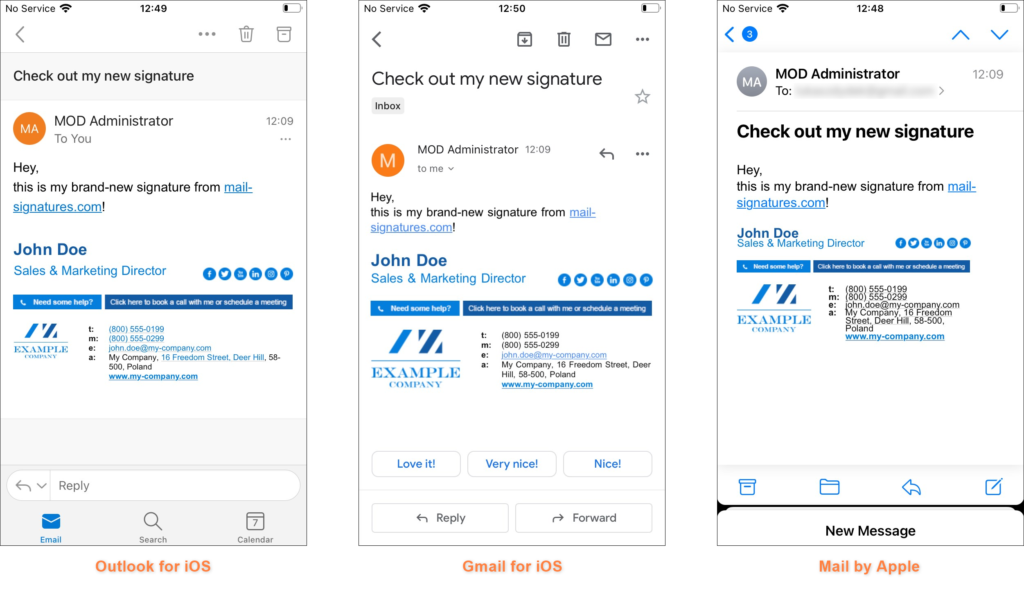 Tips to ensure your signature is properly displayed on iPhone devices are as follows:
Send your emails from well-established web email clients (e.g. outlook.com or gmail.com).
Do some testing first (if you happen to own an iPhone device).
General remarks:
Remember to include the correct (direct) image URLs as sources of images in your signature when you edit them in the signature generator. Using shareable image links is the most common reason for missing graphics in any email client. Learn more about direct image URLs to use in email signatures
Use the most popular image formats such as JPG (JPEG) or PNG. Mobile email clients, especially Apple Mail, tend to have problems with supporting less popular formats like BMP. Not only are those images considerably heavier in size, but they also may cause images in your signature to disappear, once your message is replied to on an iPhone. Learn more
No links, please
Email clients may use smart features to recognize a physical address or phone number you added to your signature. I have nothing against it if it is done in a discreet way, without altering the looks of the signature – just like in Apple Mail. In the screenshot below, you can see only tiny, hardly visible lines telling you that something is a link or an interactive element. Formatting is changed considerably only for a website address, which is acceptable.
Gmail for iOS is less smart – it doesn't recognize physical address but implements more formatting changes (website address, email address).
Finally, Outlook for iOS smart features seem to backfire on your original signature design the most, with hyperlinked physical address looking really bad.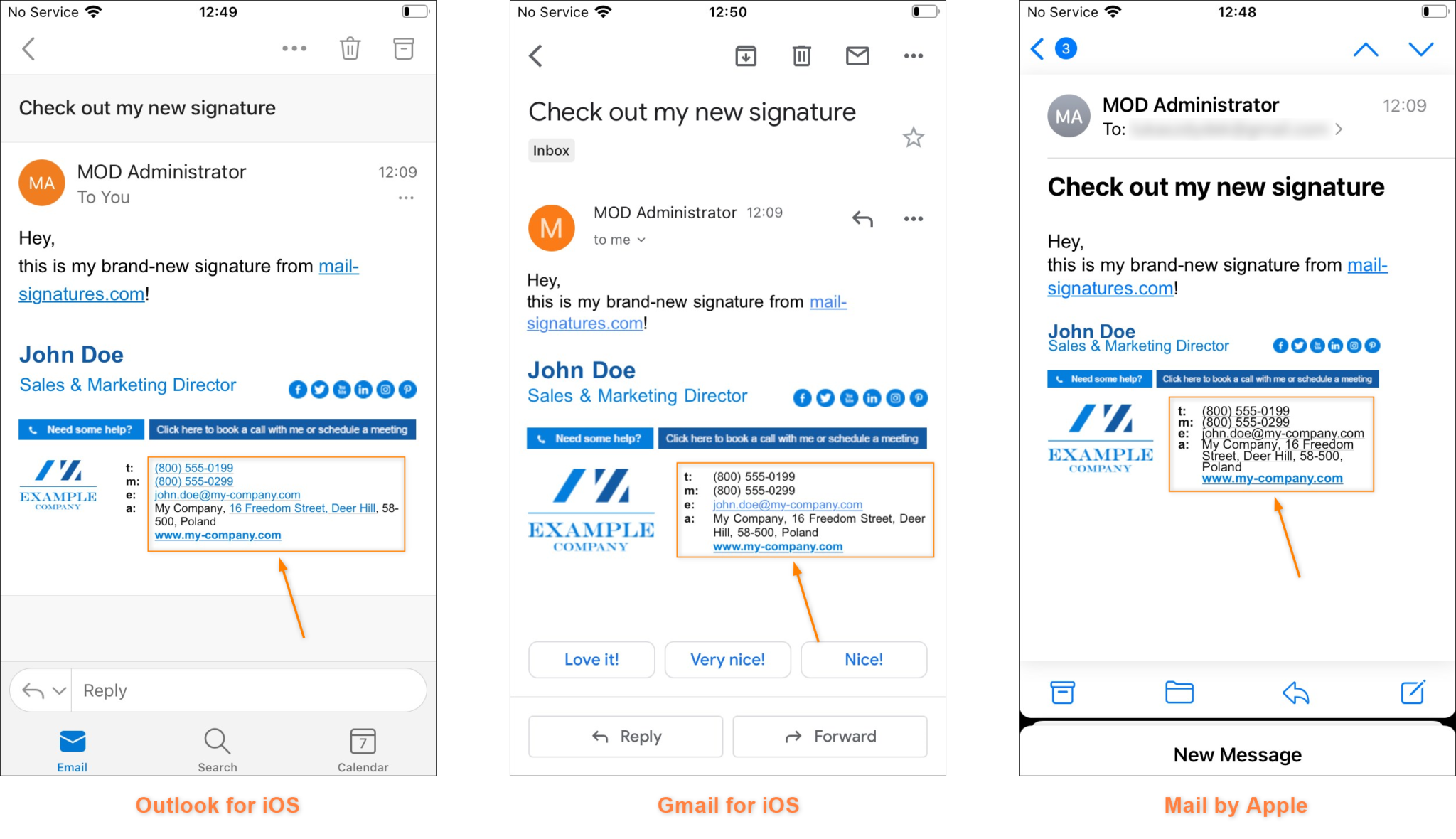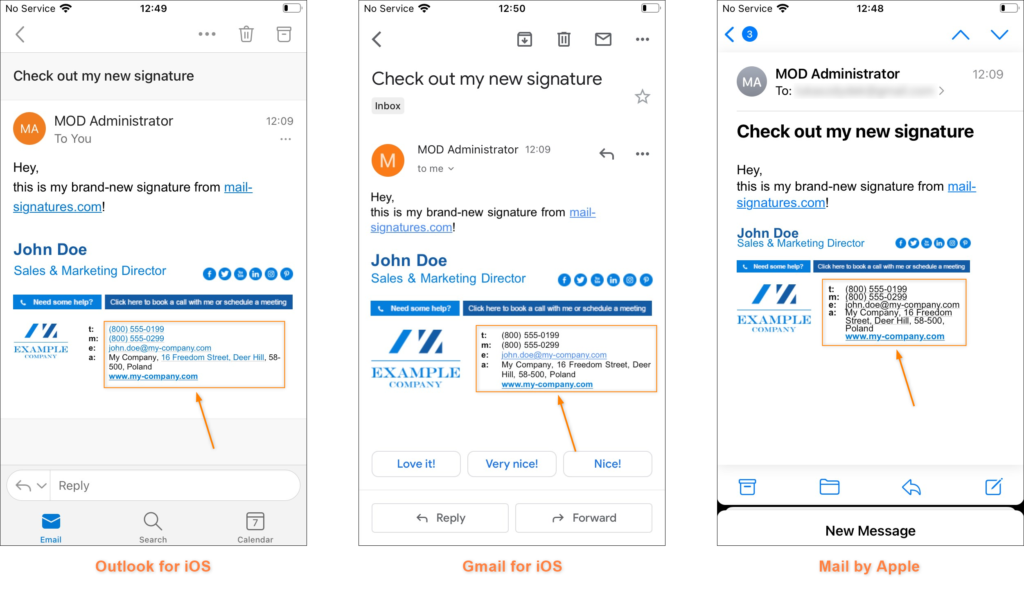 If you want to make sure the formatting (and appearance in general) of your email signature stays unchanged, try to slightly modify the HTML code of your signature, as shown in this article.
How to send (almost) flawlessly
Now, it's time for your perspective. Here, I am going to present issues you may experience if you use email clients for iOS to send messages stamped with a signature.
Strange forms of formatting
If you really want to send emails with a perfectly looking signature, I highly recommend doing it with a web email client in your desktop browser. That's because mobile clients, the ones for iOS included, tend to have problems with preserving the original formatting.
For example, Apple Mail changes fonts' formatting, so your recipient may view your signature with a different and larger font. Additionally, to see multimedia (banner, logo, etc.), your recipient may be required to click messages at the top of the email reading window (see part on Outlook for iOS below).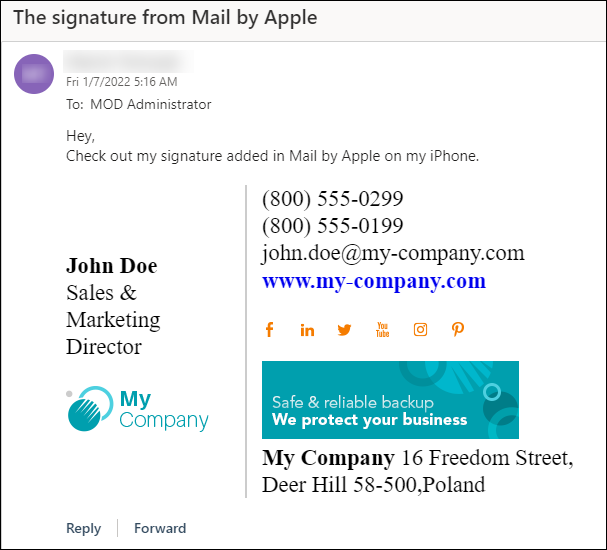 Gmail for iOS seems to not support signatures with multimedia content at all.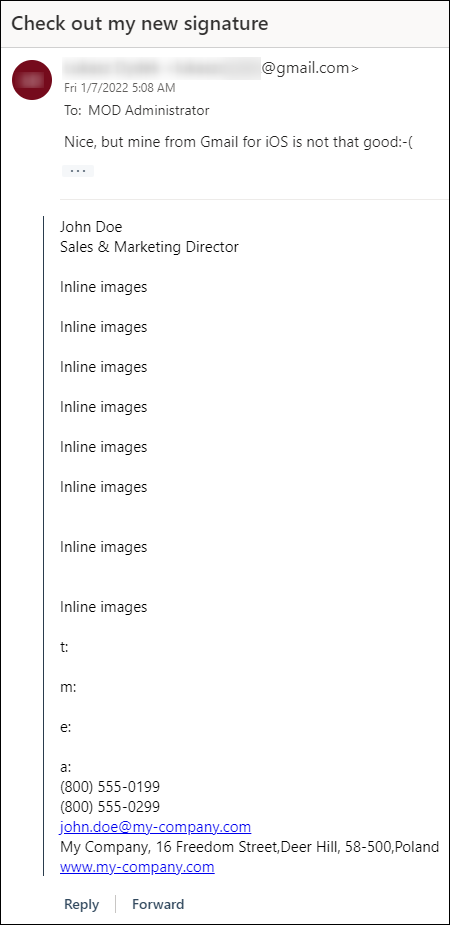 Outlook for iOS seems to offer the best results, so your recipient(s) will see your signature the way you wanted them to see it.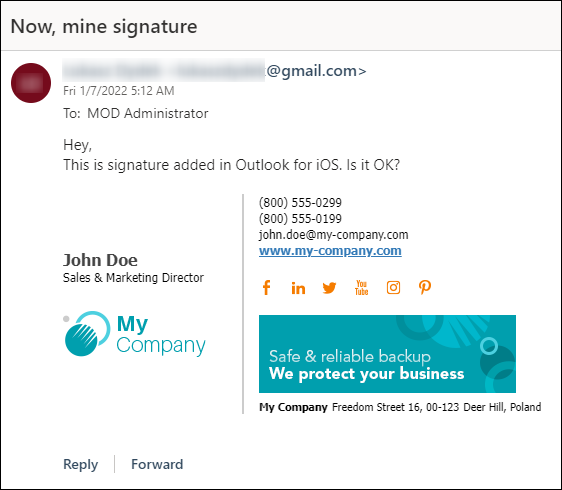 Unfortunately, the solution isn't perfect. A proverbial fly in the ointment is the fact your recipient may need to click a link at the top of the message to display all the multimedia (the same applies to Apple Mail). Otherwise, they will see something like this: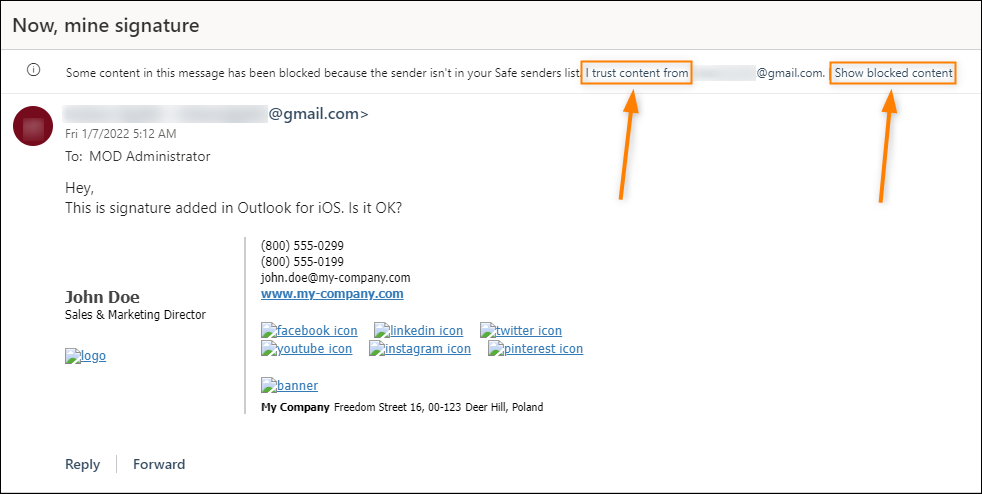 If you want to avoid it, there's no other way but to use professional email signature management software like this one for example. It allows you to embed images directly in an email message, so they do not have to be fetched from external resources (servers). This way, they will appear in email signatures without the need to click any prompts.
Native nuisance
Mobile email clients often have a default simple signature preconfigured. If you want to add your brand-new one by copying it from our free email signature generator to the relevant app's signature settings, remember to delete the native signature first. If you leave the default e.g. 'Get Outlook for iOS' and paste your new signature below, your recipient will see two signatures one after another, as shown below.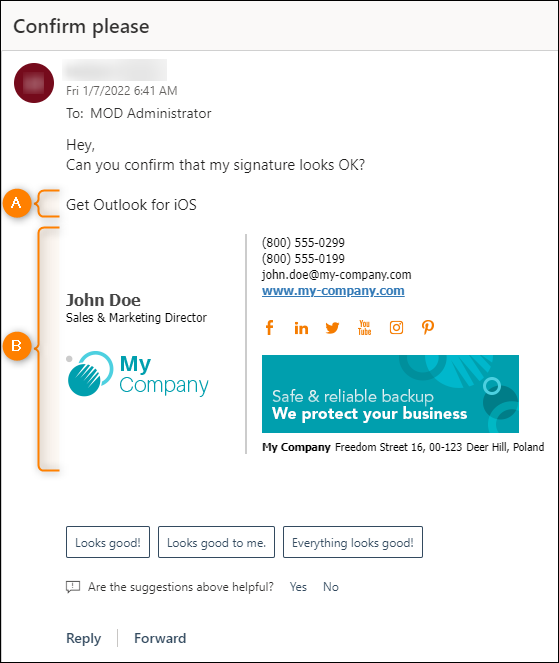 Do the best you can
As you can see, using email signatures with email clients for iOS (and for other mobile OSes, in fact) is not an easy task.
To make sure your signature looks the way you wanted it to look regardless of an email app on your recipients' iPhone device, try to apply the tips from the Focus on your recipients section.
If you have a choice, well-established web clients tend to work best at retaining the original formatting. When you use other email clients (including mobile), keep in mind that your formatting might be off.
I am aware my findings may not cover all scenarios and configurations. However, I hope they will offer you certain directions as how to best handle your email signatures if they are likely to be viewed in email clients for Apple's mobile OS.
See also
---
1 Email Client Market Share in December 2021 – Litmus
2 Mobile Operating System Market Share Worldwide | Statcounter Global Stats