HTML is commonly used in emails and email signatures. Why? HTML lets you add appealing graphics to the email body or signature, use colors and text formatting. This makes your messages easier to read and nicer to look at. What's more, every email can help maintain your brand identity and is more interesting for your recipients. But let's focus on email signatures – you can also use HTML to save, store and share them with others. The beauty of this solution is that it lets you do this easily and retain all the original formatting.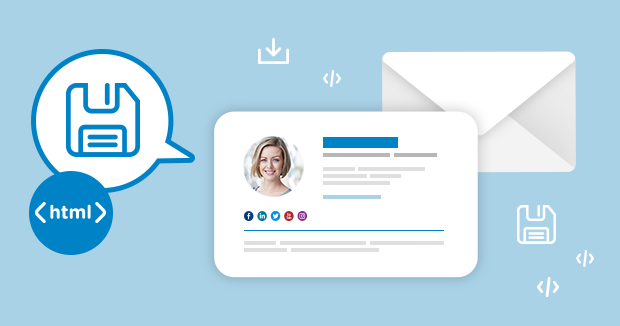 Why use HTML email signatures
While there are different formats used in email signatures, like RTF and plain text, the email world is almost completely dominated by HTML. It's not surprising. HTML is supported by most clients and allows you to add all kinds of elements to your email signatures: images, hyperlinks, social media buttons – all these can be easily implemented into an HTML email signature. And that's not all. Since HTML isn't even a programming language it's quite easy to learn and use.
There are lots of reasons why you might want to save your email signature in the HTML format. Take a look at the most common ones:
Keep your signature for later use in an email client that does not support multiple email signatures at the same time.
Share your email signature with others to keep signatures uniform in an organization.
Export your current email signatures to another client/device.
Make formatting changes directly in HTML code to update a signature or test different designs.
It's not all cupcakes and rainbows, though. There are some dark secrets and problems connected with HTML signatures. You see, while creating a basic email signature might be easy, there is an overwhelming number of different email clients. And all of them might have a slightly different way of understanding and processing code. That's why the same signature may look perfect in Outlook and not so much in Gmail. You can minimize problems related to code interpretation by using the proper formatting of email signatures. Still, the easiest way to create a well-formatted email signature is to use a good, tried and tested template and edit it to your liking. That's where knowing how to save an email signature as HTML comes in handy.
Create an HTML email signature
The first step is to create the signature itself. Before you do, a word of warning. It's not the best idea to create your email signature in a word processing tool and copy it to your email client afterwards. Why? Word processing tools usually don't operate on HTML code. So, when you copy a signature and paste it into an HTML-based editor, you copy a bunch of hidden formatting information. This will either make the signature look bad right away, or after you send out your emails.
The easiest way to create a proper, well-formatted signature is to use the free email signature generator. Simply pick a template:
Personalize the signature with your own graphics, contact details and other information:
Then, choose Thunderbird as your email platform and click Apply your signature > Generate > Copy to get the HTML code you'll need for the next step.
Save and start using your HTML signature
Now that you have the HTML code you want, you should save your signature as an HTML file. It's quite easy:
Paste the signature's HTML code to a simple word processing tool, like Notepad and click File > Save as.
Choose the location and name your file. Make sure the file format is .html or .htm and not .txt. Leave the encoding as UTF-8, especially if you have any special characters in your signature.
Click Save.
To start using the signature in your email client, all you have to do is open the HTML file in your browser, copy the signature and paste it in your email client's signature editor.
Edit an HTML email signature
Templates available at mail-signatures.com should work in most scenarios. However, there are some situations in which you may need to customize them further. For example, you may want to add additional elements, like a one-click CSAT survey, a Teams meeting link, a Zoom link or you may want to use a different set of social media icons.
There are two most common ways to customize your email signature template:
Copy the signature, paste it into a signature editor in your email client and work on it there.
Use the file you have saved and operate on the HTML code directly as discussed in this article on HTML in email signatures.
While the first method is usually more user friendly, how you go about it depends on your email client. Different clients have different editors, with slightly different controls. However, as opposed to most of these editors, the second method requires you to have at least some basic understanding of HTML.
Share your email signature with others
With your email signature conveniently saved as a HTML file, you can share it with your teammates or clients. You can send them the email signature file via email, as an attachment. Alternatively, you can host the HTML file and let others access and copy it using their browser.
All they need to do to start using the signature is open the file, copy the signature and paste it into their email signature editor.
One thing they should remember is to replace your personal information with theirs and that's it.
How to manage email signatures in a company
Sharing HTML files is a good way to get consistent email signatures in your team. With a bit of effort from everyone, you can ensure a certain degree of uniformity in your email communications. However, the larger the team, the harder it is to make it work. And if you want your entire company to have unified email signatures, you'll be surprised how quickly problems escalate and the whole thing becomes unmanageable. Take a look at this video, which explains the problems which may arise:
That's why companies use email signature management tools to guarantee high communication and branding standards and while saving a lot of time and effort for their teams.
See also