SPAM or junk mail is the archenemy of most email users. As if it wasn't bad enough to have your mailbox overflowing with unwanted communication, junk emails are often teeming with malware & more or less successful attempts at phishing. To guard us, humble email users, against all those threats, a multitude of solutions have been developed to send those nasty emails to a Junk folder or quarantine – where they belong. What a relief! That is, until you see YOUR email in a spam folder…
The problem is that no single anti-SPAM solution is perfect. It might turn out that your emails are going to the recipient's junk folder, for example, right after you started adding a brand new email signature. Let's explain why this might happen and what to do to prevent this.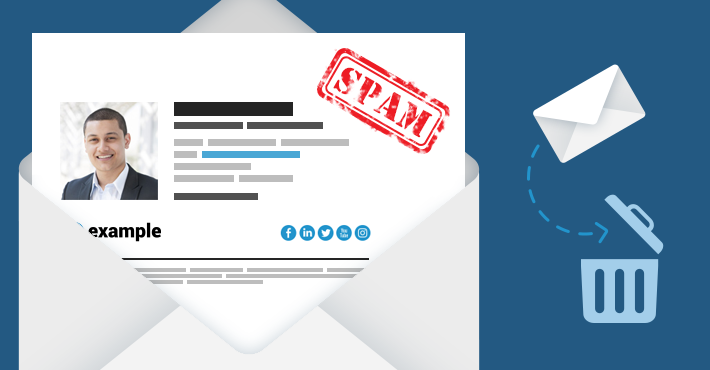 First off, despite a popular belief, email signatures do not magically cause emails to be treated as SPAM. So the most crucial question is: what does?
What makes SPAM filters tick?
Most SPAM (or anti-SPAM) filters work using a point-based system. It means that they analyze all incoming emails and assign points for each element they interpret as SPAM-like. If an email gets enough points, it is flagged as junk. So, what factors increase the score? Possible examples include:
Lack of an SPF record in your domain zone, or a wrong SPF record.
The Reply to address not matching the From address.
Sending to multiple recipients. The more they are, the more likely your email will be considered as junk.
Using a character set or alphabet different from the ones used by the recipients.
The sender's IP, address, or domain has been blacklisted.
Your email contains keywords and phrases which fall under the "adults only" category. They might relate, for example, to dating sites or certain kinds of drugs.
Bad direct marketing practices. That is: writing words with all capital letters (or SHOUTING), using many exclamation marks, or salesy phrases like "Limited time offer!", "Buy one, get one free!"
Using shortened hyperlinks, or links which lead to untrusted (blacklisted) sites.
Using linked or hosted images. Not only are they blocked by most email clients, so that additional confirmation from you is required to show those pictures, but also some SPAM filters qualify them as SPAM.
My signature makes my email go to Junk!
If you find out that after adding an email signature your emails don't reach your recipients, it might mean that you have exceeded the allowed SPAM score. Usually, an email in a spam folder equals an email not read. Most probably, some elements you have included in the email signature are fishy from the filters' perspective. So, what can you do to un-SPAM your email signature?
Investigate the hyperlinks you use
Using shortened links, however nice they might look, is a definite no-no for most SPAM filters. That's because email clients do not have the means to automatically find out where the shortened link is redirected. URL shortening services are often used by spammers to hide the final destination where the link takes you. Especially if the target address is blacklisted. Blocking shortened links is a pre-emptive strike against spammers.
Check if your IP or your domain isn't blacklisted
If either your domain or your IP is blacklisted, you don't need much to exceed the allowed SPAM score. The problem is that there are all kinds of different blacklists and various filters may use any number of those lists. Using an IP look-up tool may help you find the source of the problem and confirm whether you have been caught as "false-positive" on any blacklists. Getting off those lists should be your top priority, as apart from delivering your emails to recipients' spam folders, it may also decrease your traffic and search engine (SEO) ranking.
Use embedded images
Some filters consider hosted or linked images as suspicious. Apart from blocking them right away from viewing, they may up your SPAM score. That being said, not every email client supports adding embedded graphics. The same goes for natively-available methods of adding a global email signature. The only foolproof way of handling embedded images for everyone in the company is to use an email signature management tool.
Use toned-down marketing practices
Just because you can add a marketing banner into your email signature does not mean it is a good idea to add a ton of exclamation marks or nauseating colors just to grab attention. A clean (aka professional) design and a simple banner will most probably be more effective. What's more important – it will not make people want to flag your emails as SPAM.
Avoid sending default mobile signatures
Although the "Sent from iPhone" line as your signature most probably won't be treated as SPAM by email filters, it can be viewed as such by the recipient. While some people ignore those disclaimers as a relic of the previous decade, others might view it as highly unprofessional and careless. If you care about your brand, the best idea is to unify your email signatures across various devices and email clients.
Test your email signature
If you are not sure what is wrong with your email signature, a good idea is to test it thoroughly – add one element at a time, send test emails to various recipients and from various IPs, and so on. Sometimes, emails land in SPAM just because someone added you to their own blacklist by mistake. It is especially common to do this on a mobile app. Surprisingly, doing so can also affect desktop email clients, even if the blacklist is not accessible from these desktop apps.
Email signature management software
Using an email signature manager makes things a whole lot easier for you. That is, if you do it the right way.
Why use email signature management software? A leading solution on the market, CodeTwo Email Signatures 365, makes it possible to:
Set up an email signature for everyone, from one place. Users automatically get their own, personalized business card, while you design a single template and make sure it is well-composed and SPAM-free.
Automatically embed images into email signatures, including Office 365 user photos. This way you can make sure the signature has a human touch to it and that recipients will always see the images you send them.
Add professional signatures to emails sent from any device. Never again will inconsistent signatures hurt your corporate identity.
Automate email marketing campaigns and track their results, quickly add one-click customer satisfaction surveys, and much more…
Further reading: