This article was first published on February 25, 2019. It's been updated to reflect the current steps required to get direct links in the listed image and file hosting services.
You might wonder how direct image links or direct URLs are related to email signatures. If you can use an embedded image, you do not have to worry about any links. However, linked images have some upsides: for example, they don't increase the email size. What is more, there are situations in which linked images are the only available option. To add a linked image, you need a direct URL to it.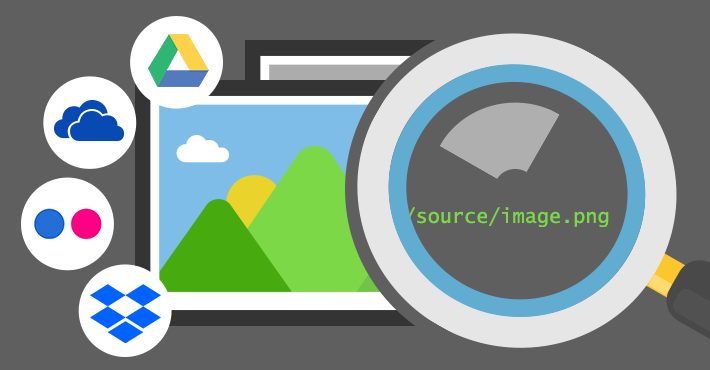 Mind that it is always better to host images for email signatures on your own servers. If you do not own a server, your best bet is to use an image hosting service. The article below presents how to get a direct link in some popular image and file hosting services. As you will see, it requires more than just right-clicking the image and choosing copy image address. Click the name of an image hosting service below to learn how to get a direct image URL:
Mind that all specified methods work at the moment of writing this article, but there is no guarantee the procedure will not change in the future.
How to get a direct image link in Google Drive
Google Drive might be the most complicated image hosting service. At least if you want to get a direct link.
First, let's add an image. Either drag & drop your image (and skip to Step 3), or click New > File upload.

Now choose the image you want to host in Google Drive:

Now, you can access your photo. Select it and click the Get link button to display sharing options.
Note: Mind that in this step you are not getting a direct link yet, it is a shareable link. A shareable link cannot be used as a source in email signatures.
If you want your online image to work right (display for everyone, that is), you need to ensure the Viewer role and the Anyone on the Internet with the link can view access option are selected.

Now, copy the shareable link by selecting Copy link and paste it into any text editor. You will see a link similar to this one:
https://drive.google.com/open?id=1evNxiyU9A5yB8LYnUVsOq3--Y6hc4JJq
or
https://drive.google.com/file/d/1evNxiyU9A5yB8LYnUVsOq3--Y6hc4JJq/view?usp=share_link

The series of letters and numbers in bold is the image id (*img_id*) of this particular graphic file. You need to copy and paste it into the following URL format
https://drive.google.com/uc?export=view&id=*img_id*
Simply replace the whole *img_id* part with your id (in this example, it is 1evNxiyU9A5yB8LYnUVsOq3--Y6hc4JJq). This way, you get the proper direct URL ready to use in your signature. For example:
https://drive.google.com/uc?export=view&id=1evNxiyU9A5yB8LYnUVsOq3--Y6hc4JJq
Troubleshooting direct Google Drive links
If you've followed all the steps above and the direct URL still doesn't work, you need to change some settings.
Back in the Google Drive window, where you uploaded your image, click the image you want to enable working direct links for. Click the Get link button once again to open the sharing options window.

Next, click the cogwheel to access the sharing settings.

Finally, make sure the second checkbox (Viewers and commenters can see the option to download, print, and copy) is active:

How to get a direct image URL in OneDrive
Getting the direct link from OneDrive is much quicker, does not require using any developer tools or URL hocus-pocus. However, it doesn't work in OneDrive for Business. In other words, you won't be able to use images from your company's SharePoint or OneDrive. A personal OneDrive works all right, though:
First, use any method to upload the image to OneDrive:

Once the image is uploaded to your OneDrive, right-click it, and choose Embed from the menu. In the menu which appears on the right side, click Generate.

This generates a direct link.

Before you use this link, delete its attributes (the question mark and the part to the right) as some email clients are picky about displaying images with those attributes included.
How to get a direct image link in Dropbox
Getting a direct link in Dropbox also requires a simple trick.
Like with other image hosting services, start with uploading your image. Drag & drop your image or click Upload > Files and choose the image from your hard drive.

Once you upload the image, hover the mouse over it and click the Share button appearing next to the picture.

In the newly opened window, click Create and copy link. The link gets copied to your clipboard. Paste it into any text editor (or into the address bar).

The last thing you need to do is to change dropbox.com to dl.dropboxusercontent.com or dl=0 to raw=1 and visit the new URL. Either method will result in a direct image link.
An example of the correct format of a direct URL:
https://dl.dropboxusercontent.com/s/1gxdgxvj49zajft/admins%20blog.png
How to get a direct picture URL in Imgur
In comparison with other image hosting services, getting a direct URL is a child's play.
Start with uploading the image you want to host. Like in other services, you can either drag & drop, or use the Browse button.

Next, click the uploaded image.

And finally, copy the direct URL from the Direct Link field on the right. No tricks or other steps are required.

How to get a direct URL to an image in Flickr
In Flickr, direct image links are visible without any elaborate tricks.
After you upload or find the picture you want to use, click Share Photo.

In the sharing window, go to Embed and copy the code from the box below. The direct link is the part between quotation marks, right after src=.

How to use the direct image link in an email signature
Getting your graphics online is the first step. The next one is to use those files in practice. Below, you can see how to use them to create your own, professional email signature using direct image links.
Once you upload your image and get the direct URL, go to our free email signature generator and choose the signature template that suits your needs best. You can use the < & > buttons to see more templates or you can also scroll through all the available signatures in our signature template gallery.

Next, fill in your data and go to the Graphics section. Replace Logo URL and Banner URL fields with the right direct links you have acquired before. The Logo/Banner linking to fields specify which website will open when the logo or banner is clicked in the email signature. Leaving those fields empty will not add any hyperlinks.

On the right side, you can see the signature preview. When you finish making changes and the signature looks well, click apply your signature and follow the instructions specified for your email client.

A few good tips:
For best results, use images of the same shape as the sample logo or banner. Using a rectangular logo when the sample logo is square will usually result in deformed graphics.
Mind the recommended width and height values. It is best to use exactly the same dimensions, or their multiplied values. This way, when a picture is resized, it shouldn't become blurry.
After you apply the signature, send a test email to yourself. If you are using image hosting services, links might break or change. It is possible for a picture to show up in the signature preview and disappear after applying the signature.
Useful links: