Personal branding is a key ingredient if you want to look for new opportunities. It is worth investing some time in creating an online presence, e.g. using your personal blog or website, professional profiles, social media channels or by designing an engaging signature for your e-mail correspondence.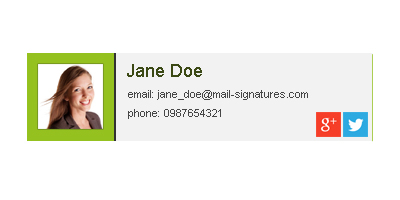 Private e-mail signature
You may think that using an email signature in your personal correspondence is a waste of time and space. Wrong! Your closest friends and family could be completely unaware of what you're currently up to. Put a link to your personal twitter feed or flickr profile in an email signature and voila, they're in the loop again.
Even more importantly, your personal email signature can also act as a virtual business card. In just a few lines it will help you transmit the most important information when it comes to the job search or sending business proposals. By using a detailed signature, you will also show your recipient that you are really interested in what you do or want to do. Do not try to replace your email signature with a vCard and remember to make sure that all the data you give is correct and up to date!
A good private email signature should include your:
Two examples of what a good email signature should look like:


Fig. 1. This email signature is very clear and informative. It gives the most important information about a person.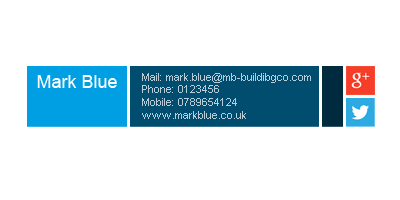 Fig. 2. In this example, only social media thumbnails are real pictures. The blue backgrounds were creating using the table background HTML attribute. You can add a background of any color to your HTML table cells by including a BGCOLOR attribute in your <TD> tag. See this article for more.
A cautionary example of what your email signature should NOT look like: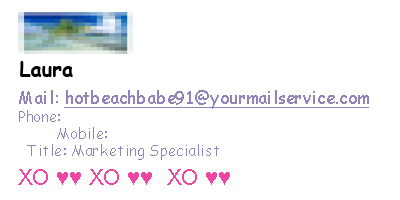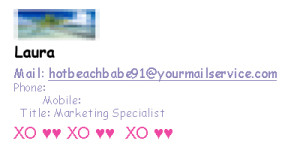 Fig. 3. This email signature shows lack of competence – it looks like something you might use when you write to your 11-year old friends! A silly email address, empty places in contact details and cheesy graphics are not helping Laura look professional.
Smartphones
Note that due to the increasing number of emails being received on smartphones, you need to optimize your email signature to make it look professional on mobile devices. Remember that screens in smartphones are quite narrow and preferably your email signature should be oriented more vertically rather than horizontally.
Learn how to configure a personal email signature in:
Read more: