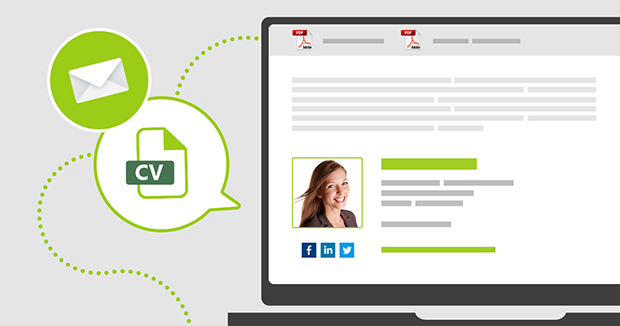 Sending job applications by email may seem easy, but if you want to do well, you have to remember about the job search email etiquette. Here are some rules that will help you avoid potential gaffes and keep your communication clear and professional: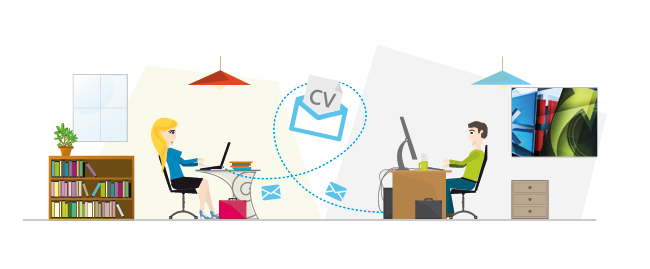 Keep it short and to the point — Email is supposed to be a quick way of exchanging information. If the recruiter receives an email that looks like a dissertation, they might not even attempt to read it! Also, unless your goal is to confuse the recipient, avoid long multi-clause sentences.
Use proper spelling and grammar – Grammar and spelling errors are not acceptable. Use a spell-checker to eliminate them. Also unacceptable: chatspeak (BTW, FYI), slang and emoticons. Remember that Microsoft Office programs come with built-in proofing tools, and there are several spell checking tools available online.
Remember about correct punctuation – E-mails with no full stops or commas are difficult to read and incorrect punctuation can easily change the meaning of the text.
Do not write in capitals – IF YOU WRITE IN CAPITALS IT COMES ACROSS AS IF YOU ARE SHOUTING, SO DON'T DO IT.
Use a professional email address – If you send a job application from an address like: hotbeachbabe21@yourmailservice.com, you will never to be taken seriously or viewed as professional by your potential employer. The simplest way to create a professional-looking email address is to use your first name and last name in the following pattern: firstname.lastname@yourmailservice.com.
Use descriptive attachment names — This will help your recipient keep track of your documents. Simple descriptive names such as: JaneDoeCV.doc, JaneDoeCoverLetter.doc or Jane_Doe_Resume.pdf, are your safest bet.
You've got the basics. Now let me show you how to create a perfect job application email step by step:
The Subject Line – An empty subject line virtually guarantees your email is going to end up being deleted or marked as spam. Choose a simple subject, like "Jane Doe Job Application", the job position you're applying for or its reference number, so the recruiter is clear what the email is related to.
Salutation -Try to get the name of the person who is in charge of the recruitment process. Always double check to make sure that you spelled your recruiter's name correctly. If you spell it wrong, it could give an impression that you are careless or disrespectful. Avoid using "Mrs." or "Miss". Use "Ms." instead as it is the feminine equivalent of the masculine "Mr." If you do not know the name, "Dear Sir or Madam:" is always appropriate.
Header -Briefly introduce yourself and state your intention. Explaining why you are writing the email may sound too standardized, but using these phrases (or their variations) is actually widely accepted: "I am writing with regards to the job you advertised…", "I am writing in response to your job offer…" "In response to your job advertisement…". Subsequently, mention the source where you found information about the vacancy, e.g. a website or a newspaper.
Attaching Files – When you're attaching a file like CV, cover letter or portfolio, you have to consider its format. The best option is PDF. It ensures that your document will be displayed exactly the way you intended (no matter what program you used to create it or your potential employer uses to open it) and it allows you to merge all your documents in just one file. There are plenty of free pdf creators, e.g. PDFCreator. Always remember to keep your attachment file sizes to a minimum, to avoid flooding your recipient's Inbox and to ensure that your message doesn't bounce back. Finally, don't forget to attach the files before sending the email!
Another way of presenting your CV or cover letter is to publish them online as HTML or PDF documents and link to them in your email.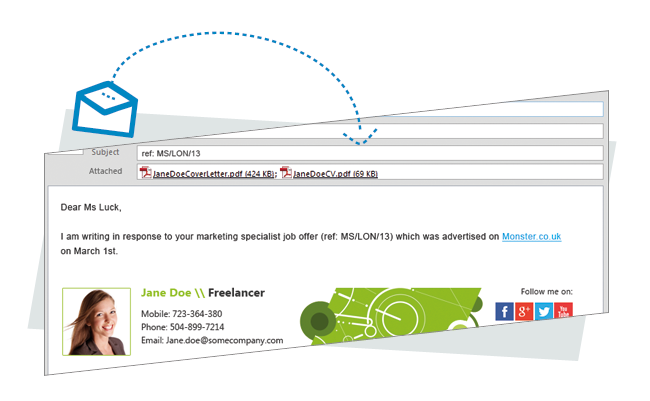 Main body – If you are sending someone your CV and cover letter as attachments, keep the main body of your email short and simple, and let your application speak for itself. Give the main reasons why you are the perfect candidate for the advertised job vacancy (you can mention your education, work experience or some of your skills here). Encourage your potential employer or recruiter to see your CV or other documents. Using phrases like: "Please find my CV attached" or "Please find enclosed my CV and cover letter" is perfectly alright. In addition, tell your employer what is the best way and time to contact you.
Closing – To emphasize your interest, conclude your message with "I am looking forward to hearing from you" or "I'm looking forward to receiving your reply". Before signing your name or adding an email signature, end the email in a respectful manner, such as "Yours faithfully" or "Sincerely". When you are writing to a recruiter or your potential employer for the first time, avoid phrases like "Best wishes" or "Regards".
Email signature – In today's professional correspondence email signatures are a must. Applying for a job is no exception – without at least a simple signature your application will look too casual. With it, you will be able to create a positive and professional impression, and communicate important information about who you are, what you are interested in or what you want to do. To learn more on about how to create a perfect personal email signature read this article.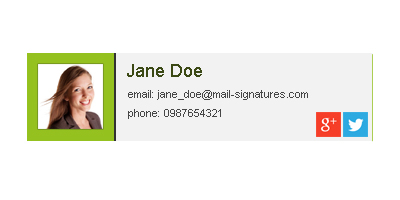 Read before sending!
Before you send your message, scan it for spelling and grammatical errors (you can use a spell-checker), check for format and font continuity. When you are done, imagine yourself as the person receiving your email and give it one more read. This could help you avoid potential misunderstandings and send a clearer job application.
Responding to your potential employer
During the recruitment process you may receive emails from more than one potential employer. Read them carefully, follow the given instructions and always ensure that you reply to the right person. It is also crucial that you respond quickly to inquiries from companies or recruiters, preferably within 24 hours from receiving the email.
A Thank You note
After a job interview you might send a thank-you e-mail to the person who interviewed you. Employers and recruiters really appreciate it. This should be a short message where you thank for the interview and for considering your application.