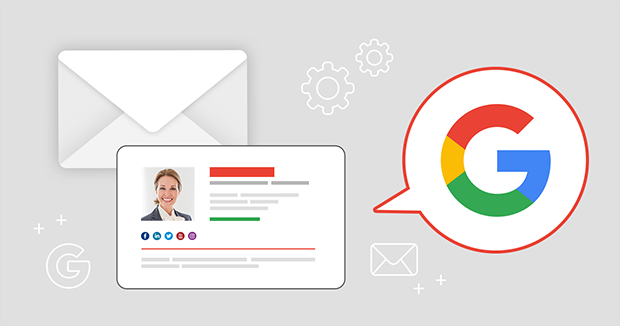 [Update]: This blog post was updated on June 19, 2020.
If you want to know how to add or change your email signature in Gmail or a Google Workspace (formerly G Suite) account, follow the instructions below.
Important: Before you start creating an email signature in Gmail, make sure that you don't have Plain text mode enabled. To learn how to disable it, click here.
In your Gmail account, click the gear icon in the upper-right corner and then See all settings.

In the General tab, scroll down to the Signature section.

Click the Create new button to add a new signature or use the formating tools to change the existing signature (if there is one already).

Note: The Gmail signature editor gives you a few basic formatting options such as font face (check out what fonts are best for email signatures), font size (small, normal, large and huge), hyperlinks, images, alignment, etc. To compose more advanced email signatures, use this free email signature generator. Signatures composed within the signature generator can be easily copied and pasted directly to the Gmail's signature editor.
Create or modify your email signature as per your needs. If you want to add an image to your signature, click the Insert image button.

Note: You can change the position of the image in your signature by dragging and dropping.

To add a hyperlink to the image or to any text, highlight the part of your signature you want to be hyperlinked, click the Link button and provide link details.

If you want your signature to show up automatically every time you compose a new message, select your signature from the drop-down menu in Signature defaults. You can have different signatures for new emails and for replies/forwards.

Once your Gmail signature is ready, scroll down to the bottom of the page and click Save Changes.
Go to Inbox, and open a new message window by clicking the Compose button to check if your signature shows up correctly. Use the pen icon to select different Gmail email signatures depending on a situation (if you created more than one email signature).
Note: If in the Gmail's message composer you have the Plain text mode enabled, you will not be able to use email signature with images, social media icons, or hyperlinks. So to disable the Plain Text mode, click More option (three dots) and deselect the Plain text mode option. You may need to wait a couple of seconds for the changes to apply. You may also need to reload your signature if it was already changed to the Plain Text format.

That's it. Now, every new email, reply or forward message you compose will have your Gmail email signature.
For more on Gmail signatures, consult this Google Help Center article.
See also: