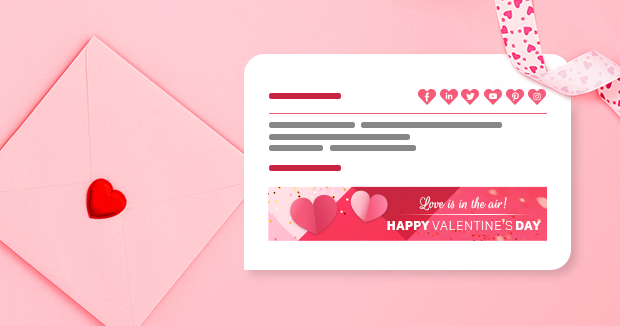 Valentine's Day is just around the corner. It's the perfect time to show your beloved ones, from friends to parents, children and even pets, that they're close to your heart. The upward trend in Valentine's Day spending confirms that most people agree with this attitude. According to the U.S. National Retail Federation, Americans plan to spend nearly $26 billion on Valentine's Day in 2023 – it's an increase of $2 billion over 2022. What's more, Valentine's Day spending is second only to the Christmas holiday season. All in all, this is a perfect opportunity to show your recipients some love (and boost your sales at the same time).
We have been working hard to bring you some email signature templates which will help you do just that and much more. Check out our collection of ideas & inspirations for the upcoming Valentine's Day. All the provided templates are free, so don't hesitate to use them for both personal and professional purposes.
Inspiration 1 – Flowery blush
Valentine's Day can be painful when forgotten. This email signature template will remind your customers to prepare for the occasion in advance. Just link the rosy banner to your store and make your recipients grateful for this small reminder. The template also comes fully equipped with a space for your company logo, a legal disclaimer, social media icons, and even a user photo.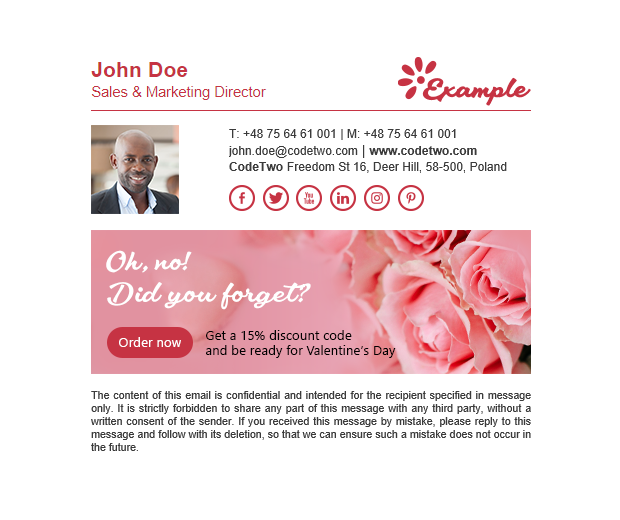 Download this Valentine's-themed email signature template or edit it for further adjustments
Inspiration 2 – Love is in the air
You can find hearts in many shapes and sizes in this gorgeous email signature template. The red and pink promotional banner can be used as a link to your store or just to make this special occasion even sweeter for your recipients. We also added heart-shaped social media icons to focus your customers' attention on today's most powerful sales channel.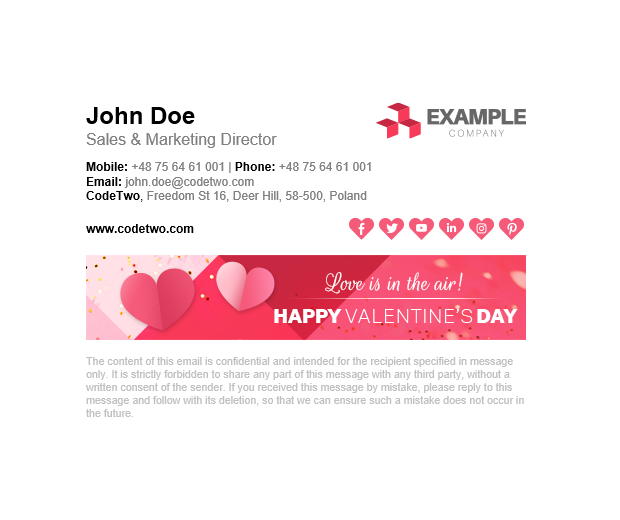 Adjust the email signature template to your needs or download it now
Inspiration 3 – Golden ring
In this email signature template designed specifically for Valentine's Day, you can find a simple yet very elegant vertical banner with a golden ring and a metallic-gradient frame. For a perfect match, we added golden ring-shaped social media icons right at the bottom of the template. Feel free to upload a user photo at the top or exchange it for a company logo for stronger branding.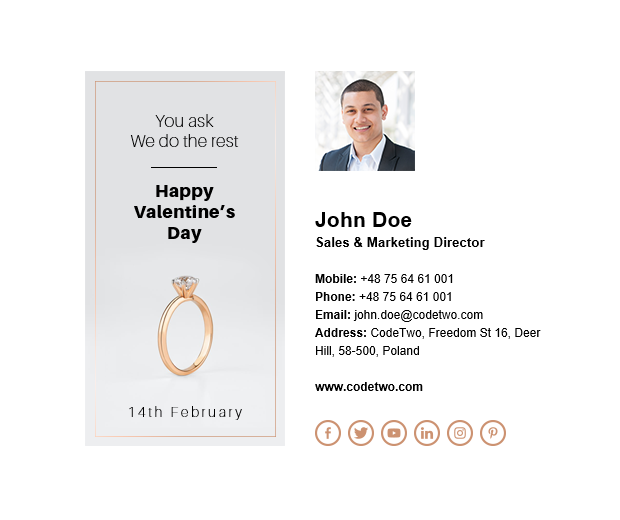 Click here to edit the template in our signature generator or download it right away
Inspiration 4 – Love letters
With this email signature template, it's even easier to add some love to your business correspondence. And if heart-shaped social media icons are not enough, we also added a Valentine's-themed promotional banner with a beautiful calligraphy at the top. This template also comes with a place for your company logo and a legal disclaimer to stay compliant with applicable laws.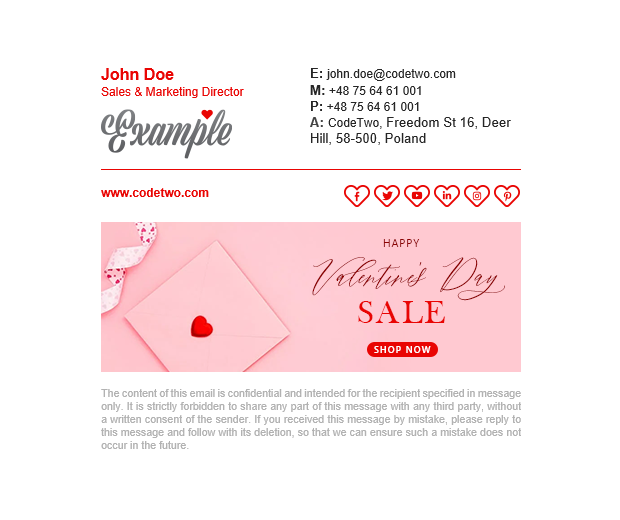 Download this signature template for free or edit it with the signature generator
Useful links: