The celebration time for all Americans is about to begin as the 4th of July is just round the corner. Why is this date so important? Well, something huge happened in American history on that day – back in 1776, the United States declared its independence from Great Britain.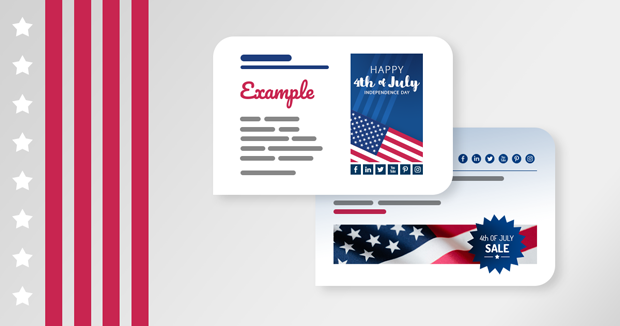 Fourth of July 2022 email signature templates
There are many ways Americans honor this national holiday. Firework displays, picnics, barbecues, and parades are great ideas for outdoor celebrations. To show your festive mood in a professional setting, we encourage you to use one of these free signature templets in your email conversations.
Simplicity and elegance
It's just classic. A great fit for any business that wants their emails look neat and simple, yet fully compliant. This professional signature template has four clearly distinguished blocks of information. The first one emphasizes user's name, job title and company website. The second one presents users photo, contact details and social media icons. Then, the Independence Day banner designed specifically for this occasion adds a nice festive feeling to business correspondence. The last part of this template is a disclaimer, an essential element for ensuring legal compliance.
Download this free email signature to bring national festive mood to the office
Waving flag banner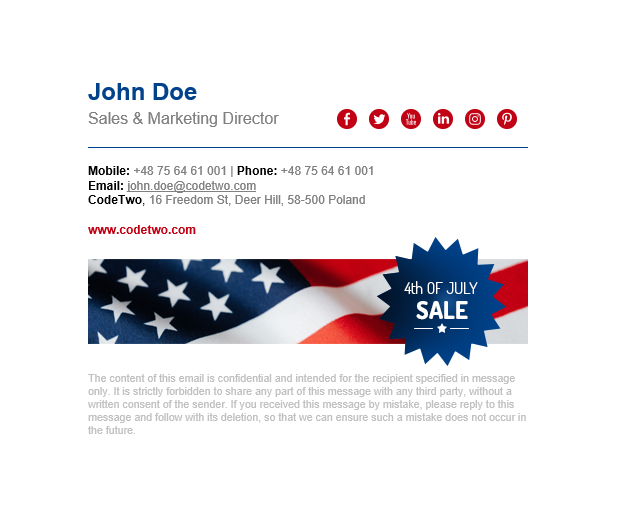 Compact and neat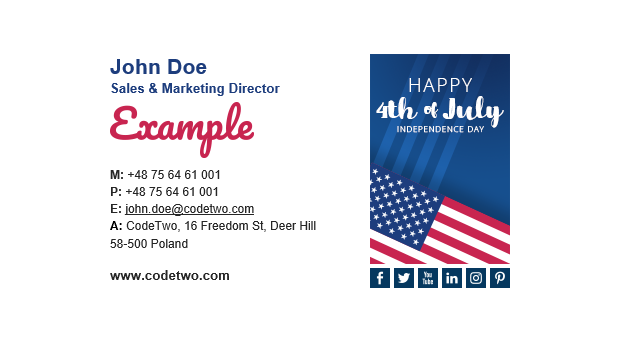 Download this email signature template to celebrate 4th of July
Festive mood