In this article, you will find a bunch of useful email signature tips and best practices to create a perfect modern business email signature. You will find out what elements you should include in your email signature, what elements are better to avoid, and how to get more from email signatures. There are also examples of free email signature templates you can use right away.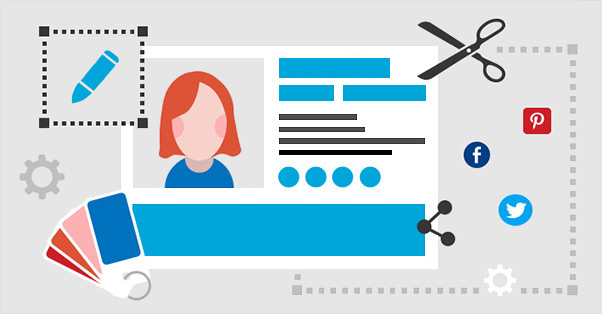 Elements of a professional signature for new emails
In business communication, it is a common practice to have two versions of a corporate email signature block. The first version, you use when sending new emails. The second version, much simpler, you use when replying or sending emails internally. Let's first focus on the signature you can add to new emails when starting an online business conversation.
A good email signature for new emails should include the following elements:
First name and last name
Title and department
Email address and telephone number
Company logo and company name
Company physical address
Social media icons linked to official company profiles
Disclaimer
Banner (optional)
Here is an example of what a professional signature for new emails can look like: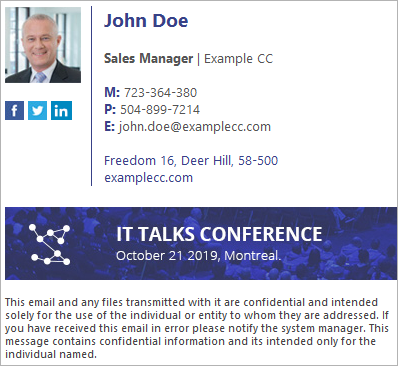 Now, let's look closer at all these elements.
First name and last name
This is such an obvious component of every email signature that I should not even mention it. But as I talk about a good signature this is the first element to put into your signature – your first and last name. Nowadays, it seems that more and more companies try to be more casual in daily business conversations so you may find yourself in a situation when your recipients starts calling you by your name, replacing cold "Hello Mr. Doe" with a friendly "Hi John".
Title and department
It may seem not always necessary to put that detail in your email signature but I have noticed it helps recipients orientate who they are talking to, and if necessary, they may ask to speak to someone else. For example, they may ask to speak to someone from another department (want to reach Sales person while having conversation with a Support person) or someone with different position (speak to the Manager rather than Junior specialist if a case is not moving forward).
Email address and telephone number
I know what some of you may think now – "what the heck do I need email address in EMAIL signature for?" Well there is a good reason. Your email not always stops its journey in the recipient's inbox – it can simply be forwarded to other recipients, and then again so the final recipient may have hard time contacting you directly. Especially, when the display name shows just your first and last name, and no email address. And if the character of your job involves frequent calls with your business partners, then providing your telephone number in the signature block can be essential.
Company logo and company name
Company name is almost so obvious element of a solid email signature as your own name. Your recipient wants to know who they are talking to. And if you want to make it even more straight-to-the-point, don't be afraid of using your company logo in email signatures. It not only makes your emails more attractive, but also it is easier for the recipient to quickly identify you and your company. It is a very important element especially when exchanging business emails.
Company physical address
With the first email you send, it is a good practice to use the signature where you put details about your company's physical address. There are even certain laws that regulate this aspect of email conversations requiring companies to provide their physical addresses in email signatures. If you run a business based on the physical location (like e.g. a shop or a restaurant), then this may be even easier for your potential clients to find you.
Social media icons linked to official company profiles
In today's world, I don't know a company which has no official social profile. Well, to be more specific, any serious company. However, you can still find companies out there that have no social presence. But this is not in their favor. Personally, if I look for a company I want to have a business interaction with, I try to verify its credibility by searching for their Facebook or Twitter accounts. If the company is there and their post are up-to-date then I am more likely to trust such a company. And if a company works actively in the social communities responding to user questions this is even better. So try to make your potential clients' life easier and put social media icons into your email signature. Of course, each social media icon should link to your official profile on a given platform.
Disclaimer
Disclaimer is a block of a legal text that you should add to every new email you send outside your organization. If you want to learn more about disclaimers and why it is important to have them as a part of your signature block, see those tips and examples of good email disclaimers. Information you put into the disclaimer's text may save your company in case of legal actions.
Banner (optional)
Banners are a great opportunity to communicate some additional information about your company products, achievements, important announcements, etc. It can attract the recipients' attention and make your signature more distinguished from the background. If you make it clickable, the signature can convert into a cheap tool for marketing campaigns. But a banner can also spoil your email signature design if it does not match the company visual identity, it is too big, too small or of poor quality.
Elements of a good simple signature for replies
A simple email signature is a bliss when exchanging emails within long conversation threads. You don't want to add a full-composition signature every time you hit the reply button. To ease everyone's life and slim down your emails (no one wants to scroll down through online conversations), keep your reply signature blocks really short. These are elements that will suffice:
First name and last name
Title and department
Company name
Direct mobile number and email address
Company logo or user photo (optional)
When replying, you don't need to send the signature with full contact details. Your recipient already got that when you had sent an initial email with your full-detailed email signature. In replies, you can keep it simple by just adding the basic information like your first name, last name, title and department, company name and direct mobile number or email address.
Here is an example of a simple signature you can use for replies:

Your recipients will appreciate that simple and minimalistic email signature design. Thanks to that, it will be a lot easier for them (and yourself) to follow the conversation and not be distracted by massive signature blocks.
Composition
Composition is a way in which you put all the signature elements together to achieve certain visual and esthetic results. A good composition is not any easy task and it is fine to look at some good email signature examples before you start designing your own signature template. This will simply give you more ideas on how to arrange the elements of the signature so that they look tasteful and don't feel overwhelming.
What to avoid in email signatures
To compose an attractive but professional email signature, try to avoid:
Different fonts in one signature block
Multiple colors in one signature
Too large or too small marketing banners
Too many graphical elements of different sizes and styles
Overwhelming loads of contact details
Unprofessional user photos
Too much data, images, text making the signature too hard to read and to find relevant information
Inspirational quotes
Too many social icons or including social icons of portals not existing anymore (e.g. Google+)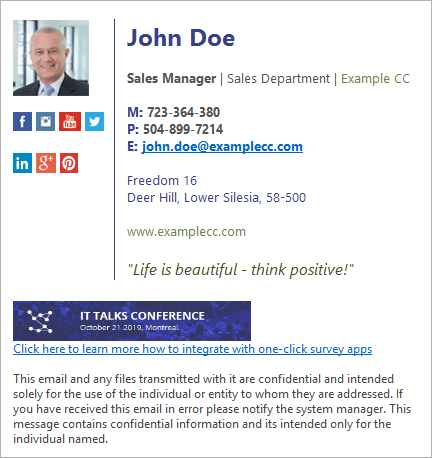 Tips for a well-balanced email signature composition
To keep your email signature composition eye-catching and professional, try to follow these trips and tricks:
Use just one font type, make sure the font you choose is a safe font.
Minimize the color palette of your signature to just 2-3 colors. Use your corporate colors.
Keep the banner's size low and adjust its dimensions to match other signature elements, e.g. the width of the text block.
Unify visually social media icons (in size, color, style, shape, etc.).
Try to use max. 3-4 social media icons in one signature block.
User photos should be of the same character and style, taken in a professional environment or with a calm background.
Use only those contact details which are absolutely necessary (e.g. required by law).
Make the signature responsive so that it looks good on mobile devices.
The disclaimer text should go below the signature block.
Feel free to use vertical and horizontal dividers to separate logical parts of the signature.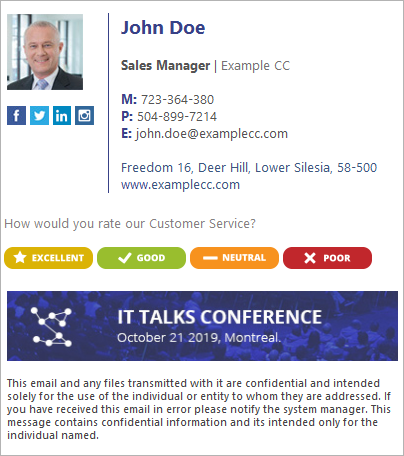 For more examples of what a good email signature composition looks like, check out email signature templates of this free email signature generator.
Technical hints for email signatures
Email signatures are not only all about their visual side. There is also a technical expect that is equally important and you should take it into account when creating email signatures. To make sure that your business email signature looks correctly on different email clients and mobile devices, pay attention to:
The size and length of email signature
The signature should be concise, build with light (but of good quality) graphics and short text blocks. It is a good practice to keep images and banners about 500px of maximum width and about 150-190px of maximum height. Larger images might be overwhelming for the recipient and can unnecessarily increase the size of the message. As for the length, some email clients simply don't allow to use email signatures if they are too long. For example, Gmail does not allow for using email signatures which contain more than 10,000 characters.
Font family and font size
When choosing a font for your email signature, you should not only look at its esthetic side, but also at their technical properties. In other words, use only safe fonts that are available in most popular email clients (e.g. Outlook, Gmail, Outlook.com) and devices (e.g. iOS, Android, MAC, PC). Otherwise, you may find out that your email signature looks perfect in your email client, but it is a mess when opened by the recipient who does not support fancy fonts used in your signature.
As for the size of the font, it should not be too big or too small. Big letters in signature can make an impression of a bad taste and being too self-oriented. Small letters, on the other hand, can be hard to decipher, especially on small screens. It is a good idea to use a standard font size of 10-12 points.
Signature tests before going to production
Quite obvious, but worth mentioning anyway. Any changes you make to your business email signatures should be thoroughly tested before you deploy them in the real environment. You should verify how the signature behaves in different email clients, devices, browsers, etc. Of course, this will not guarantee that the signature will look properly in 100% of situations. But at least, you can adjust it to work as expected in most common email clients and devices.
Optimization for mobile devices
A modern office worker is in most cases a mobile worker. This means that most of their online correspondence they receive and read on their smartphones. That is why, you should make sure that your corporate email signature is mobile friendly – in other words, make it responsive. Also make sure to use high resolution images in your email signatures. Then, you can scale the image down with the help of HTML and CSS coding. Thanks to that the images should not get blurred on mobile devices.
Email signature ideas
There is no need to reinvent the wheel when it comes to email signature design. You can watch others and get inspired to create your own professional email signatures. But you don't have to build your email signature from the ground up all by yourself. You can simply download one of these free email signature templates or use a free email signature generator to get a solid base for your HTML signature. All the signature templates from the links above can be used for both private and business purposes.

Feel free to get some hints on how to use Free email signature generator.
Central email signature management
Hopefully, you don't know the pain of managing email signatures in organizations of hundreds or thousands of employees. Without a central solution this can be a nightmare, especially if you need to update signatures regularly. Here you can see how painful it can be to deploy email signatures in a 250-employee company.
That is why companies of all sizes and profiles look for third-party solutions like CodeTwo Email Signatures 365 or CodeTwo Exchange Rules which can help them centralize, ease and speed up the process of creation, deployment and control of email signatures in Office 365 and Exchange environments.
Each CodeTwo solution comes with a free trial version so you can always give it a try without making any commitments. It worth getting some first-hand experience and having your own opinion.
Why centralize email signature management with CodeTwo?
Simply, because it gives you more control over signatures in your company. For basic needs, the native signatures are totally fine. But if native signatures are too basic to meet your company standards, then it's time to invest in professional email signature management software. The CodeTwo solutions let you, for example:
Unify the design of signature for all employees and implement global updates within a few clicks.
Add signatures under the latest response and not at the bottom of email threads.
Have HTML email signatures in emails sent from any email clients and mobile devices.
Embed logos, banners, user photos and other graphics in email signatures (not as attachments).
And many more.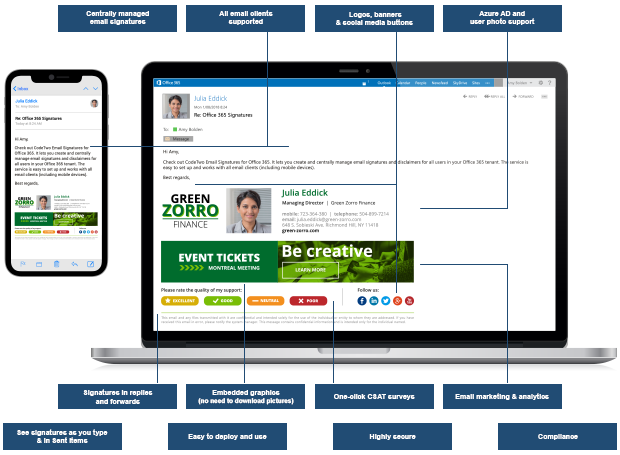 For more details, you can also see this comparison of CodeTwo products and native mail flow rules. This will help you verify what your business needs are and pick up the right solution for your company. Good luck with creating impressive email signatures!
You may also be interested in reading: