A WhatsApp link in your email signature, website or blog? Why not! Such a link will allow other people to contact you via a WhatsApp message or call. In today's world, we tend to shorten the distance in interactions between companies and customers or business partners. Also, we now have many different communication channels at our disposal, the most popular being email, phone calls and social media messaging apps. So, how about extending your contact opportunities? In this blog post, I will show you how to create and add a WhatsApp link to an email signature, but feel free to use your WhatsApp link anywhere else.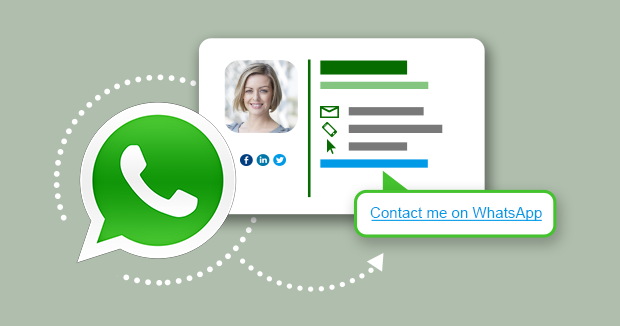 A WhatsApp logo or a linked text in your email signature
If you want to let other people know you are using WhatsApp, you can either add a WhatsApp logo or a simple hyperlinked text like "WhatsApp" or "Contact me on WhatsApp" to your email signature. How you do it depends on your personal preferences and on the email signature design policies in your organization.
If you need a WhatsApp icon for your email signature, you can use one of those provided below (right-click on it and select "Save picture as" to download it to your computer). Each WhatsApp icon is in .png format:






Create a WhatsApp link
You don't need to use any WhatsApp link generator to get your own link. To create a WhatsApp link, you just need to use your phone number in the following link format:
https://api.whatsapp.com/send?phone=XXXXXXXXX
To have a working link, all you need to do is replace all the X symbols with your phone number.
Important: Type your phone number without spaces or special characters like brackets, hyphens or the plus sign. For example, if your phone number is (+28) 202-555-000, you should provide it as 28202555000, so that the link looks like this:
https://api.whatsapp.com/send?phone=28202555000
You can now add the WhatsApp link to images or text in your emails, websites, blogs and more. Read on to learn how to add it to your email signatures.
Add a WhatsApp link to your email signature template
Once you have your WhatsApp link ready, it's time to use it in your email signature template. The process of adding links is identical for the WhatsApp icon and for the hyperlinked text.
Open the email signature template in your email signature editor. Then, add a WhatsApp logo or text and link it using the created link, as shown below. In this example I'm using the editor that comes with CodeTwo Email Signatures 365.

Highlight the WhatsApp logo or text and click the link icon in your template editor. In my example, it looks like this (it should look similar in any editor you might be using):

Enter your WhatsApp link in the new window that opens.

Save changes and test your new email signature template to make sure the link works as expected.
When recipients click the link in your signature, they should be able to contact you directly via WhatsApp on their mobiles, either via a text message or a phone call.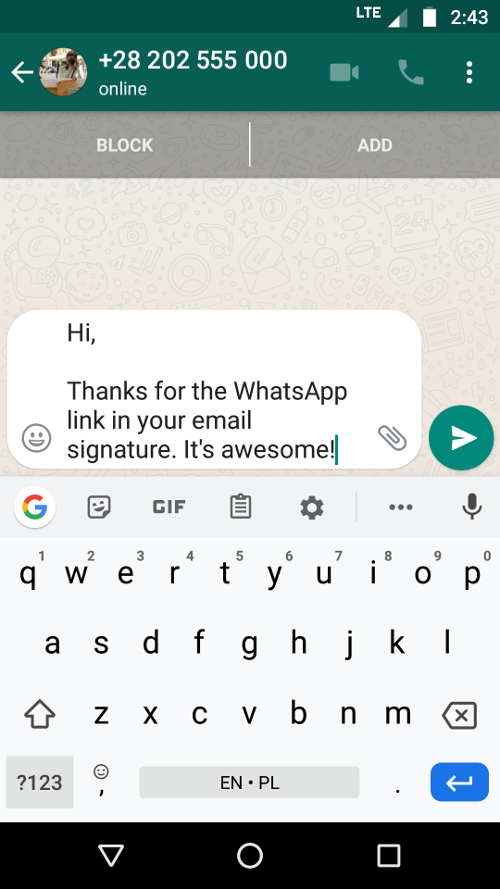 Note: If the recipient doesn't have the WhatsApp app installed on their mobile, they will be asked to download one before continuing.
If the recipient opens the link on a desktop, they should see something like this: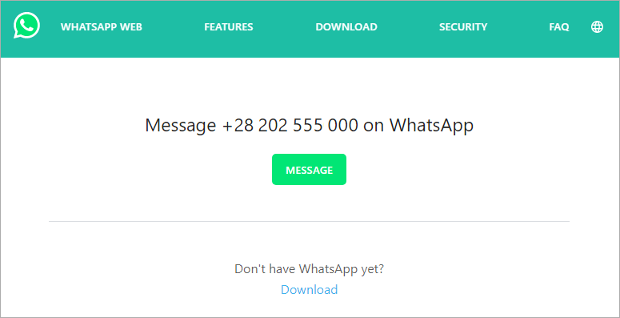 To send a message simply follow the instructions on the screen.
Note: To use WhatsApp on a computer, you actually need WhatsApp on your mobile to access WhatsApp Web from it. Then, you will be asked to scan a QR code on the computer screen to synchronize contacts and conversations from your mobile to desktop. You can also download WhatsApp for Mac or Windows PC.
That's it. From now on, you, your customers and business partners can enjoy fast and direct communication provided by the WhatsApp messaging app.
See also: