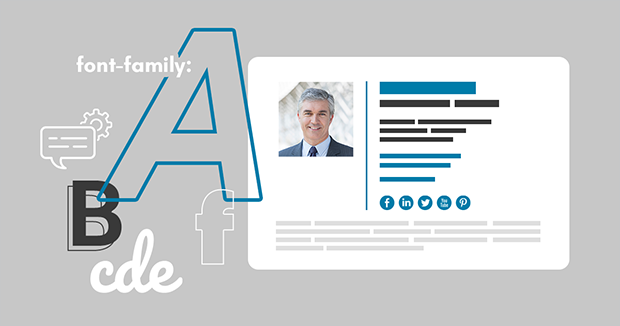 [Update]: Last updated on November 27, 2019.
Every element of a signature block plays an important role. Contact details, user's photo, images, hyperlinks, social media icons, or font need to go together to make the signature look professional. One of the basic elements that can significantly impact the signature's readability and visual perception is an improper font. That is why, in this article, I will discuss the best fonts for email signatures.
Best fonts for email signatures
To choose the best font for your email signature, you need to look for one of the safe fonts. By "safe fonts", I mean fonts that are available on most devices. No matter if this is PC, Mac, iPhone, iPad or Android – you can be pretty sure that the font you use in your signature is also installed on the recipients' side. This will guarantee that the signature template will look just the way you see it on your screen.
Safe fonts are also easy to read. There are no unnecessary decorations that would negatively impact the readability of the signature's text. Having this in mind, here is a list of the best fonts for email signatures:
Arial
Verdana
Georgia
Tahoma
Courier
Times New Roman
Trebuchet
Palatino
Lucida
With the fonts mentioned above, you can create nice and neat email signatures. Just like the one in the example below. The font family used in this signature template is Arial, size 10pt. The signature looks very elegant and allows the recipient to easily find and read all necessary contact details.
What fonts you should avoid and why
Although they are welcome on some creative projects, you should avoid using custom or decorative fonts in email signatures. On the Internet, you can find many websites offering tons of fancy fonts that you can download and install on your devices. And even if you have such an option, you should not consider them as an added value to your email signatures' design.
Here are some points to think about when considering a decorative font for your email signature:
Bad for the brand reputation – You should be aware of the fact that your email signature is actually your online business card. The way you design it can tell quite a lot about your professionalism. Decorative fonts that clutter your signature or make it impossible to read should be out of the question.
A different look on the recipients' side – It is most probable that the recipients of your emails do not have your fancy font installed on their devices. As a result, the font you have chosen cannot be displayed properly. When the fancy font is not available on the recipient's side, it will fall back to one of the standard fonts specified in the signature's code or to a default one used by the recipient.
Hard to read – most decorative fonts make the signature's block highly unreadable. The recipient of your email should be able to easily read and find all necessary information they look for in your email signature. But if the font makes it impossible to quickly scan the signature for the phone number or postal address this can be really frustrating.
The example below shows how NOT to use fonts in email signatures. The font makes it really hard for the recipient to decode all contact details.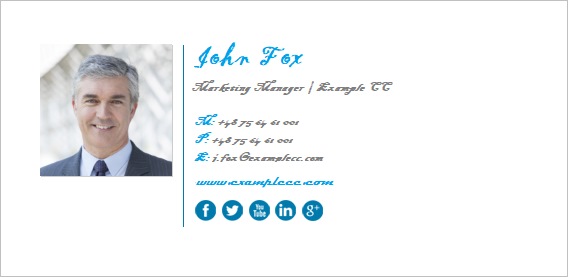 Email signature inspirations
If you need some inspiring examples of neat and safe email signature templates, visit this free email signature generator or this Signature Templates online library. Searching through the gallery of templates may inspire you to create your own signature block that will look elegant and attractive in corporate email correspondence. All email signatures listed in these resources are based on the most popular safe fonts – Arial and Verdana.
Feel free to download any of the email signature templates you find interesting and use it as your business email signature. They are totally free!
Suggested reading: