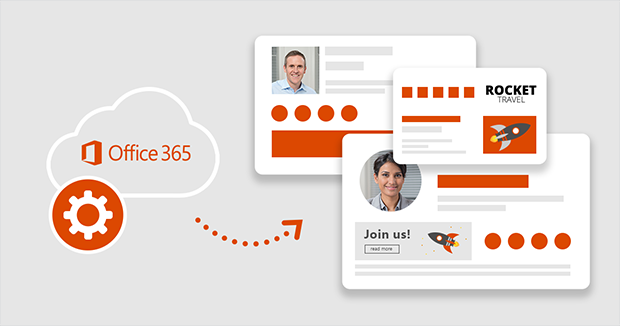 Email signature management – sounds a bit technical. Simply speaking, it is a perfect way to make sure every email sent outside the company is professionally branded and gets just the right promotional content. The problem is that corporate identity, marketing campaigns, promotional banners – those aspects are typically handled by the marketing team. At the same time, Microsoft 365 management, by default, is an IT-handled task. Global email signatures fall into this category. How is this a problem? Normally, central email signature management means that either:
The IT department gains additional responsibilities. Not only can it overburden IT, but it also means that marketing needs to outsource their own projects, instead of doing them on their own.
Marketing needs to get additional permissions to the Microsoft 365 tenant. This option might be even worse because it creates a considerable compliance risk. A wrong configuration of a mail-flow rule can cause problems with sending and receiving emails and force the admin to intervene in order to fix the mail flow.
That is why I would like to present a simple method to manage Microsoft 365 signatures behind IT's back. Don't worry, although the title sounds a bit like a hacking tutorial, there is no nefarious activity included. In fact, it is a win-win situation for both the marketing and IT team. The solution is defining access rights to the Microsoft 365 email signature tool. But before showing you how it should be done, I'll first show you how the Microsoft 365 signature management looks like when the problematic, native, approach is taken.
Central Microsoft 365 email signature management – the traditional way
Microsoft 365 includes a global email signature and disclaimer feature. You can read the details about how to use it in this article, or take a look at the video below
Unfortunately, neither the article, nor the video gives you the whole picture (unless you have a jack-of-all-trades who handles both the IT and marketing tasks – then good for you!). The marketing-IT cooperation is not shown. Let's change it and take a look at how it usually works:
The marketing team creates a beautiful email signature template for outgoing messages. The graphic designer sends custom-made banners, logos and the project to an HTML-proficient team member, who cuts, slices and translates the image into HTML. The legal team adds their 2¢ by creating and sending a legal disclaimer.

Marketing sends the HTML code to IT. The admin, after he is done fixing printers, installing drivers and doing his usual maintenance tasks, watches the video above for a quick refresher on how to set up email signatures on Microsoft 365.
The mail-flow rule gets added to the existing ones. Before making it live, the admin double-checks if it does not collide with the existing ones. Then, he sends a test email.
The test email does not turn out that great. Because of a typo, contact details are not auto-populated. What is more, the design looks completely different in Outlook and Gmail.
Then, marketing team makes some changes in the HTML code and sends it to IT… The back-and-forth continues until the signature looks ok.
Why native signature management does not work in the long run
The list of steps above outlines some of the problems you might face. And that's the optimistic scenario. Add to it that IT isn't just for show – they have their own tasks and email signatures are rarely on the top of their priority list. And marketing – think about repeating the whole story all over again whenever you want to change a banner. Oh, and don't forget about creating multiple email campaigns and different designs for different teams.
But let's assume the job is done. It turns out that the native Microsoft 365 global email signature feature has a few limitations. To mention a few:
The signatures are not visible while creating emails or even in Sent Items. This generates problems from the legal team's perspective – there is no easy way for a user to verify if the signature, together with the disclaimer, was added successfully.
There is no way to add users' photos to signatures automatically.
Signatures appear at the very end of conversations, which renders them almost utterly useless for replies and forwards.
To learn more, take a look at Limitations of Microsoft 365 email signatures.
This looks like a task which should be extremely easy, in fact, generates a huge pile of problems. It's good that there is an extremely easy solution to the problem.
Central Microsoft 365 signature management with access rights
A.k.a. the right approach. It requires a Microsoft 365 tenant and a third-party tool – CodeTwo Email Signatures 365. To see how the software works, take a look at the short video below:
And now, see how using this tool can simplify the email signature management process:
First, a Microsoft 365 admin logs in to the tool's panel and lets a simple wizard make necessary changes to Microsoft 365 tenant. Next, he picks users and groups who will gain access rights to the email signature manager:

That is when the marketing team gets the access to the signature management app. Now, using a simple WYSIWYG email signature editor, the marketing team can deploy email signatures without any assistance from IT. Creating various email signature campaigns and tracking their results:

Finally, to check what the signature looks like, you do not have to send out test emails. It is enough to use the Preview button and see how the signature changes for various Microsoft 365 mailboxes.

Central email signature management does not get any easier. To learn more about CodeTwo Email Signatures 365, and test it using a fully functional 14-day trial, visit its website.
Useful links: