Online meetings are becoming an increasingly important form of communication between companies and their business partners. One of the popular platforms that enable you to host such online events is Zoom. In this article, we will discuss how to make the most out of your online meetings by effectively inviting everyone you think should attend and keeping them up to date on details using email signatures.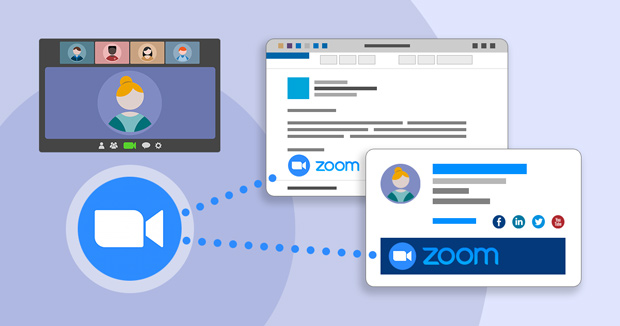 Create a Zoom meeting and generate a meeting link
First things first. We need to create a Zoom meeting. There are a number of settings and features available in Zoom when preparing a meeting, but let's keep it simple. To create a Zoom meeting, you need to:
Run the Zoom app (here we are using a Windows desktop client but Mac OS, iOS and Android apps are also supported).
Click the Schedule button.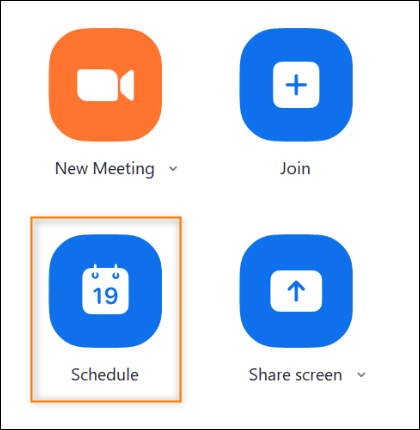 Fill in the meeting details in the new window (you can change some options and settings at this point).
Click the Schedule button at the bottom of the window.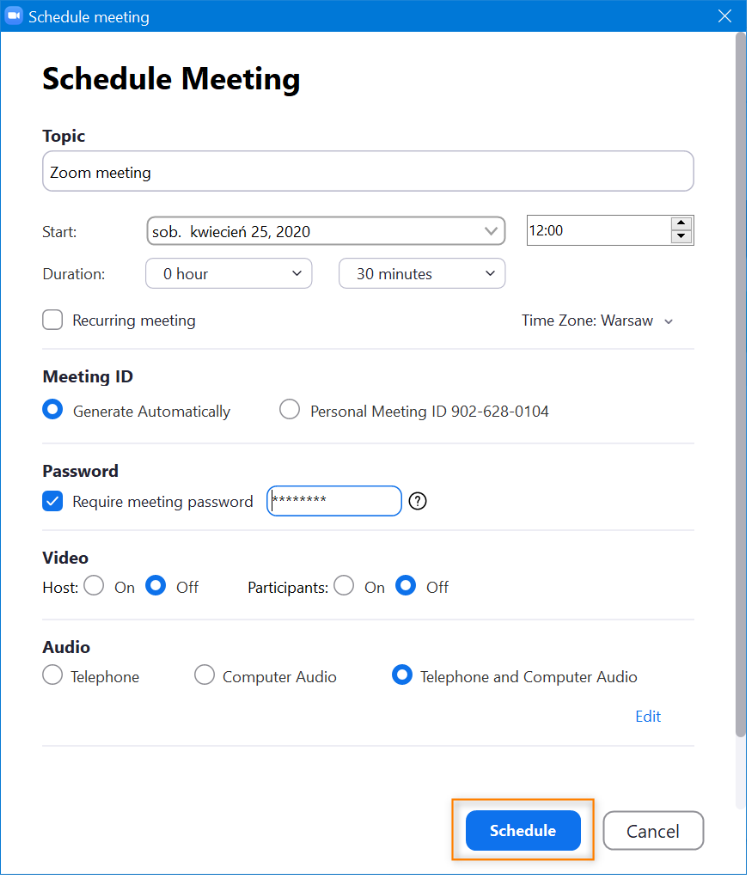 This will open a new window containing the information we need – the meeting link. It should look something like this:

https://us04web.zoom.us/…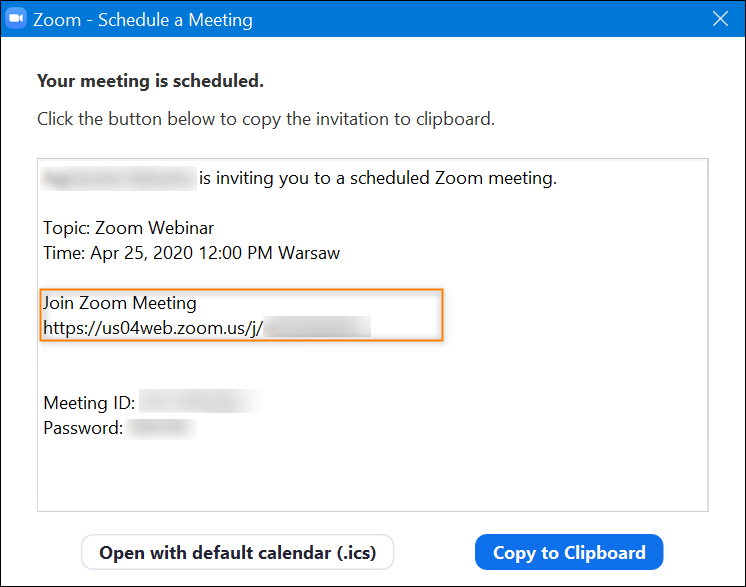 The problem with invitations
If you would like to host a large Zoom meeting (a conference or a webinar), you will be sending invitations to let people know about your online meeting ahead of time. But how many invitations can you actually send to a single contact? Consider this: if you start bombarding your customers with message after message about the event, they will only become annoyed. One invitation is good – send it by email, call them on the phone or even chat with them if that's your thing.
On the other hand, you want to keep reminding your guests where and when to join in when the time comes. You will most likely start inviting people well in advance, which means that there is a risk that the invited guests will simply forget about your meeting. You need a truly elegant solution to balance this out.
The elegant solution
You will probably have several opportunities to contact your clients or partners via email on different occasions between sending the first meeting invitation and the meeting itself. If you are doing business with them on an ongoing basis, there are a number of reasons for you to write to them. Why not add a small reminder about the Zoom meeting to your email signature? It's so simple! And the benefits are clear. You remind them about the event in a nonintrusive way and, when the time comes to join the online meeting, the link will be so easy to find. It is in emails they got from you!
Zoom invitation in an email signature
Now, let's prepare our email signature tailored to informing your guests about the online meeting you are hosting. First, you need the Zoom meeting link you prepared earlier. Once you have it, we can get to work.
You will use the link in your email signature as a reminder as well as an access point for your guests. But a plain line of text won't cut it, it's not really that eye catching! How about using a banner? It is way better at attracting attention. Perhaps you can ask your company's graphic designers to make one for you. When you have it, you can also add a link to it.
You can use various tools to edit your mail signature. Our free signature generator allows you to edit the templates we provide, create your own signature design and add them to the most popular email platforms.
If you want to manage signatures for your whole organization or need more advanced functionalities, you can use a signature management service such as CodeTwo Email Signatures 365 and its built-in Signature template editor. We'll show you how easy it is to add a Zoom link to an email signature template.
To add a banner to your signature in CodeTwo Email Signatures 365:
Sign in to the signature management app.
Select a signature rule to edit (or create a new one).
Go to the Design step and click Edit signature.
Click Picture and insert your banner either by entering a file path or a URL in the Insert picture window.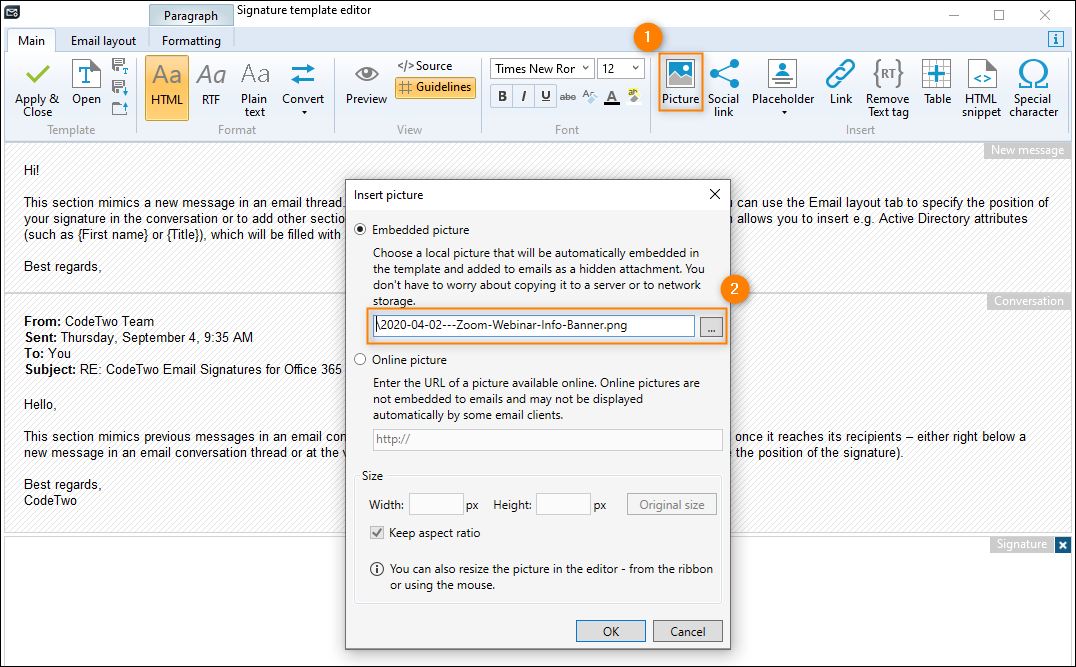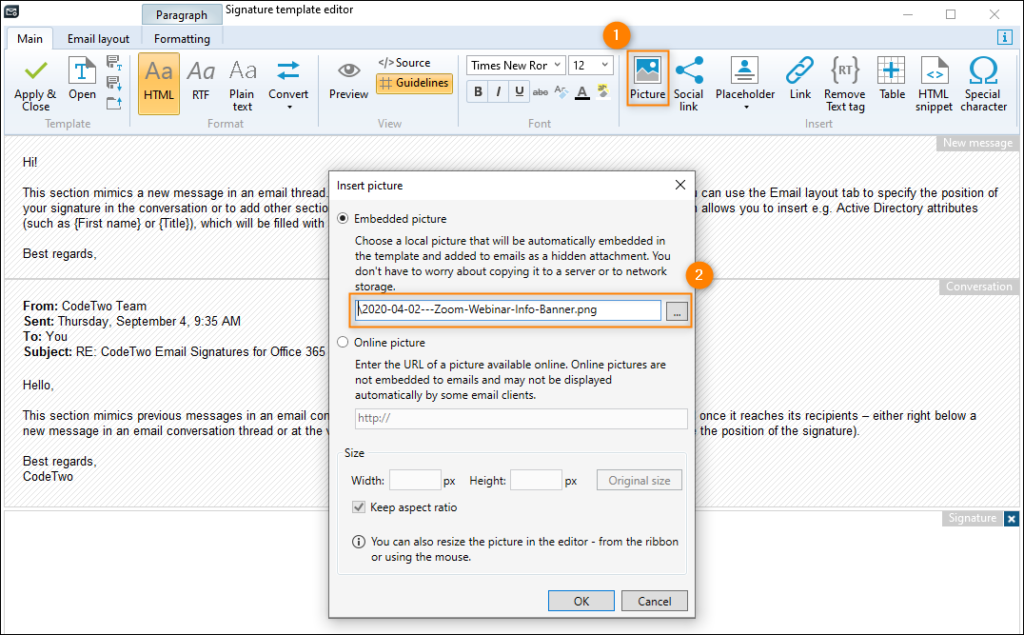 Highlight the banner by clicking it.
Click the Link button and paste the Zoom meeting link in the URL address field.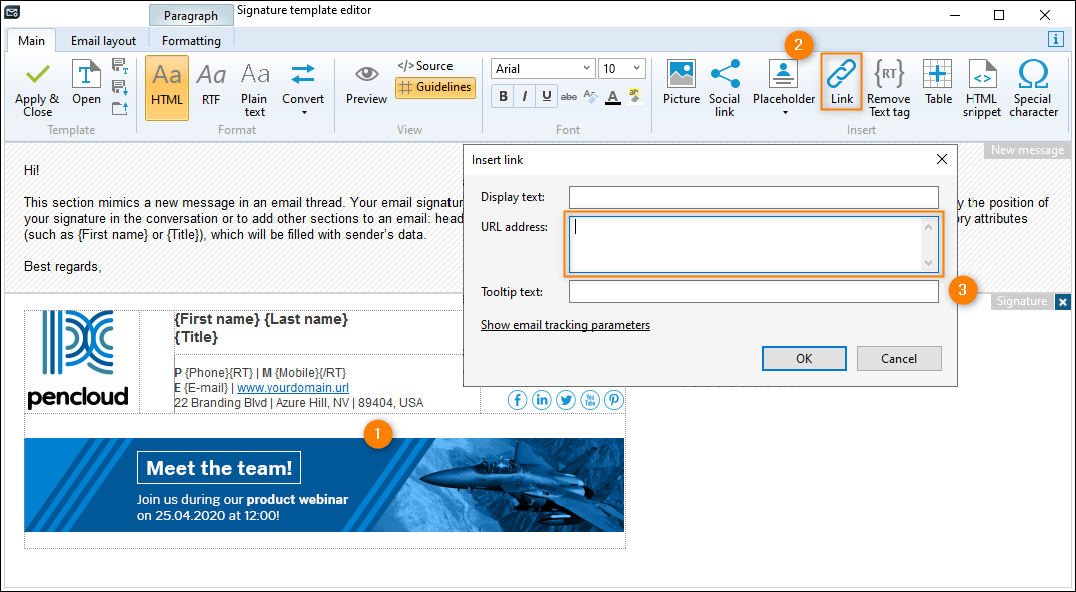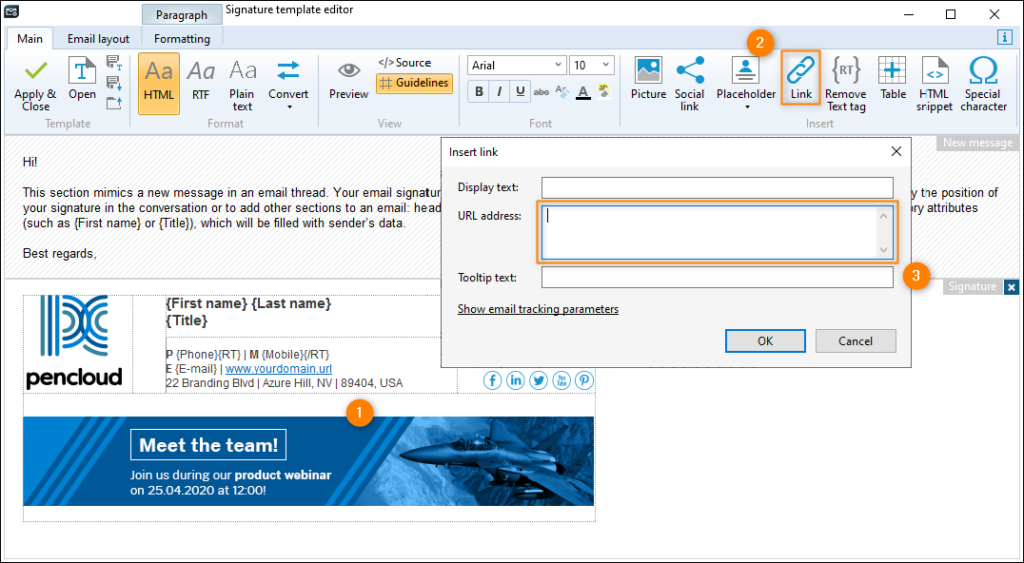 The banner attracts attention, contains visual information (date and time of the meeting) and when someone clicks it, they will be transferred directly to the meeting (once it starts, of course). Now that's versatility!
What to do next
If you decided to use CodeTwo Email Signatures 365, there is host of additional features you could use while inviting people to your Zoom meeting. Most importantly, when you prepare an email signature, you can immediately set it up for every employee in your company (or e.g. in the marketing department). This way everyone will send the right message across.
Another thing you could do is limit to whom the invitations are sent. After all, you don't want to send reminders about a meeting to clients who are not interested in it, e.g. because they are not using the product or service discussed there.
Finally, as a benefit to the professional image of your organization, by using the scheduler feature you can make sure that no reminders are added to signatures after your online meeting is over. This will also apply automatically to all users. There is no risk that someone in your company keeps sending outdated information.
See also: