Using social media icons in an email signature is a must if you want to compete in today's digitalized world. A company that doesn't have at least one social media account, may look like it doesn't even exist in eyes of potential customers. Companies gain trust by posting regularly, by being available and responsive on social media. Including your email communication in the social media strategy is a perfect way to take advantage of all branding and marketing opportunities. And there's no easier way than simply adding social media icons to your company's email signature.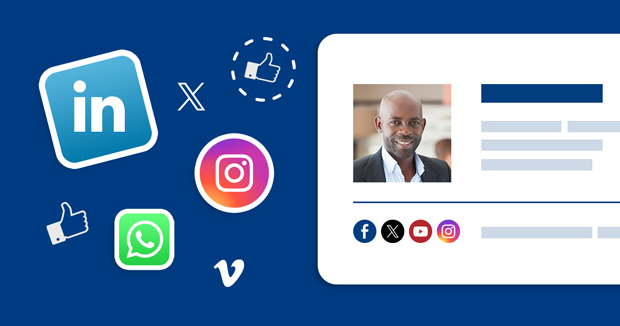 Use social media icons in your email signature
Different companies use different social platforms, which in most cases, narrow down to 3 or 5 from the list below. We have prepared downloadable social media icons for each of the following most popular services and communication channels:

Facebook


Instagram


X (Twitter)


LinkedIn


YouTube

Pinterest


WhatsApp


Vimeo


Signal


reddit

WordPress


RSS


Spotify


TikTok
All social media icons are available in three sizes: 20×20, 48×48, 80×80 pixels and in six styles: standard square, rounded square, gradient square, solid circle, outer circle and symbol. All icons are in the PNG format.
For a detailed instruction on how to add social media buttons to your email system, go to this article.
Standard Square
These social media icons have a solid color square background.

Rounded square
The following social media icons have a solid color rounded square background.

Gradient square
Another set of social media icons with rounded square background, but this time they have a gradient effect added.

Solid circle
The following social icons with solid circle background will bring some freshness to your signature.

Outer circle
All social icons from this set have an outer solid circle and transparent background. This shape gives email signatures more lightness.

Symbol
Social media icons of this style have no background, just the solid symbol (icon).

Download all social media icons for free
Decide on the size (20×20, 48×48 or 80×80 pixels) of social icons you want to have in your email signatures and then download one of the following .zip files to your computer.
Each package of a selected size contains graphics in all styles and shapes presented in this article.
More social media icon inspirations
Social media icons in email signatures should match your email signature's style and brand color. If the above-listed standard icon designs don't go well with your visual identity, look at the examples below for more inspiration. If you want to take away one of those, follow the links under each template. The first link takes you to the signature generator where you can easily edit the template. The second one takes you to the signature template's download page where you can download a .zip file containing all the signature graphics, including social media icons. All the inspirations come from our free signature generator and signature template library.
Deep blue
In this signature template, you will find blue solid circle social media icons. Perfect choice for companies with modern but simple design preferences.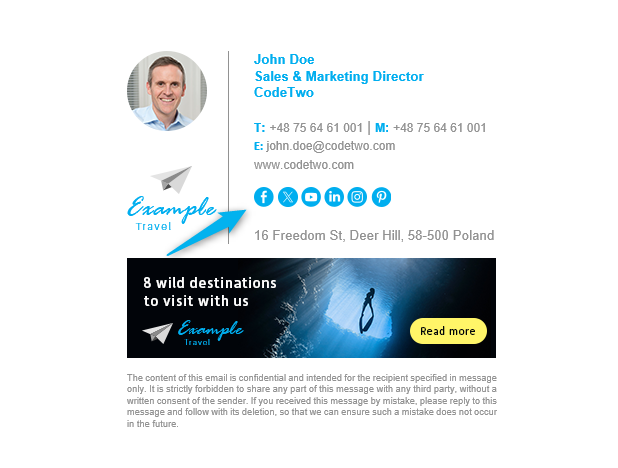 Edit template
Download template
On the wave
These emerald social media icons are elegant and should go well with most health-industry email signatures.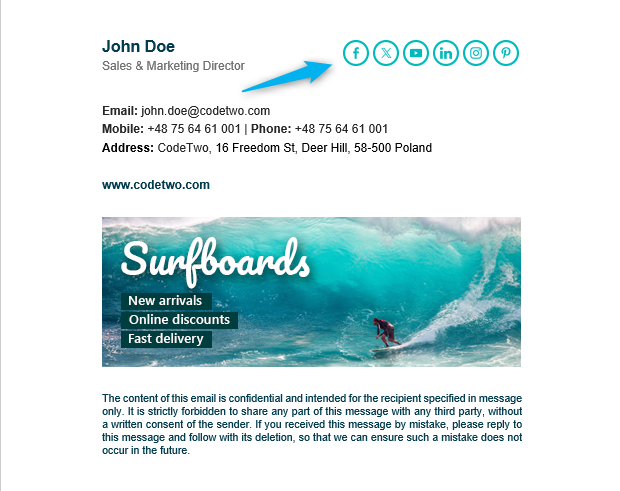 Edit template
Download template
Big and bold
For those who want their social media buttons to be visible, these radiant red color icons would work best.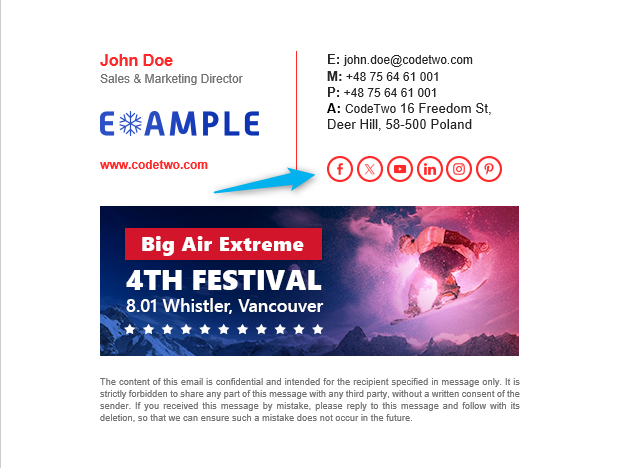 Edit template
Download template
Simple and light
The following unified orange social media icons are a good choice for light and clean email signatures.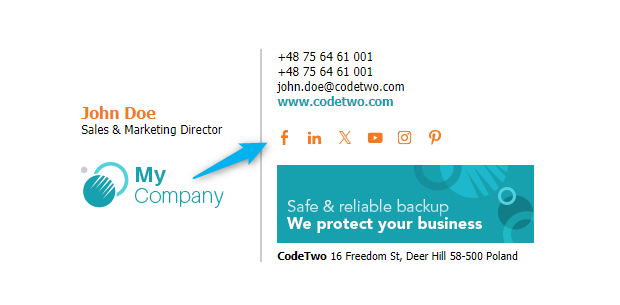 Edit template
Download template
Hexagonal logo
For those who are open to non-standard solutions, the hexagonal social media icons are the way to go.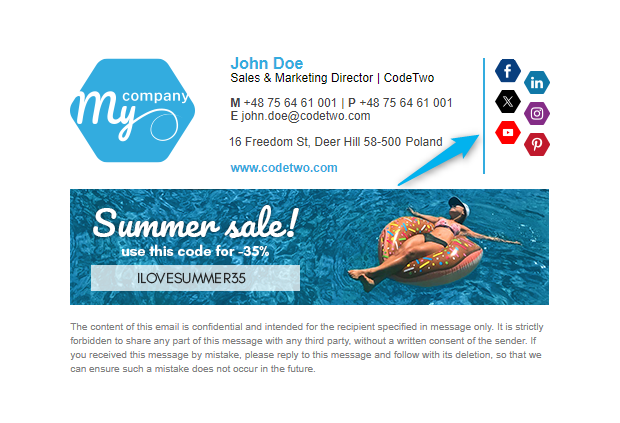 Edit template
Download template
Note: At this moment, our signature generator supports Facebook, LinkedIn, X (Twitter), Instagram, YouTube and Pinterest icons. If you need other icons, download them and then add directly to the signature template in your email system.
How to add social media icons to email signatures?
To make it easier for your recipients to go directly to the right profile on Facebook, Instagram, LinkedIn or any other platform you want, your social media icons need to be clickable. In our article on how to add social media buttons to email signatures, you will find out how to insert social icons into specific email systems, how to get a working link to your social media profile, and more.
Disclaimer: All brand logos available in this blog post belong to the respective companies.
See also: