With a new year, we welcome new trends in email signature design. In 2018, to make appealing and professional signatures, we still look for simplicity and visual harmony. However, you will also get some concepts in signature design that become more and more popular like one-click surveys. Let's then see some spicy examples of the best email signature design for 2018.
Simplicity
Simplicity is still the queen. It makes the signature look classic and professional. You should not make the signature overloaded with contact details. Or with graphical elements. These, in fact, can turn the signature into a real disaster if not used moderately. The simplicity would be especially appreciated in business correspondence. Let me present some examples of signatures that stick to the rule "the less, the better".
Inspiration 1
This email signature is the best example of what a really simple signature should look like. Only basic contact details, no images or photos. The perfect choice for those who appreciate minimalism.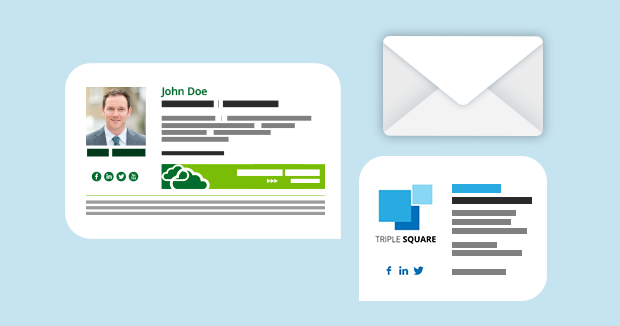 Inspiration 2
This email signature block consists of two columns. Thanks to that, the recipients can quickly and easily find all the necessary contact information. Simple and reader-friendly.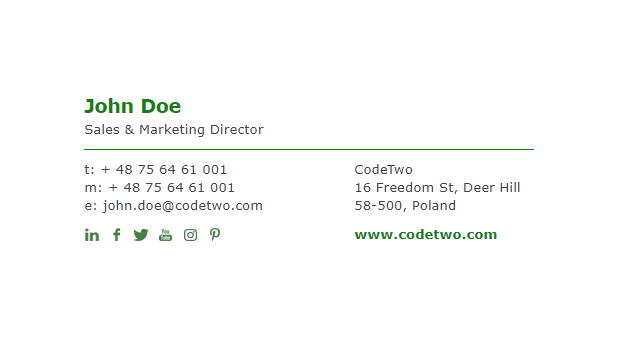 Inspiration 3
Here is another example of a simple design, but it adds a graphical element – a user's photo. If you like this idea of sharing users' photos in signatures, make sure they look professional. You can use free tools to manage users' photos in Office 365 and Exchange.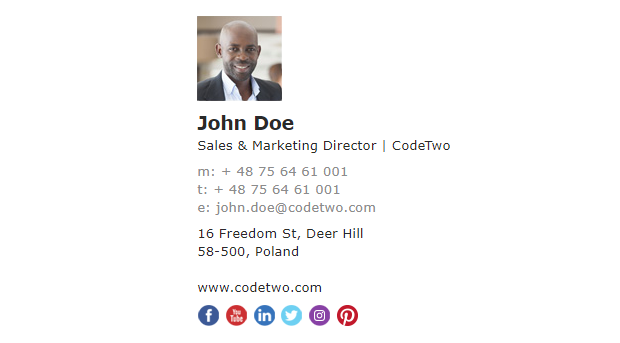 Visual harmony
This aspect of email signatures is very often neglected. Visual harmony means that all elements of your signature are well-organized and correspond with your business visual identity. It is worth devoting some time to properly plan all signature elements before creating the template. A carefully tailored signature will definitely catch people's eye and will confirm your professionalism.
Inspiration 1
Email signatures can contain different types of visual elements that can improve their attractiveness. Of course, the first rule of keeping things simple still applies. You don't want to go wild and turn your signature into visual chaos. Here is an example of a well-balanced signature with a marketing banner.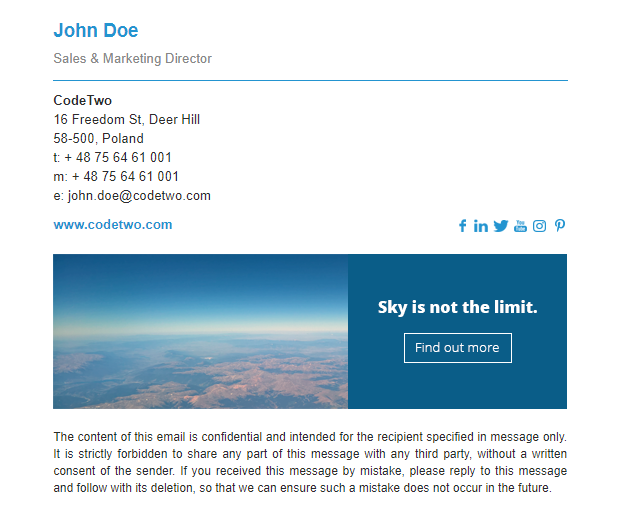 Inspiration 2
In business communications, it is a good idea to brand your signatures with your company logo. This will help your customers or business partners quickly verify who the email comes from.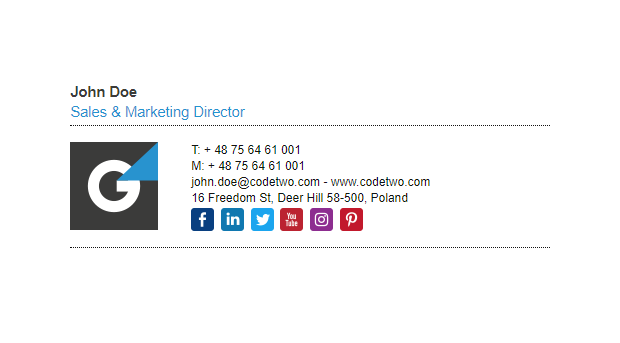 Inspiration 3
If signature elements are consistent, you can use more graphical elements at the same time. This is an example of a signature with the company logo, social media icons, and promotional banner.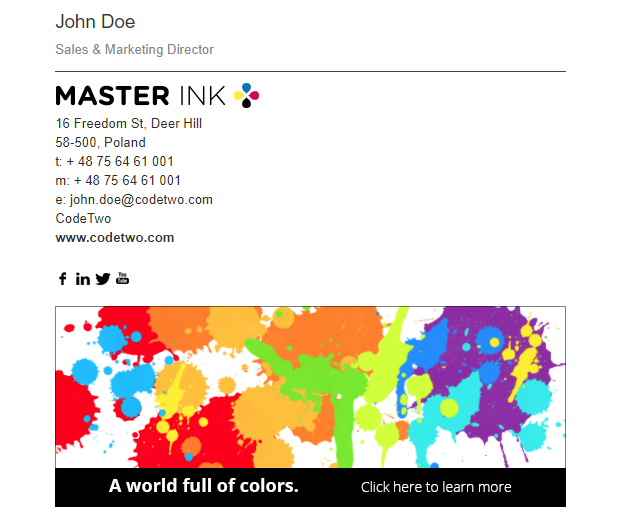 Bonus for 2018
In 2018, you may see a growing trend towards email signatures containing one-click surveys. This opens new opportunities for companies to measure their customers' satisfaction with little to no effort. Here is an example of a signature template that uses a one-click survey to rate a company's Customer Service performance: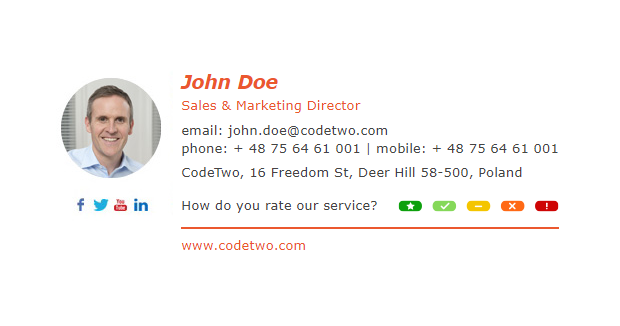 The one-click survey functionality is available in CodeTwo Email Signatures 365, which allows you to integrate email signatures with services like CrewHu, or Hively.
Want more inspirations?
For more signature design inspirations, see Free Email Signature Generator and this Signature Templates webpage.
If you are interested in automating email signatures in your Office 365 or Exchange organization, check out how CodeTwo solutions can help you with central email signature management.
See also: