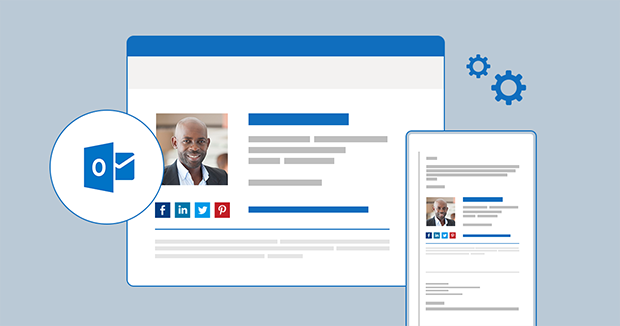 [Update]: This article was first published on March 15, 2016. It's been updated to reflect the current steps required to set up an email signature on respective platforms.
Back in the day, when Exchange 2016 was released, OWA was replaced with a brand new and shiny Outlook on the web, known from Office 365 (or Microsoft 365, as the name also changed in the meantime). Since then, Outlook on the web went through some visual upgrades, but there wasn't another name change (yet). What's interesting is that despite the same name used for both on-premises (Exchange 2016 and Exchange 2019) and cloud environments, those Outlook versions are a bit different. Even though both clients are similar when it comes to setting up signatures, there are some noticeable differences. One of them is the path to the email signature editor.
Set up email signature in the cloud-based Outlook on the web
The layout of the email signature editor in the default Office 365 mail client is different, although, its functions are primarily the same as in the on-prem version of the client. Two additional buttons are present: format painter and quote.
Log in to your Office 365 account and go to Outlook, or use the direct link.

Next, open the Settings by clicking the gear icon in the top-right corner. Then, click View all Outlook settings at the bottom of the pop-up window:

Go to Mail > Compose and reply. Here, you can create or edit your email signature, and choose whether it should appear automatically in your new messages and replies/forwards respectively. If you leave both drop-down menus with their default values (No signature), you will have to add the signature manually when composing an email. The Settings window should also be accessible using this link.

Instead of creating your signature from scratch, you can use the free email signature generator to quickly create a well-formatted email signature and paste it into the Outlook on the web's signature editor.

After you finish setting up the signature, hit Save. The signature settings should be applied right away. Unlike the on-prem version, it is possible to create and use multiple signatures for a single mailbox – similarly to the Outlook desktop client. Just click the New signature button after you have saved your first signature to create another one.
Set up an email signature in Outlook on the web in Exchange 2016 or 2019
Outlook on the web looks a bit differently from its Microsoft 365 counterpart. Read on to see how to access the email signature settings and add or edit your Outlook on the web signature.
Log in to your Outlook on the web account and go to the Mail app.

In Outlook on the web, go to settings (it's a gear icon at the top right-corner of the screen) and click Options.

On the left pane, go to Mail > Layout and select Email signature.
To make the signature appear in every new email message, check the Automatically include my signature on new messages I compose box. There is also a corresponding option for replies and forwards available. Compose your email signature using available formatting tools. You can also create your signature with the free email signature generator and then paste it to Outlook on the web's editor.

When your signature has been created, hit the Save button so that all changes take effect.

Back in your inbox in Outlook on the web, you can check if the settings were applied correctly. If you selected to have your signature added automatically, it should be applied at the bottom of your email when you create a new message.

That's it! Now you do not have to waste time on creating a signature from scratch every time you write a new email. Your signature will already be there.
If you want to change your email signature, just follow the above steps again.
---

---
Central email signature management
While the method above is a quick and easy way to set email signatures in OWA, it has some drawbacks (see this article for more information on this topic). If you want to ensure that every mail is well-branded and includes all the details you require, you should manage email signatures centrally, from one place. See the links below to learn how to do this natively.
Limitations of the native email signatures solution
The native methods of central email signature management can help you unify email signatures in your organization. Sadly, this approach is still not perfect, as it lacks some significant features. To mention a few:
Placing the signature directly under the latest reply or forward,
Including inline images in email signatures (so that they do not show as attachments),
Viewing email signatures in the Sent Items folder,
Including individual users' photos,
Removing empty lines from signatures (e.g. if a user misses an attribute)
If you are looking for a solution which overcomes all those limitations, you have to use a third-party tool, like CodeTwo Email Signatures 365 (for Microsoft 365) and CodeTwo Exchange Rules (for Exchange Server).
Suggested reading