A new fashion has been steadily rising around the concept of visual content in marketing and branding. We have watched it grow for the past years and now this grown up child has taken its well-deserved place in the marketers' playground. It fits perfectly there. We're talking about email signatures and their magnitude for marketing and branding purposes. If you don't know the story yet, just dip into this article.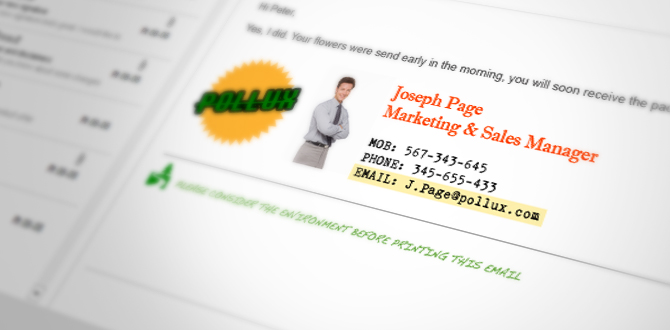 Your email signature as a selling point
Let's say that an email signature has become more than a regular, common tiny detail of corporate identity. Picture it as an object of significant importance for a company; like a building protruding in the city center that for each passer-by brings visual and own personal experience. For a company it's not temporal, it needs to be everlasting. Are you catching up? An email signature is even more than that, as it is the embodiment of your branding strategy. It is the way how you attract your target audience and the information on how genuine you are. Simply just try to imagine how many emails are sent by your company daily or weekly, big numbers, right? The potential is huge.
All advantages
For 'not convinced' ones let's see what kind of information you may disclose when you send an email with your optimized signature.
Basic contact details e.g. your name, title, branch, company, phone number, email, location etc.
Your photo
A logo of your company
Links to websites, blogs, profiles, etc.

The above mentioned options stand for who you are, who you are working for and what you do. But hold on that's not all information you may send to your prospects, here we go:
Banners and logos for your marketing campaigns
Adverts of new key products and services
Information about upcoming events
Social media content
Information on business partners and projects
Logos of acquired certificates and awards
Legislative changes
Other significant information about the company
Now, that's a lot. By disclosing such elements you inform on what your target is and most importantly how big you are. It is enough for a potential customer to get the picture about you and make a decision to engage or withdraw from further interaction.

Enhance your company's identity
Personalization of a company signature will strengthen both the association of employees with your company and will encourage more effective communication with target audience. It's all about building trust and sharing experience.
Marketing strategies
For your marketing campaigns and promotions of products and services an email and your signature are an ultimate tool. An email gives possibilities to precisely select a group of recipients and a signature may be adequately modified to disseminate appropriate content by adding banners and ads to the general layout of a signature. It basically works for the precision in marketing and branding processes in a well-timed manner.
You can extend content marketing opportunities by providing links to social media profiles or just by simply embedding blog links or feeds to a signature. It is an easy and clever way to prove to the audience that your activity is a vibrant and somewhat dynamic matter.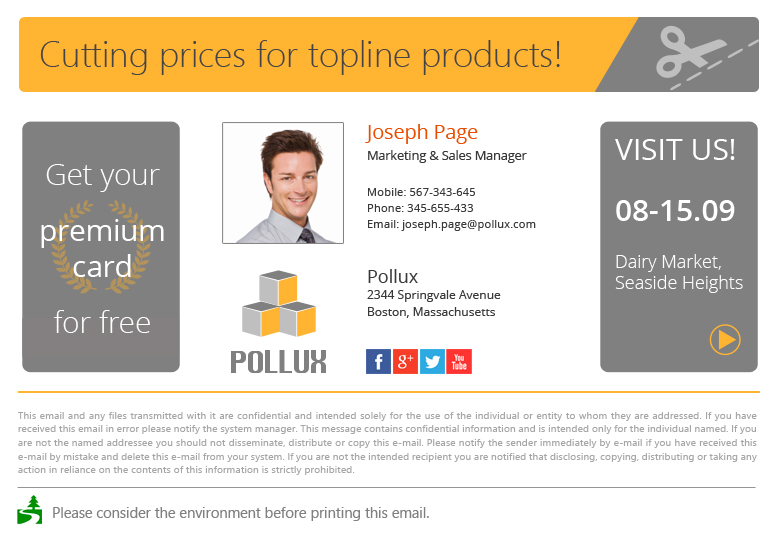 Make yourself big
Exposing the prestige of your company is natural, and an email signature is ideal for this task. Would it be a prominent award, well-earned certificate or strategic business partner, a respective logo on a signature does the trick for the stature of your company.
You just need to become aware that an email signature has gone a way beyond its primal functions and now you can see that it may become a sharp, well-crafted mean to conduct a successful marketing campaign and develop into a substantial wheel in branding.
However, to become a beneficiary and properly use the advantages of signature optimization, it is advisable to possess at least basic knowledge about managing signatures from the end-user's and especially, webmail administrator's perspective. Alternatively, administrators may use third party solutions for cloud email platforms or on-premises servers. Such applications are specially designed to help you in composing perfect signatures accordingly to your needs.
See also
Learn more about setting up signatures on the following platforms and applications:
Exchange Server
Office 365 / Google Apps
Outlook 2010 or 2013
Use a free email signature generator to create modern email signature templates: