Christmas time, for most of us, seems to be full of magic and special moments. The magic happens every moment you hear Christmas songs, find favorite sweets in the Christmas stockings or even see an ugly sweater under the Christmas tree you know arrived from your beloved auntie. This happens in the personal part of your life. But how to bring some Christmas magic to the professional world? That's simple – through Christmas email signatures. Let's check some free email signature ideas that can decorate your email correspondence during this festive time.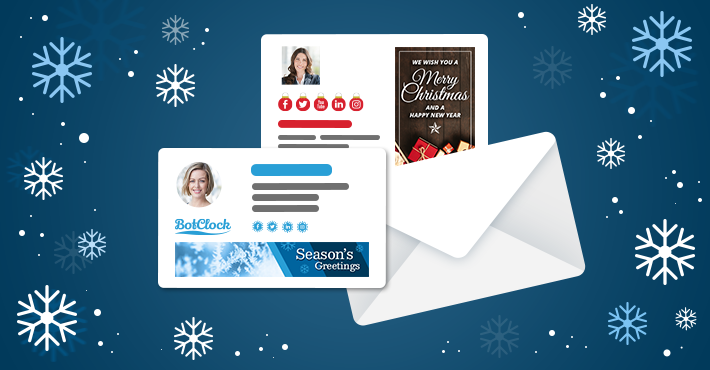 If you want to change something in your email signature to make it more attractive during Christmas time, feel free to use one of these ready-to-use signature templates. For more email signature ideas, go to the Signature Templates library or signature template generator. Each design in these free resources can be used as Christmas templates – just add your own holiday banner and the signature is good to go.
Note: All email signature templates are free and can be used for both personal and business purposes with no limitations. If you like them, don't hesitate to tell your friends about this free source of Christmas signature inspirations.
Inspiration 1 – Christmas colors green and red
Green and red are the colors that define this Christmas email signature template. A light and general marketing banner is the way to go if you have no time to create your own. If you would like to change the colors to match your brand identity, you can do it in the free signature generator.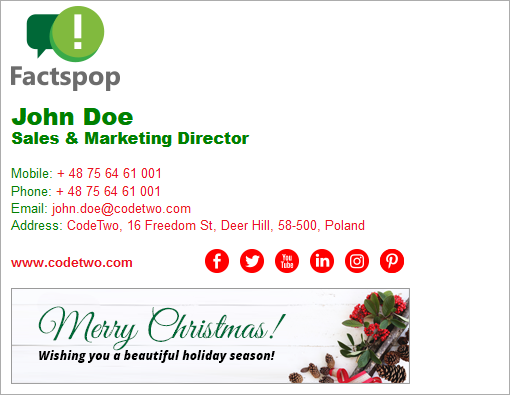 Download this email signature or edit it for further adjustments
Inspiration 2 – Neat design with an eye-catching banner
This signature template concentrates on the decorative marketing banner while the rest of the signature block stays quiet. The contact details section has no loud colors, which makes the signature design well-balanced and relaxing.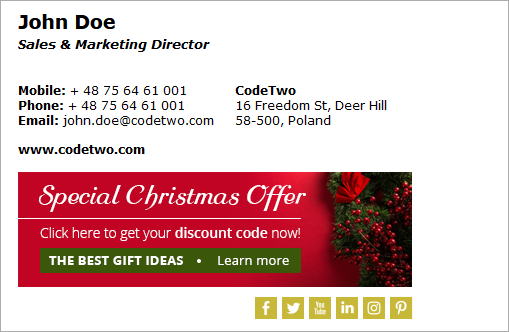 Adjust the template to your needs or download it now
Inspiration 3 – Elegant Christmas banner
This two-column email signature design is a perfect choice for real Christmas lovers. The little touches, like social media icons in a shape of Christmas balls, make this template special. The elegant vertical banner complements the festive atmosphere.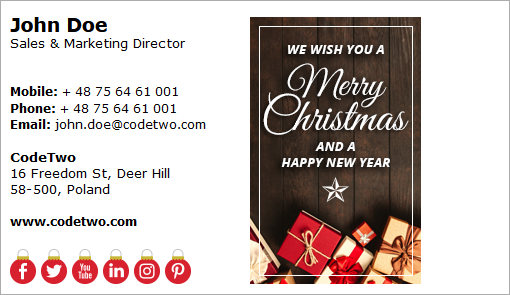 Click here to edit the signature or download it right away
Inspiration 4 – Vivid Christmas banner
With this two-column email signature design, you have plenty of room for presenting your company logo, social media icons, and a Christmas marketing banner. Green and red colors, as well as other signature elements, can be modified in the free email signature generator.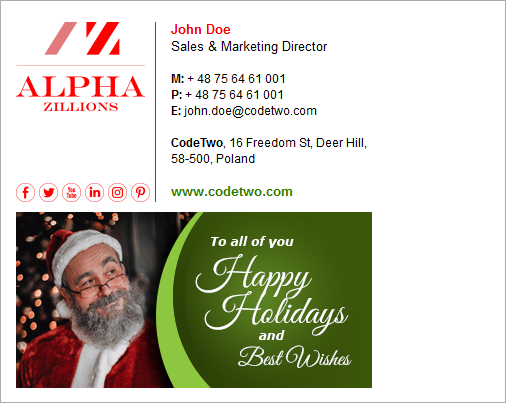 Download the signature or edit it with the signature generator
Inspiration 5 – A professional look with cool colors
A well-balanced Christmas email signature based on different shades of blue. The marketing banner is designed to meet different needs, so you can use it right away for your online business correspondence. A special attention should also be given to social media icons imitating snowflakes, which makes the overall impression unforgettable.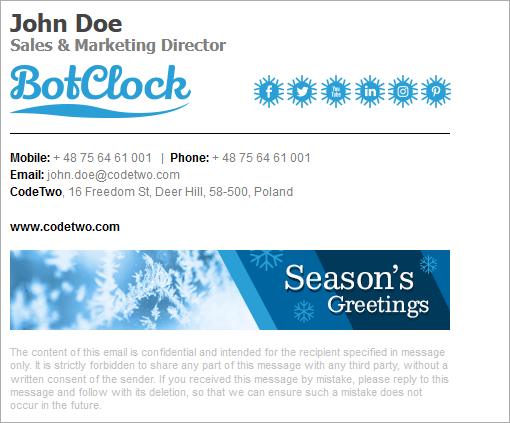 Download or edit this signature template
Christmas time is now, so don't wait too long and simply download one of these email signature templates and use it freely in your corporate emails. Let the Christmas magic come into your professional life as well.
Merry Christmas!
Useful links: