That's a good question. Email signature size is important, as it can influence the performance of email systems and the experience of users. When talking about size I refer to weight and dimensions (height and width) of the signature. Keep reading for a bunch of practical tips on how to find the ideal balance, so that your signature works flawlessly in every email client.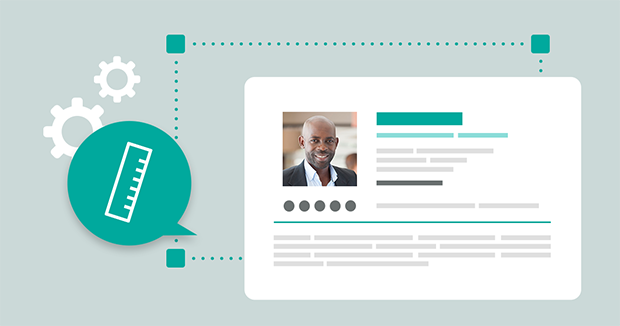 Email signature size – weight
The general rule applicable to email signature size should be: "the fewer kilobytes, the better". If you can keep it under 100 KB, there should be no noticeable performance glitches along the way. While modern email servers should be able to handle larger messages, there are some valid reasons why it's better not to use "heavy" email signatures:
Larger emails take longer to be processed – both by servers and email clients. Mobile email clients suffer the most.
Using a large email signature in longer conversations will cause each subsequent email to grow in size and even cause a heavy communication lag.
While contemporary mailboxes usually have a lot of space, they are not without limits. Cluttered mailboxes take longer to search through and need to be cleaned more often.
The heavier the email, the more likely it is to be caught by spam filters.
If you pay attention to file size, you can create an attractive email signature with a logo, a marketing banner and social media buttons without sacrificing quality.
To keep your email signature both attractive and lightweight, you might need to experiment with using different file formats for your marketing banners and company logo. In some cases, a lossless PNG image will be less sizeable, while a compressed JPG file might be better on other occasions. When saving an image in the JPG format, you will usually get to choose the image quality or compression rate, depending on the software you're using. Exporting images at high quality (i.e. above 75%) or at low compression rate only causes an extreme increase in size, but the actual gains in quality are unnoticeable.
Pay extra attention to animated gifs. While they can make email signatures very attractive and still remain relatively lightweight, it is easy to go overboard with some settings and end up with an unacceptable email size in excess of 1 MB.
Email signature size – dimensions
The optimum dimensions of an email signature should be around 300–600 px wide and 150–200 px high. While the width is limited by the size of the screen the signature is viewed on, there are no technical limits to height. Still, I would recommend keeping the dimensions somewhere within the ranges suggested above. This should give you enough space to include all the necessary contact details, a smart marketing banner, your company logo, and a disclaimer. At the same time, a signature like that will still fit on the screen of older or smaller devices with lower screen resolution.
One of the worst ideas possible is to use large and complex email signature templates for every email. I'm sure you have seen conversations in which signatures take much more space than the actual email body. Add to that a disclaimer in three languages and you get a recipe for an email disaster. That's why it is a good idea to use a different signature for new emails and a different one for replies and forwards. This makes conversations so much easier to follow. If you want to see some examples of how you can arrange various elements in an email signature, see our online signature template library. All templates are free, so if any of them attracts your attention, you can use it in your corporate emails.
Linked images help reduce email size
Images like a company logo, a marketing banner or social media icons are important parts of a modern professional email signature for business. So, how to balance the need for using images in signatures and the need for keeping email signature size low? You can use linked images instead of attaching them to an email message. Attachments increase the size of your email and if they are really big, they can negatively influence email performance. In the long run, those extra images will clog the mailbox with GBs of useless data. To avoid that, you can upload your signature images to your server and just link to them in your email signature. This way, they will be downloaded every time the message is opened, and you will get rid of unwanted image attachments.
Just a quick reminder: linked (hosted) images are usually blocked by the recipient's email client. So, until your recipient chooses to unblock them, they will see a box with red x instead of actual images.
Read more about linked vs embedded images in email signatures
Prepare email signature images for Retina displays
Retina displays make text and images look sharper than traditional displays. This is achieved by having more pixels "packed" per each inch/cm. As a result, the width and the height of images need to be doubled. Knowing this, you can make your email signature images 2x wider and 2x higher than the original size. This way, when they are displayed on Retina displays, they will not lose their sharpness.
The "2x" part is quite important. Using images whose dimensions are not exactly two times larger than their intended display dimensions may cause them to scale incorrectly. As a result, images may become even more blurry.
Avoid bad practices
Another bad practice I had the chance to see way too often is to use extremely large source images. While images weighing a few MBs each are bound to look sharp in pretty much every email client, they will most likely get you blacklisted manually sooner rather than later. That is, if you somehow manage to make such large emails reach your recipients in the first place.
Remember that employees at your company most likely mean well when they pimp up their email signatures. Still, it is better to leave branding in the hands of experts. You can do so by using email signature management software.
It's easier with email signature software
With dedicated email signature solutions like CodeTwo Email Signatures 365 or CodeTwo Exchange Rules, you can focus on what you want your signature to look like rather than worrying about the technical aspects of it. Additionally, a rich signature template library will let you choose the best signature template for you.
Tools like those offered by CodeTwo let you manage email signatures across the whole company easily. Regardless which email clients are used in your organization, you will be able to optimize your signatures and keep them attractive and lightweight. Using a signature manager, you will be able to:
Define different email signatures for the first and subsequent emails. This lets you create a complete email signature with banners, logo, social media icons for the first message in a conversation and a compact, yet branded and attractive, signature for the next emails.
Create different email signature designs for internal communication and outgoing emails.
Add one-click customer satisfaction surveys or other custom elements only when certain conditions are met.
These are just a few ways in which those tools can help you. Learn more about email signature management.
See also:
---