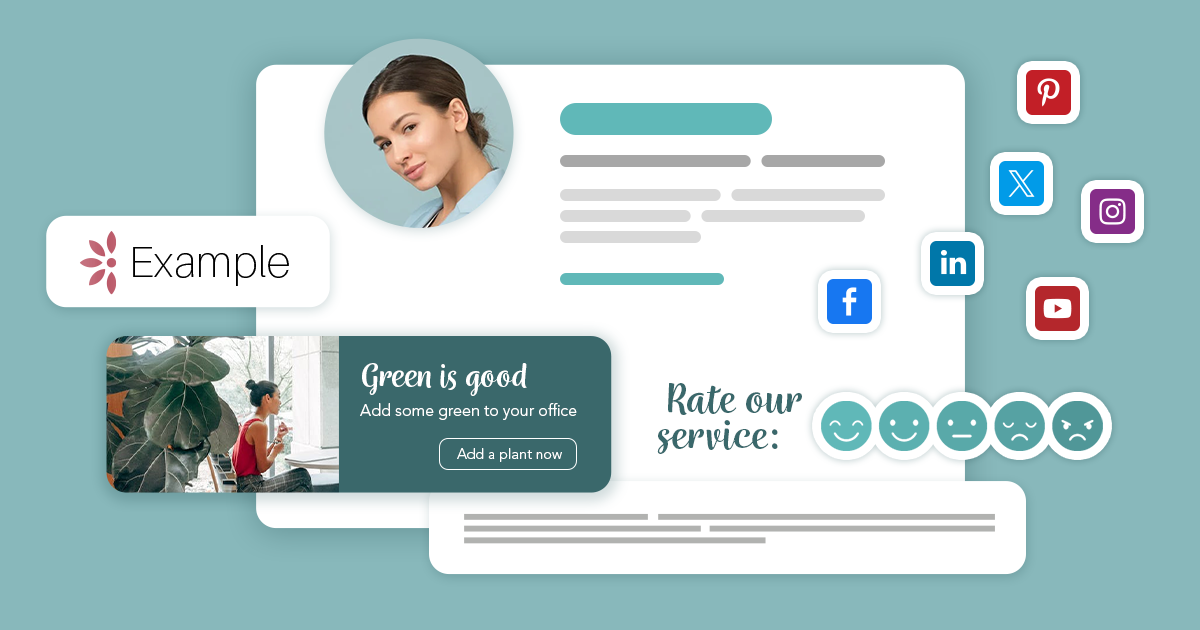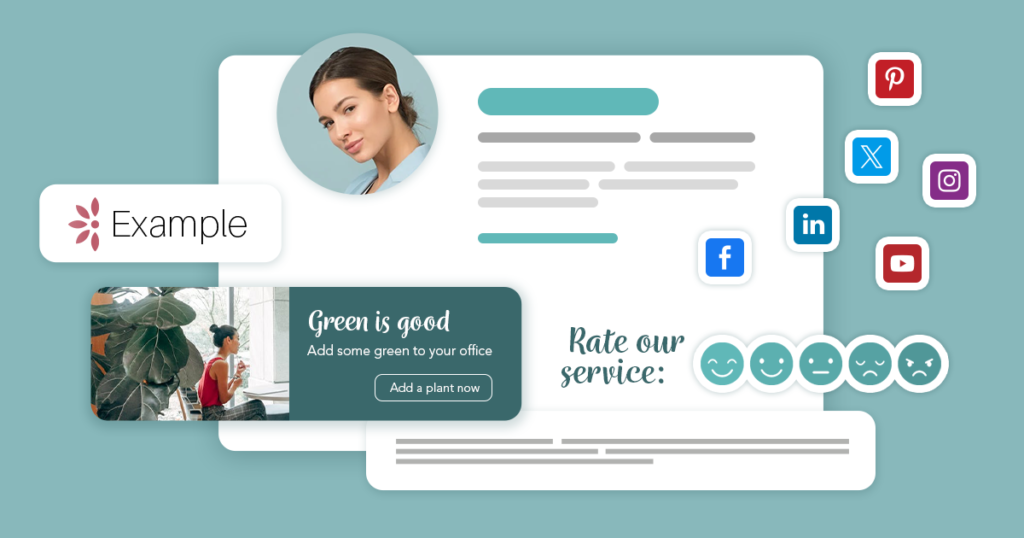 After a decade of writing articles on how to best handle email signatures, we realized we haven't answered the obvious question: "What is an email signature?". The time has come to provide the email signature definition and gather all the best practices and email signature problems (with their solutions) in one place.
What is an email signature?
An email signature is the part of an email which informs recipients who nags them. Duh. It's placed directly below an email sign off (ending) and above a disclaimer. While it evolved quite naturally from the signature people have added to snail mail for millennia (rough approximation), the electronic version serves more than a single purpose. Snail mail signature was mainly used for authentication and showing off the years of polishing handwriting skills. There's a lot of reasons for using an email signature, and I discuss them in detail later in this article.
Here's the email structure and the space where the email signature goes: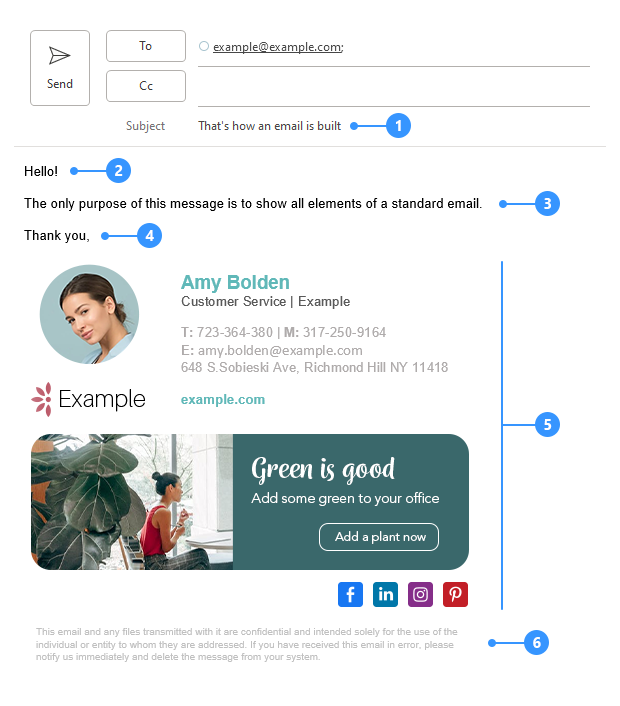 Subject
Greeting
Body
Sign off (ending)
Signature
Disclaimer
As a bonus, a combination of email signature and disclaimer is often referred to as an email footer.
Now, let's see what an email signature is made of.
Email signature elements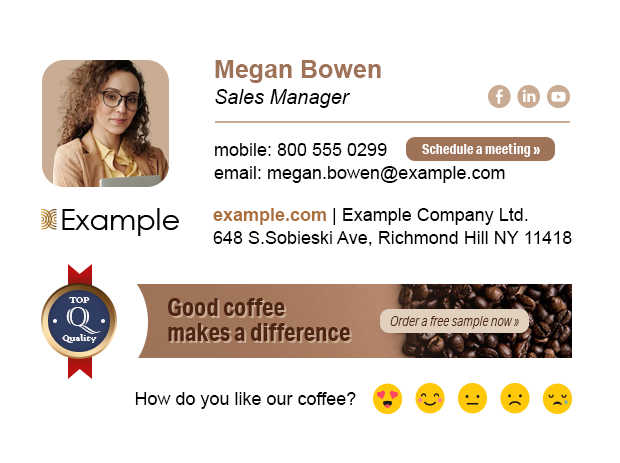 Some people consider whole email signature as being optional. However, let's put the personal opinions aside and focus on things like "business standards" and "best practices". Below, I'm listing the most common email signature elements, in semi-random order. Depending on the context, some might be boring but necessary (like company address) while other are fancy and useful but require some work to be effective (like CSAT surveys)
Name – the only element that's always there.
Title – to give some context to the name.
Contact information – up-to-date information on how to best reach you.
Pronouns – information on how the sender identifies themselves. Learn more…
Credentials – certifications and other achievements that give you bragging rights.
Company logo – the primary email signature branding element.
Company data – some company information is legally required for business emails.
Awards & achievements – again, all the things that earn you bragging rights and potentially increase trust.
Social media icons – links to your company or personal profiles. It's an easy way to show if you're recognizable, active or simply alive.
Marketing banners – email signature campaigns usually link to your best promotional offers.
Photo (a.k.a. headshot) – a nice sender's photo adds a personal touch to emails and makes them look less like mass-mailing.
Name pronunciation – not required for most names, while for some – quite useful. Learn more…
Scheduling links – this is a great way to make appointments the right way.
CSAT surveys – adding customer satisfaction surveys to email signatures lets you gather invaluable feedback on your products and services.
Email signature types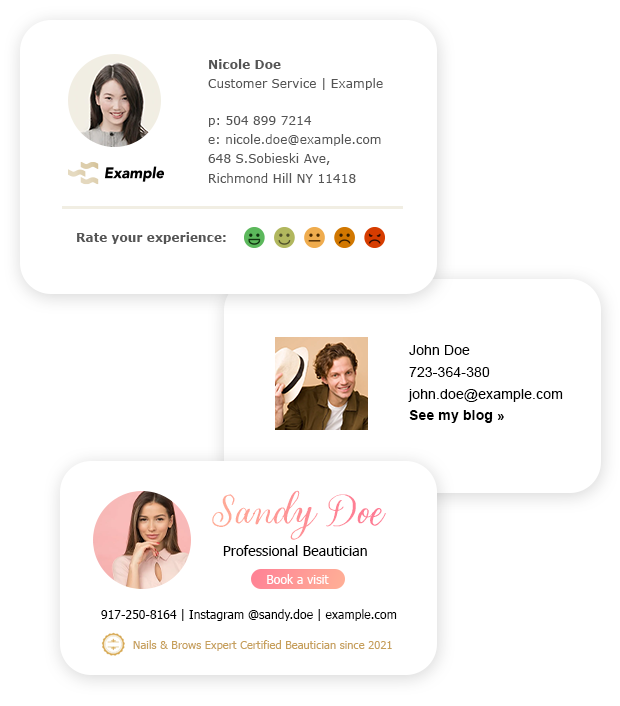 Just as not all email communication is the same, not all email signatures are made equal. Below, I'm listing the most common email signature types and some of their distinctive features.
Corporate (business) email signatures
Business email signatures are the ones most commonly seen. Most companies begin and end their day in an email inbox, so it's only natural that email signatures play a huge role in business communication.
Corporate email signatures not only inform people who is on the other end. They are an asset – every email with appropriate signature is an opportunity to promote a brand, upsell a product or funnel customers to another contact channel. This means companies want to get the most out of their email signatures.
What's more, corporate email is, at least in some cases, standardized. There are regulations which require companies to include their address information or an unsubscribe link in every outgoing email. Those elements are easily integrated into an email signature, so it's only natural that companies treat signatures as a must-have.
In short, corporate email signatures might include all elements I listed earlier. Though it's better if they don't include all of them at once. Overdoing it doesn't work well for email branding. Or anything else.
Take a look at our guide on achieving perfect email signature branding
External email signatures
All emails sent outside the company get a special treatment. Outdated contact info, broken formatting and unprofessional elements might directly affect your customers and their likeliness to continue doing business with you. External email signatures are usually loaded with a lot of information and optional elements (see email signature elements above).
Just remember that even the best-formatted and full-blown signature won't look good when repeated in a long thread. That's why it's best to have one email signature for the first email in a conversation and another, simplified one, for next emails. This way, you can sign your emails without destroying conversations with extensive email marketing efforts.
Internal email signatures
Sending emails that include marketing banners inside your company isn't the smartest thing to do – your employees usually aren't the target audience for your marketing campaigns. That doesn't mean you should ignore internal email signatures. They are the perfect way to share important company announcements or show off some remarkable achievements to your colleagues (like the "Employee of the Month title").
A quick guide on internal company email signatures
Personal email signatures
Personal email signatures are reserved for those who use email after they leave their workplace. These signatures don't require any fancy banners. They can even tolerate a slow dosage of mottos and movie quotes. And while nobody makes you set them up, they are an effective way to make your emails stand out. A great email signature makes a lasting impression.
Learn more about personal email signatures
Freelancer email signatures
Freelancer email signatures are a special case. On the one hand – they should be highly professional; on the other hand – there's nothing corporate about them. Just like personal email signatures, they're all about you. The difference is that it would be a great waste if you didn't use them to show off your achievements. Any awards or certifications you worked your socks off to get? A portfolio you've built for years? Or maybe a professional blog that is so good that even you read it after publishing a new article? Those are the elements that should be in the spotlight.
How to design an email signature for a freelancer
Reasons for using an email signature
Why use a fancy email signature? While the world won't end if you use just your initials to end an email, using a well-formatted, professional email signature has its benefits:
Increasing brand trust. When you see that a company adds a great-looking email signature to each and every email, you find it easier to believe they will be as much detail-oriented in other areas.
WOW effect for getting attention.
Easy way to learn about the sender and their company.
You send emails anyway and usually to potential or existing customers and not total strangers. It's a marketing channel where opportunities simply convert.
Best email signature practices
I've already shared a few pointers on how to best handle email signatures. There's one general rule that you should follow when designing and sending out your footers:
Don't use email signatures you wouldn't like to get.
And yeah, you can be against email signatures on principle. You may think them a waste of space and resources. But even then, you probably find it easier to accept a short and concise, tweet-like design, rather than an atrocious attempt at getting links to all social media channels, 20 separate company subsites and promo offers into a single signature block, right? See the article below to learn how not to overdo it with email signatures.
A quick guide to keeping your email signatures classy
Email signature ideas & inspirations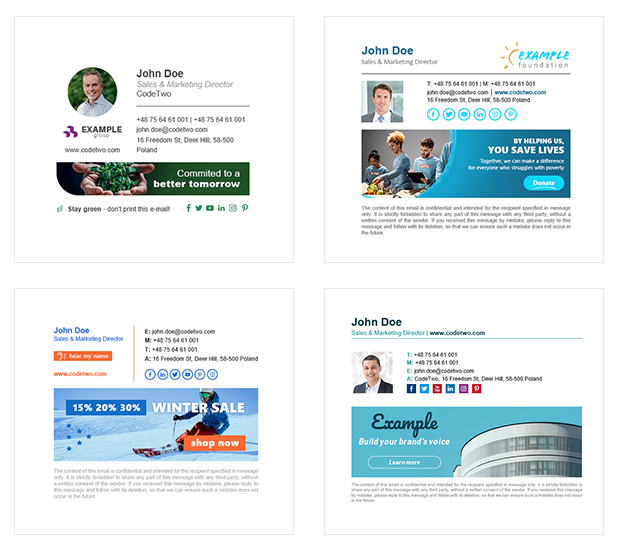 One way to get inspired is to scan your inbox. It's a good place to find examples of signatures ranging from "what were they thinking?!" to "simply WOW". While not every nice design works with every logo and general branding guidelines, you can get an idea on what leaves a positive impact.
Another way to get email signature ideas and inspirations is to browse through a signature template library. This way, not only can you start your creative juices flowing, but you also get access to a field-tested HTML code that can handle the pressure of complex design.
Most common email signature problems
There are different kinds of email signature problems. Some of them are caused by the differences between email clients. Others are a fallout from some HTML or device limitations.
However, most email signature problems stem from a bad HTML code underneath. It's not easy to get your formatting right in most email signature editors. And even when you do – it can break the moment it appears in someone else's inbox.
Most common email signature problems and their solutions – learn what to do when you find your images missing or you get double email signatures.
The easiest way to build your own email signature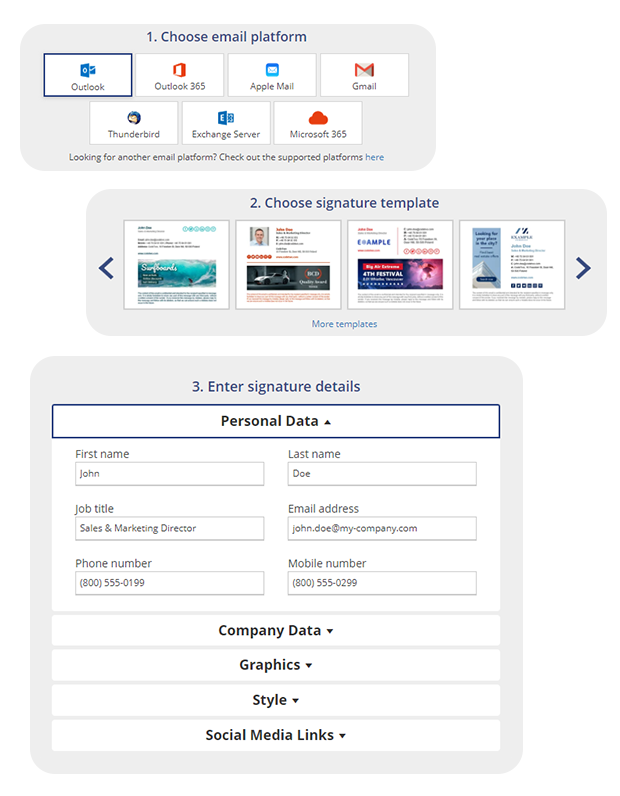 Not to brag, but if you're looking for the easiest way to build your own email signature, our free email signature generator is the answer.
This email signature builder lets you create each type of email signature and set it up in any email client. No matter if you need a personal or a business email signature – you'll find both simple and complex designs that work well for all your email signature needs.