Are you wondering about how your email signature for personal email should look like? Or maybe you have seen a great professional email signature and would like a similar one? Whatever the reason, in this article, I will present you a few tips which will help you create your own email signature for personal purposes.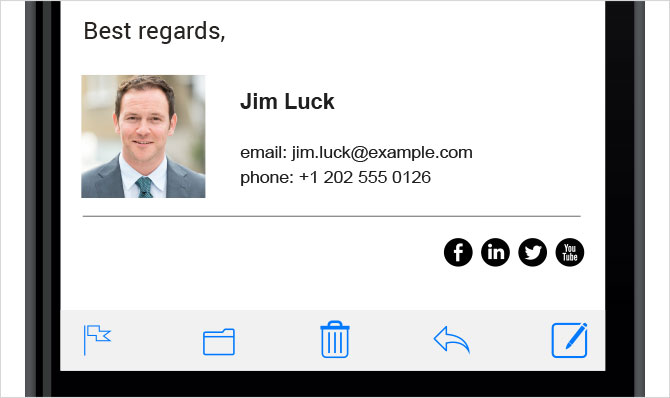 Why put email signatures for personal email?
It is nice to know who wrote an email as soon as you set eyes on it. A good signature is the easiest way to achieve just that. Like in traditional letters, this last part of the message is what, despite its shortness, says a lot about the sender. Attention to detail shows that you are a perfectionist who cares about the person you write to. What is more, it is not just a courtesy when you write to someone you do not know – it is a necessity which makes it possible for your recipients to identify you. Email signatures are perfect for this task, especially because in most email clients, you can create them beforehand and add them to your emails automatically. But how should the email signature for personal email look like?
Keep it short and simple
You might have seen professional emails which are longer than the content of an email itself. They provide with a lot of information, logos, pictures, banners and can be either breathtaking or overwhelming. A well designed email signature is a great chance to boost branding, and make use of all marketing opportunities. But is it good to use such an email signature in personal email? In fact, not at all. Personal email signature should contain only the most important information: contact details and a single image at the most. After all, it is the content of the email you want others to focus on, and not decorations.
---

---
Mind who you write to
Depending on whether you write to people near and dear to you, or to an employer you would like to start your dream job for, your email signature should differ a little. It is quite logical, as those two groups take interest in different things.
While your personal life might be important for your friends and family, it is not as crucial from a possible employer's perspective. Because of that, you might want to give links to your Facebook account or personal blog in the first case and choose e.g. a professional Google+ profile for email signatures to present a different side of you to your potential employer. If you are not too active (or are way too active) on social media, there is no shame if you choose not to share your profiles. Keeping it short and simple, as stated in the point right above, is more important than providing links, and lets you focus primarily on the content of your emails.
Include your contact details
It is a good practice to include your telephone number in the email signature. Thanks to that, both friends and future employers will easily find your contact details whenever they need them. Even when you are sure that the recipient has your number saved, they might e.g. lose their cell phone. If they do not backup their contacts, you do them a favor – they will have one contact detail less to get.
You might be surprised, but it is a good idea to include your email address. While in personal emails it is quite redundant, emails with job applications might get forwarded numerous times, losing their headers, along with your email address, in the process. It means that HR department might not be able to find your email address, making it difficult to contact you. You should make HR job easier, for your own sake.
At this point, it is worth taking a short break to look at your email address. Does it include your name? Or is it your nickname from the past and you have kept it because of a sentiment? If it is the second option, please consider changing your email account. It is better to change old habits than not to be taken seriously. At the very least, you should keep a separate 'serious' mailbox, reserved for job seeking and contacting acquaintances.
Images and photos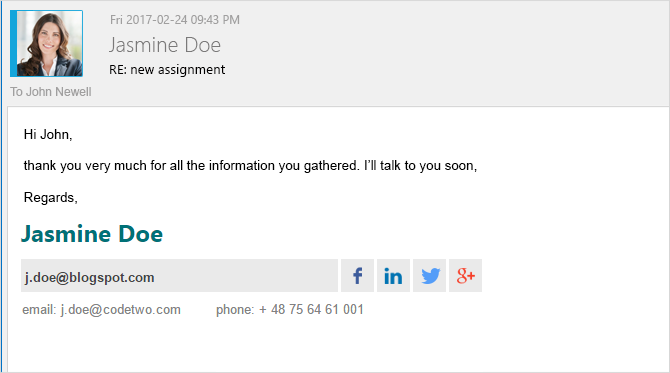 While it is good to include your photo along with your resume (people might bond easier if they remember and associate your face with other details), it is not as important in case of private emails. It is entirely up to you if you want to remind your friends how you look, but it is redundant if you meet your friends in person. On the other hand, there is no easier way to quickly identify who wrote the message, than to see a friend's face.
When it comes to images – a simple element is what might change the look of an email and make it much more attractive, but putting big images in the background or under your details might make the signature illegible.
In the sample email signature above, there are only a few simple graphics – social media icons. Thanks to that, the signature should look well in every email client, because even if some content is blocked, it will not destroy the design. At the same time, it gives you the option to insert links to your email signature. It is a win-win situation, especially because people expect to see them in a good signature.
If you decide to include photos or images in your email signature, it is worth knowing the difference between inline and linked photos (consult this article for more details).
If you are looking for the easiest way to get a professional email signature, use this email signature generator. You can choose from various designs and add your own graphics to get your very own email signature.
Read more: