[Update]: This blog post was updated on July 09, 2021.
When it comes to Office 365 email signatures, you may want to have different variants for different purposes. It is a common practice to create two signatures for the same sender – one with full contact details and graphics, and one with less details and less or no graphics. The first signature applies only when you send your first email. The next signature is added only when continuing a conversation within the same email thread. Such a setup keeps email threads readable, but with necessary contact details always at hand.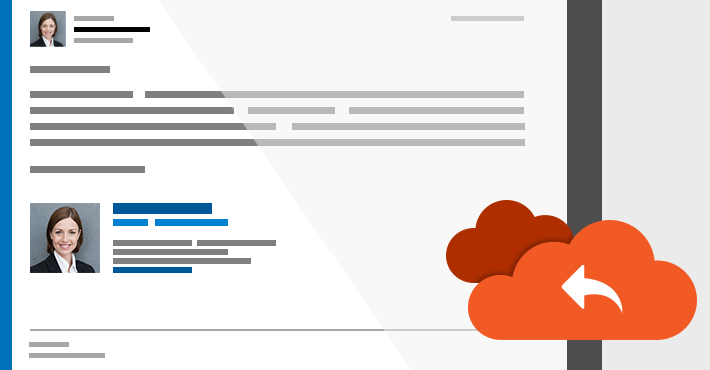 Surprising as it may be, the native Office 365 signatures defined via mail flow rules cannot help you here. Office 365 makes email signatures land at the bottom of an email thread and lets you only use the same email signature design for new messages, replies and when you forward an email. In this article, you will find out how to have such signatures added automatically in Office 365 by using a third-party email signature manager, CodeTwo Email Signatures 365.
Note: If you don't mind getting the same signature in both the first and next messages within the same email conversation, or you don't care that they pile up at the bottom, see how to set up email signatures in Office 365 without using a third-party tool.
Before you start
To follow this instruction, make sure you have a subscription for CodeTwo Email Signatures 365 or you have registered for a free 14-day trial.
The application gives you four options when it comes to email signature management in email conversations. It lets you add:
The same signature in every email;
Different signature in the first email and different in subsequent emails (replies or forwards);
Signature in the first email only;
Custom setup.
Set up email signatures for replies and forwards
In this article, I'll focus on the Different signature in the first email and different in subsequent emails setting. Follow the step-by-step guide below to see how to use this option in your Office 365 organization:
To start, sign in to the signature management app where you can create and manage email signature rules.

Note: I assume that you already used the application or at least went through the configuration process.

In the signature management app, create a new rule by clicking the plus icon. Configure the rule as per your needs.
On the Design tab, from the drop-down menu select the Different signature in the first email and different in subsequent emails option.

Then, on the First signature tab, create a full-composition signature you want to have in new emails (or your first responses in email conversation threads). Once it is ready, go to the Subsequent signatures tab and create an email signature you want to add to your next emails in the same thread.

Note: You can use the Copy first signature button to easily copy the full-composition signature you have created on the First signature tab. Then, click the Edit signature button to open that template in the editor for further adjustments.

In the Signature template editor, you can easily remove the elements of the signature block that you don't want to have in replies. Usually, those parts are banners, social media icons, your physical address info and a legal disclaimer. The goal is to keep it compact and focused only on basic contact details and sender information.


When you are happy with the results, save the changes using the Apply & Close button.
And that's it. Your professional email signatures will be automatically added to Office 365 emails. The first one, the full-composition signature, will be added to new emails to let the recipients know more about you and your company details. Then, when replying within the same thread or forwarding a conversation, the simpler version of your signature will be inserted instead. It will make the conversation easy to read, but the most important info will still remain under each of your responses: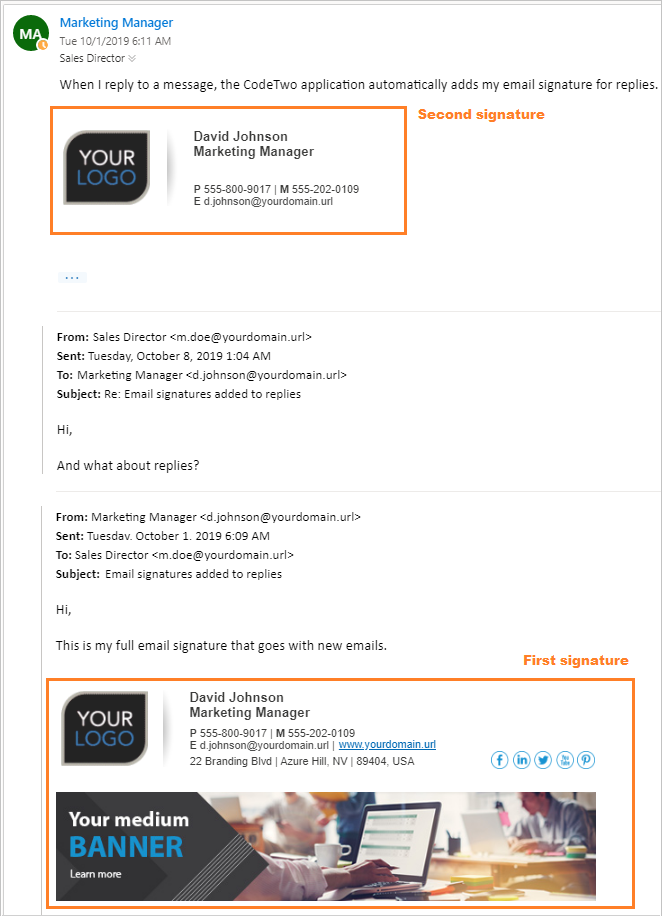 Of course, this is only an example of what your Office 365 email signatures can look like. The wide range of predefined signature templates that come with CodeTwo Email Signatures 365 lets you create virtually any layout you like.
See also: