For some people, animated gifs are the essence of the Internet – before them, there was nothing of interest. Gifs have opened our eyes to the magic of ultra-cute, animated kittens, memes and epic fails, to mention a few. But apart from those highly popular and reusable gifs, there is another type of gifs – simple animations which in the business world could be deemed as professional.
How about pasting them into email signatures then? Thanks to our atavistic predator instinct, nothing grabs our attention as much as a moving objects next to a static background (that is, regular email content). Animated gifs seem like they are crafted for this purpose exactly. Be careful though, as the line between "attention-grabbing" and "extremely annoying" is finer than you might think.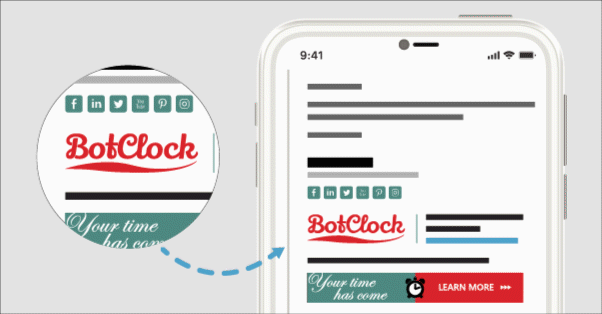 Behold of the ultimate guide to animated gifs in email signatures. Learn whether you should use them, how to add them and how to make sure they will not backfire.
A few words about animated gifs
Generally speaking, animated gifs are probably the simplest form of animation. Technically speaking, a gif is a set of images, or frames, if you like, shown in a sequence to imitate movement. If you dissect them, each of those frames includes information on how long it should stay on screen before it changes to the next one. Finally, the gif file has a "flag" which informs whether the animation should loop infinitely, or just once. Of course, there is more to gifs than that, but from the perspective of email signatures – you don't need to know more.
Simplicity is a good thing. There are tons of animated gifs on the Internet and you can create your own, using various graphic editors. There are both free and paid products which have this feature.
Because the gif format is so simple, those files are widely supported. Since playing them does not require any sophisticated codecs, any web-based application and site will most probably display them without issues.
On the other hand, since each frame is a separate image, your gif's size might skyrocket even when it seems that not much happens. You need to keep that in mind while designing to prevent loading issues.
Supported email clients
When it comes to sending animated gifs – each email client which supports HTML format will do. If you send your message in plain text, it will not do.
When it comes to displaying animated gifs – that is where it gets complicated. All web-based email clients (like OWA, Gmail, or Yahoo) should have no issues displaying animated gifs. In most cases, Outlook for mobile and native Android & iPhone mail apps also display animated gifs normally.
Desktop versions of Outlook, in general, don't support animations in emails. "Lack of support" means that gifs do appear, but are not animated – those clients will display a static image of the gif's first frame. The only Outlooks in which animated gifs have been seen to work are Outlook 2003 and Outlook ProPlus (Outlook as a part of Office/Microsoft 365 subscription), according to official release notes, starting from version 1901 of the monthly update channel. Semi-annual update channel supports animated gifs since version 1908.
Information above hardly counts as the complete list of supported email clients. But it's not the point. The point is, that either because of your recipient's email client version or because of non-default settings, the animated gif might not be animated at all. If you want to animate your logo, you have to ask yourself whether or not you are willing to risk the most important element of your design not to show up and what to do if it is not animated, after all.
Pros and cons of animated gifs in email signatures
Before you throw a bunch of animations into your email signature, it is worth looking at the pros and cons. Or, more precisely, the possible benefits and risks of using animated gifs in email signatures. You are more likely to benefit from the right kind of gif and risk more with the wrong kind of gif.
Possible benefits
Mind that an animated gif will not magically make all the following benefits come true. Even if you add a magic wand as a part of your animation. You need to carefully compose your email signature as a whole and manage to get it to comply with your visual identity.
Bring attention to your marketing campaigns. Sometimes, a slight movement is enough to make your potential customer's eyes catch the glimpse of your newest special offer.
Show your clients you can email like a pro. The right kind of gif – a fluent and nice-looking animation, which goes well with the rest of the signature, is likely to give the professional vibe and leave a long-standing feeling of trust. That is what professional email signatures do.
Say more than with a static image. Obviously, animations have more potential than static images. Thanks to this, you can use gifs for more than just grabbing attention. With enough creativity, you can, for example, show what your company does, or what your company mission is.
They are a perfect pretext to animate your logo. An animated logo works great, for example, as a part of your product video. When you animate it for the purpose of an email signature, you can reuse it in many different ways.
Risks
Why do I think that Risks is more fitting than Cons? Because it all depends. Depends on your recipients, on the kind of gif, on email clients… The fact is you have to keep them (risks) in mind and minimize the chance of them appearing by using some of the tips from the next section.
Animated gifs can be annoying. In fact, it is extremely easy to achieve. Try to focus on a complex problem or anything serious while something blinks and moves and jumps in the corner of your eye.
Your recipients might not see the animation. As I mentioned above, there are some email clients which do not support animated gifs. Additionally, recipients might use an option or an add-in for the exact purpose of blocking animations. Why? For starters, take a look at the risk number 1, above. Because of that, you need to make sure you know what happens when they receive your email (See the tips section, below).
They can greatly increase emails size. As I mentioned, it is easy to make huge-sized animated gifs. If you embed them into your email signature, you can get caught by spam filters. It can also cause your emails to load for a long time and overburden your and others' mailboxes. If you host your gifs and add them as linked images, the email size should stay low, but you won't resolve the slow-loading issue. Some recipients might even think you are trying to send them some kind of malware.
Tips on using animated gifs
Be subtle
Even the greatest animation, repeated enough times, will make your recipients pull their hair out. Or report you as a spammer and a threat to the society. To make sure you are not overdoing it, open a window with your animated gif next to your emails and see whether it makes your eyes happy.
Infinite-loop or one-time animations?
Both options can look well in your email signatures. With one-time animations, you can make your imagination go wild. Since they show up only once, you can make your logo dance without risking too much of the "annoyance factor". But what if your emails are usually long and someone opens them on a relatively small display? Your animation will most likely die quietly, somewhere in someone else's inbox. Infinite loops are more likely to be seen, but if you make animations too frequent, they will distract both you and the rest of the civilized world.
Mind the size!
It is surprisingly easy to create cripplingly oversized animated gifs. You might think that two small-sized photos with a simple transition between them are unlikely to take a lot of space. It all depends on the size, source graphics, and the number of frames, but it is not rare to create a few-second gifs with the size of 1 MB and, sometimes, much more. While it is not something email messages can't handle, it might cause email clients to lag and cause mailboxes to reach their quota much too quickly. Or make the email load a second too long. Or send you straight into the Junk folder. So, creatively speaking, creating a banner which showcases your portfolio might sound right. Technically speaking – don't do it. You don't want to break the Internet, do you?
What to start with?
Well, you might think that a logo which appears out of nowhere is a good place to start. You are right, it has a high "looks real nice" potential. But what if your recipients' email clients do not support animated gifs? All your recipients will see is an empty place, ready not to show your logo. You can counter it in two ways: either make your first frame displays the logo in full glory, or make the logo disappear and show up later in the loop. The side effect of the "first frame" method is that it will most probably noticeably blink when the email loads. The second method might not sound perfect, because it changes your initial logo-appearing-from-nothing project. But, in fact, there is a good chance that most of your recipients will not start watching the gif from the beginning. Adapt and adjust.
What to end with?
While it may sound too obvious, you need to give some thought to that. An easy way to end the animated gif is to make sure the last frame and the first frame are the same. This ensures a fluent transition. Otherwise, your gif might seem like it is poorly made, no matter how much effort you have put into creating it.
Test your email signature
It is always good to test your email signature in different email clients before actually deploying it. Adding animated gifs makes this need even more important. What to focus on? Some graphic editors might change the background of your animated gif from white to greyish, add some artifacts, or glitches, especially on transitions. Your designing tool might also overoptimize the animation, making it slightly smaller in size, while greatly decreasing its quality.
How to add an animated gif to your email signature?
Now, this part is simple. You add them exactly how you would add a static PNG or JPG image.
For tips on how to add them as linked images, take a look at Direct link to a hosted image in email signatures. Then, you can add your gifs to an email signature design of your liking, using the free email signature generator. Thanks to that, you can easily create a professional email signature which looks and works well.
Sample animated gifs for email signatures
You can use the sample animated gifs below as a reference point and inspiration for your own projects. Or to get an idea of "what works" for email signatures. All of the following gifs play on infinite loop because by the time you got to this part of the article, they would have probably stopped moving.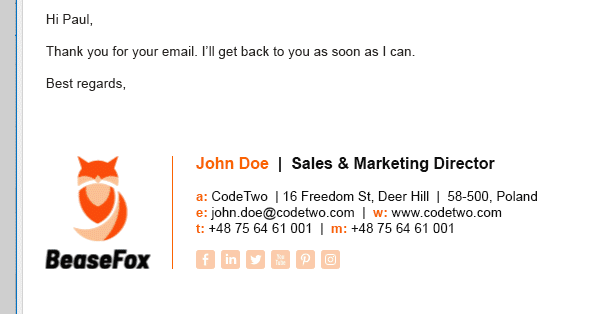 The BeaseFox logo shows that you don't have to create complex animations to grab your recipients' attention. Three simple animated actions make you notice the logo. At the same time, the short animation, together with a longer pause, let your recipients' stay focused instead of being constantly distracted. It is also crucial for the animation to go together with the rest of the design – the animated gif has just the right size and uses similar colors.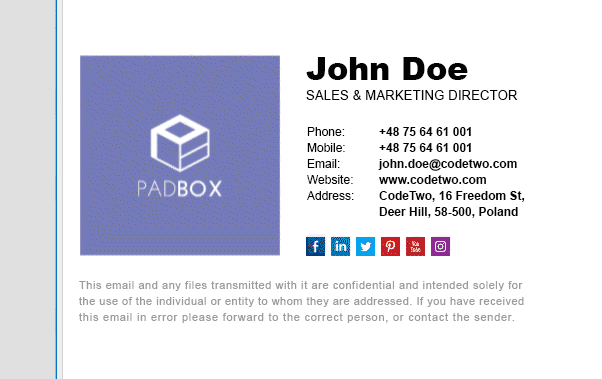 The animated logo above is more complex. Thanks to greater gif dimensions, it is possible to say more. An animation like this one will work especially well for short, informational emails. With gifs with disappearing effects, it is crucial to set the first frame to the complete logo in case the recipient does not display animations.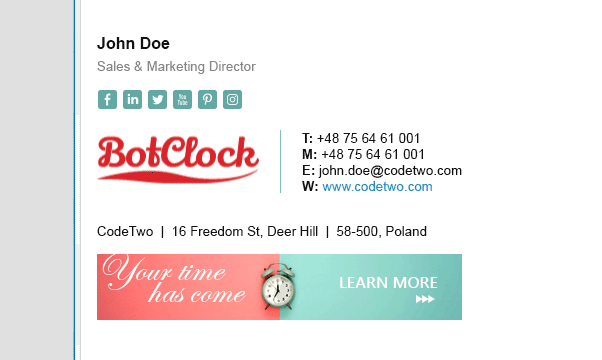 The BotClock logo includes a short writing animation. Such animations will work especially well if your logo contains calligraphy text. Placing linked social media icons next to the logo increases the chances of your recipients visiting your profiles.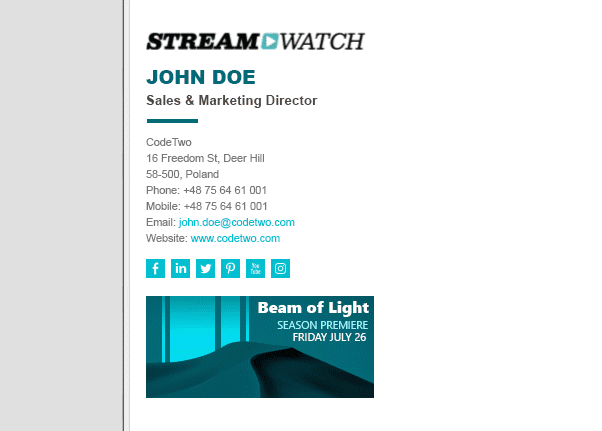 The Streamwatch animated logo is subtle, but at the same time it is noticeable. Because the logo does not take up the most of the signature's design, it is easy to focus on other elements, especially the banner. Use it to promote your products, services, or content.
Want to learn more about email signatures? Take a look at our knowledge base to learn all there is to know about email signatures.
Read more: