Time flies by. Not long ago, everyone was excited about Black Friday deals. Now, with every next day, you can see more and more colorful lights, decorations and Christmas trees all around. The frequency of playing "Last Christmas" and "Merry Christmas Everyone" on the radio is increasing dramatically to make you want to kill your stereo somewhere around December 23. You also think kindly of your beloved ones, rushing to buy presents that will make them happy.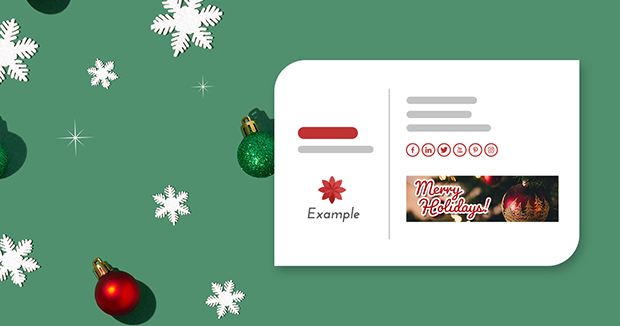 Why not celebrate this special time in your everyday email communication? We have a perfect idea for you – beautiful email signatures inspired by the Christmas holiday season!
Christmas is green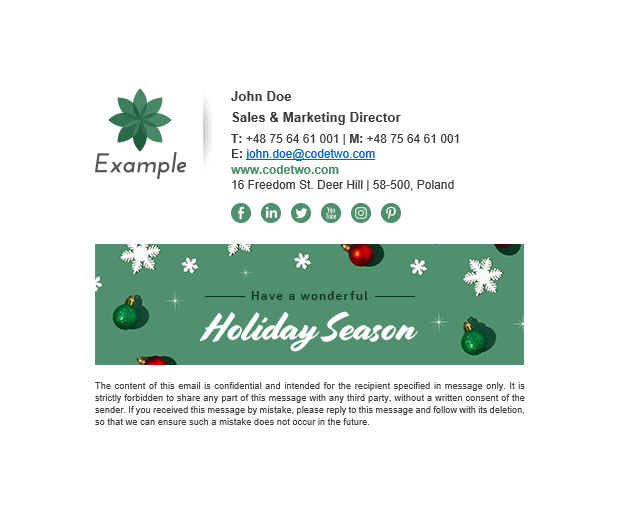 Apparently, the holiday season has a lot to do with the green color – just think of a Christmas tree, a mistletoe, or a door wreath of evergreens. That's why we made greenery omnipresent in this email signature, combining it with the classic attributes of the season and an attractive double-style writing. This beautiful composition will instantly let everyone who gets your emails feel the magical atmosphere of this part of the year.
Download the free signature template to bring the colors of Christmas to your email communication
Warmth of the shared moments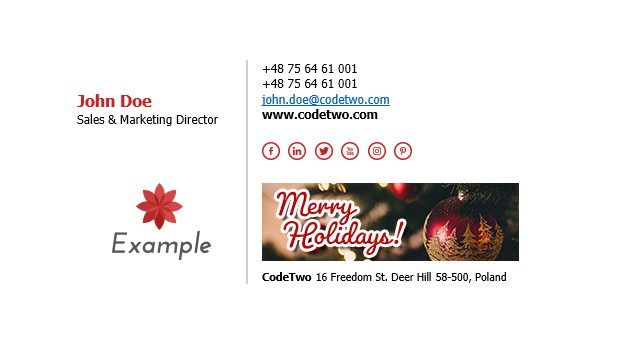 Meeting your dearest ones is something you usually associate with the holiday season. Let this signature template bring the memories of these warmest and most happy moments spent together next to a beautifully decorated Christmas tree. If you want to make this pleasant atmosphere last the longest, use this signature template in your email communications throughout the festive season.
Download this free template or edit it in our email signature generator to personalize it
Going full color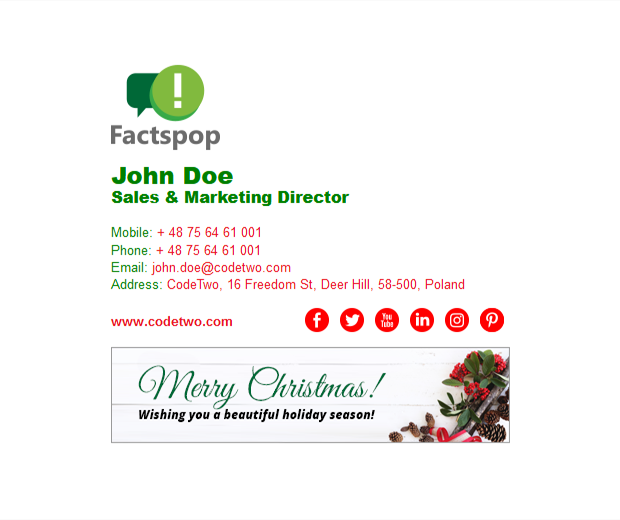 If you want to leave ordinary days behind this holiday season, choose a signature that replaces standard black font color with more festive ones! It will not only attract the attention of your customers or partners, but will also lighten their mood. Additionally, the banner at the bottom is minimalist yet elegant, so that the recipients are not overwhelmed.
Download this email signature template to make your communications stand out
It's all about snow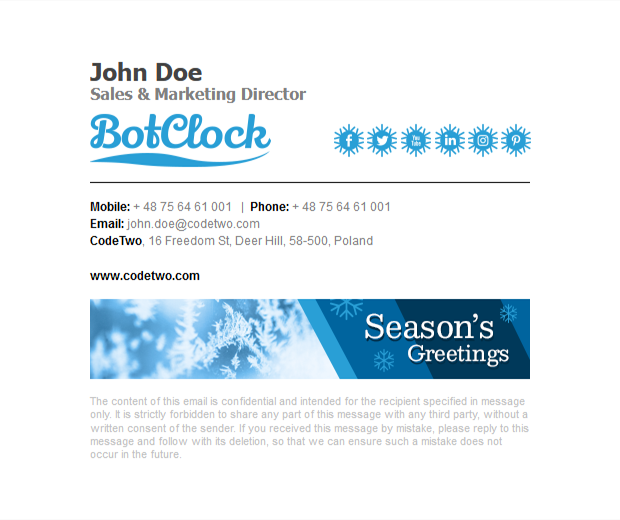 In late December, snow is commonplace (at least in the northern hemisphere, to be more precise). This signature template reflects the weather that makes the holiday season so special. Just look at these social media icons – aren't they lovely? The composition is complemented by an elegant snowy banner with basic season's greetings. Additionally, the template incorporates a disclaimer which may come in handy when dealing with your Super Saturday sales.
Download this email signature template for free from our template library
Modern elegance in blue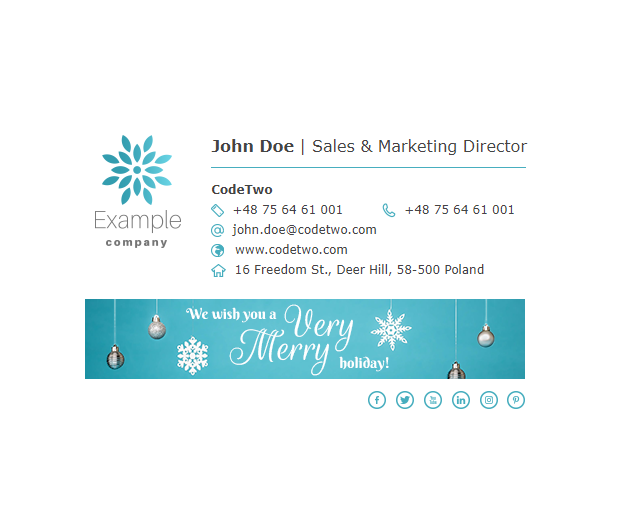 The simple design is elegant and practical. If you look for simplicity and effective communications during the holiday season, this email signature template is for you. Blue icons and increased line spacing let your customers or partners easily locate specific contact data. And if they value minimalism and modernity, they will also like the banner with starry shapes, Christmas balls and a fancy writing.
Go modern and practical with this free signature template
Sparkling with gold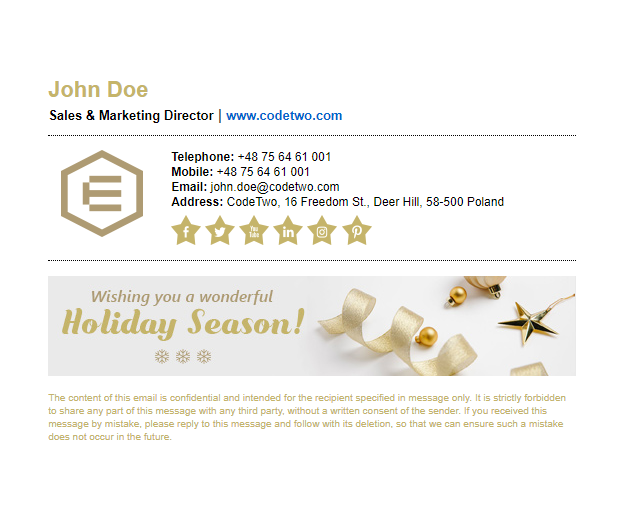 With the beginning of the holiday season, world starts to sparkle with lights and sophisticated, eye-catching decorations. This signature template is designed to make your email communications glitter in gold throughout this period of the year – just like decorations in your shop or ribbons tied around your gifts. Let your emails catch your customers' or partners' eyes shining with excitement.
Grab this free email signature to show a shining example of attractive email communications
See also: