Company email signatures used in business emails should stand out from email signatures used for personal purposes. A regular corporate email signature should look professionally and neatly and consist of only necessary information. As you perhaps know how powerful email signatures can be, keep reading to get some ideas on how to design a perfect email signature to maintain a consistent and unified image of your company in business correspondence.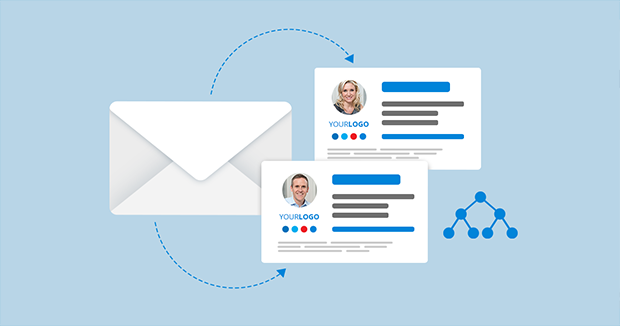 Include your company contact details in email signatures
This part of your signature is essential when it comes to business correspondence. Be sure to include your mobile and phone numbers, physical address of your company (if relevant for your business), website and an email address. Although including an email address may sound strange to you, this is actually very important element of your email signature. Adding this information will let your business partners or prospects easily reach you out.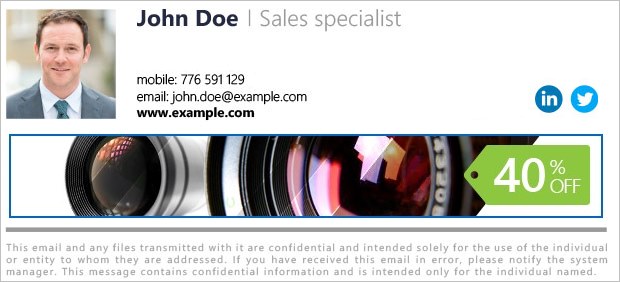 Link to your professional social accounts
In the company email signature, be sure not to link to your private social accounts. Perhaps, the most appropriate social network here would be LinkedIn or Twitter. But if your company has other official accounts on social networks such as Facebook, Google+ or YouTube, and those accounts support your business, it seems justified to include them in your signature as well. All in all, you should decide whether to include certain social icons or not – depending on the character of your business.
Use visuals in your company email signature
Place a user's photo or your company logo in the signature. This will add a little of that human touch to your business email correspondence and will make email signatures look more attractive. Corporate email signatures are also a great medium to call into play banners. Banners can carry any kind of information you would like to share with your recipients: from informing about special offers, through new-product launches, to showcases of certificates or awards your company received.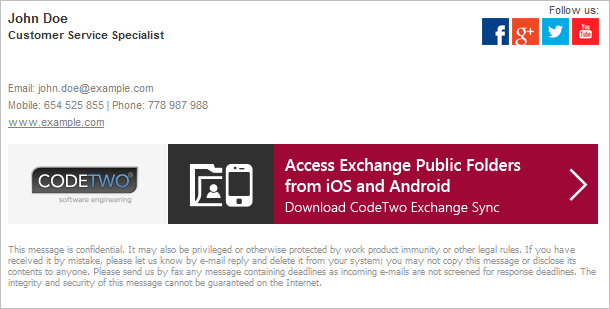 Change over to non-standard font colors
When designing an email signature, you do not need to stick to a standard palette of colors (which mainly consists of black – for texts, and dark blue – for hyperlinks). Feel free to play with different shades of grey, blue or brown to accent e.g. a user's name or contact details. However, changing colors can be tricky as well. Try to avoid too vivid or too intense colors in business email signatures as they may be considered unprofessional or even disrespectable.
---

---
Put a disclaimer into your email signature
Disclaimer is an essential part of your company email signature. In this article, you can find some ideas on how to compose your disclaimer or what information to include to comply with the laws and regulations. These laws and regulations, however, may differ across different countries. If your company has business partners or customers located all over the world, you should make sure your emails do not violate law respected in their countries.
Make sure all users use the same signature template
This problem is related to companies of all sizes. No matter how many employees your company has, you should ensure that every user inserts the same signature to all emails (regardless of what email client or mobile device they send emails from). Your corporate identity needs to be consistent to the outside world and this is very hard to maintain when the email signature control is left to users' discretion. That is why more and more companies decide to use central email signature management programs to maintain consistent design across the company.
See also: