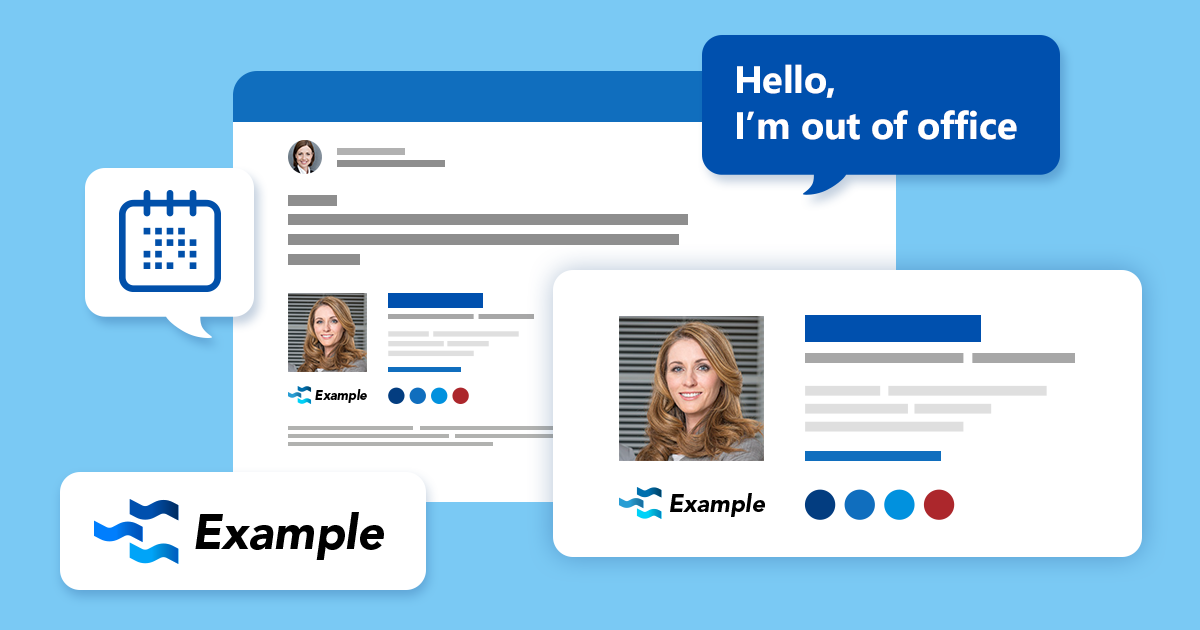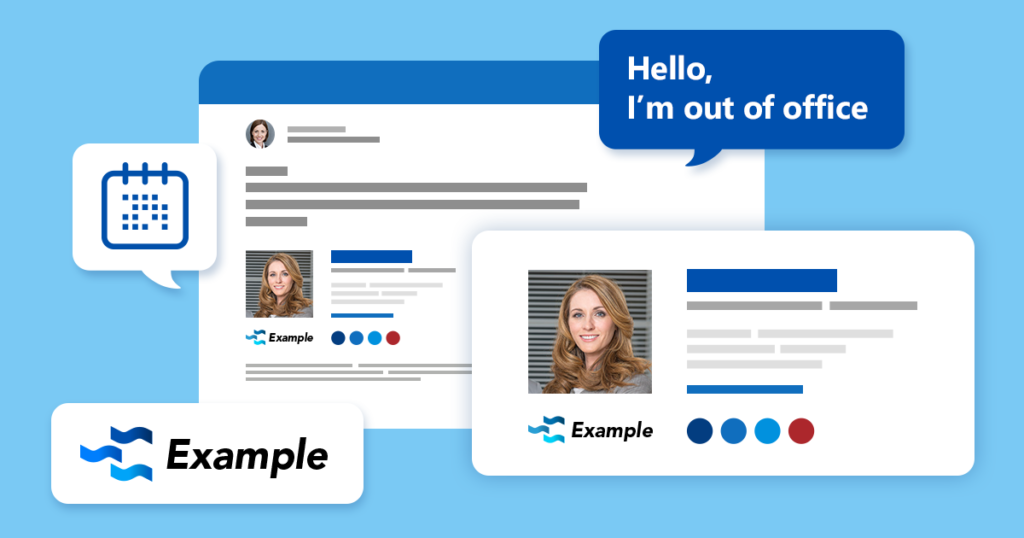 When we think about out of office (OOO/OOF) replies, we often perceive them as simple text messages. Possibly because of how they work in Outlook and other popular email clients. But OOFs can be much more than that. In fact, if configured properly, they can look just as nice as regular emails. In other words, you can use them not only to let others know you're absent, but also to promote your brand. Let's see how you can achieve all of that.
How to configure OOF messages in Microsoft 365
In Microsoft 365 (Office 365), you can set up OOF replies in several places or apps. Interestingly, even though your OOFs can be easily synced between those places, their editors offer different formatting options. So, I'll skip the famous Automatic Replies feature in Outlook that fails to support images or OOF status in Microsoft Teams which lets you configure plain text OOFs only.
If you want more details about setting up OOF messages in Microsoft 365, have a look at this article.
Automatic replies in Outlook on the web (OWA)
The out of office reply editor in the web version of Outlook offers the widest array of formatting options in Microsoft 365. Apart from styling your font, you can also add links and linked (online) pictures by dragging and dropping them into editor's window.
While designing your branded OOF reply from scratch gives you more control, it's probably better to combine you custom text with an attractive, ready-made design prepared in a tool like our free email signature generator. Here's how it goes:
Sign in to Outlook on the web (OWA) with your Microsoft 365 work account.
Access the automatic reply settings by clicking the cogwheel in the top right corner of the screen and going to Mail > Automatic replies.
Enable the automatic replies with the toggle button and select the Send replies outside your organization checkbox.
Type your custom message – you can use the same message for OOFs sent inside and outside your organization.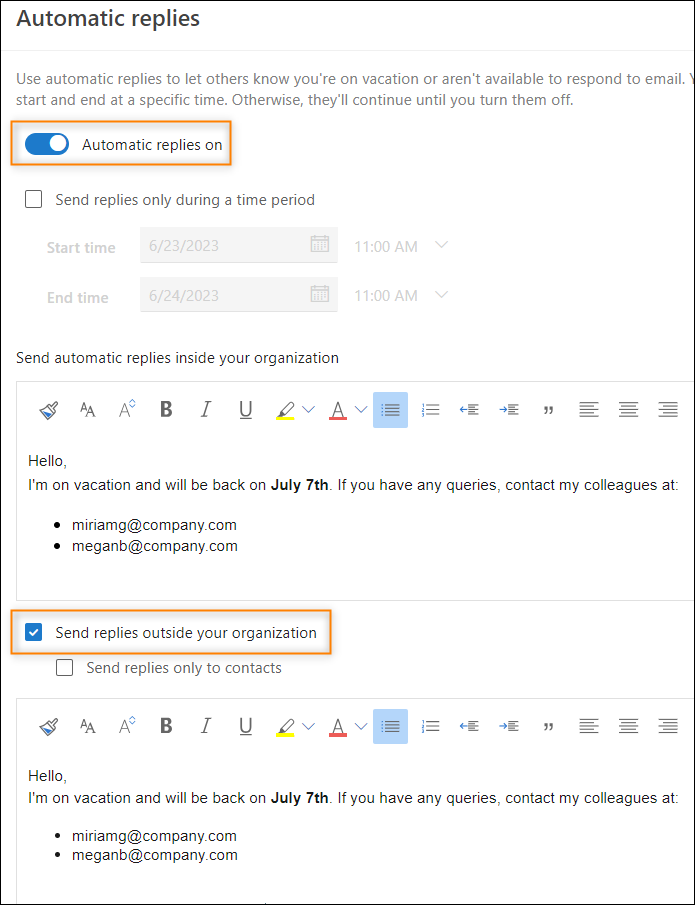 Now, browse to our email signature generator.
Set your email platform to Outlook 365 (step 1) and choose a signature template (step 2).
Edit your details in the Personal Data and Company Data sections – the signature's design will change in real time.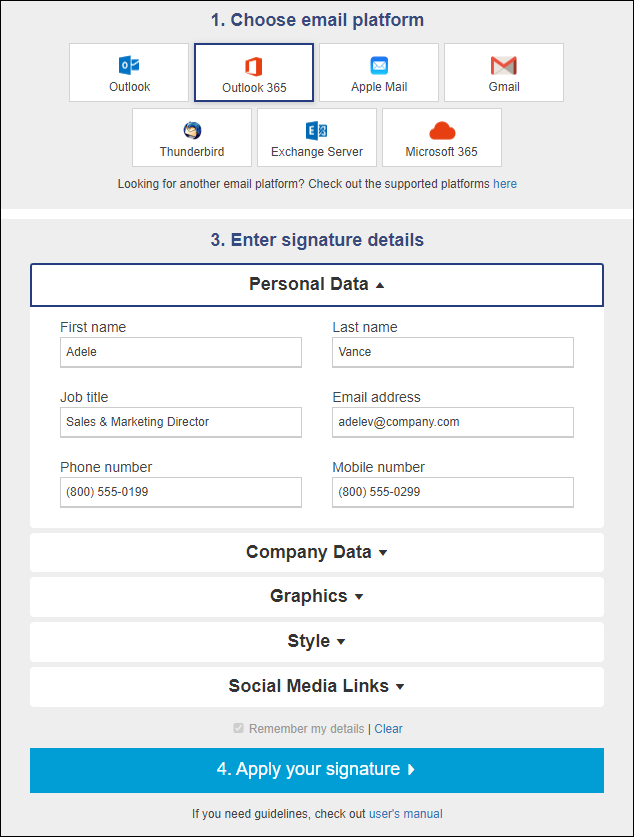 In the Graphics section, you can change the default logo & other images by inserting their URLs. You can learn more about it, from this article.
Configure settings in other sections – if you need help, refer to the generator's user manual.
Finally, click Apply your signature at the bottom and Copy to get the contents of your OOF reply branded signature.
Next, go back to the auto reply settings in Outlook on the web (OWA) and paste your branded signature below your OOF custom text. It's a good idea to use the signature in auto replies sent outside your organization only.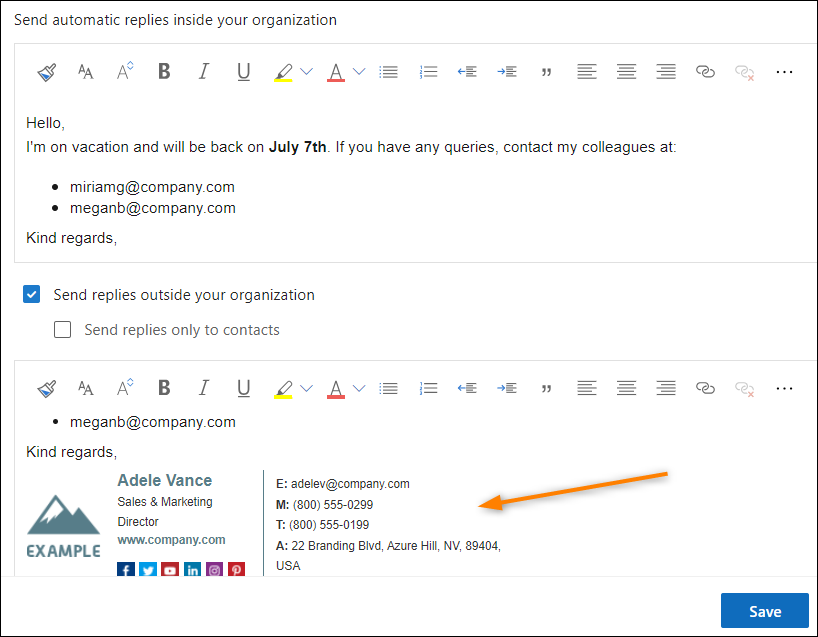 Save your changes by clicking Save. It's best to specify the period of sending OOF replies.
To ensure consistency, you can share the above instructions with your employees/colleagues. Unfortunately, as your co-workers can freely edit the OOF reply contents on their end, there's no 100% guarantee that your logo, company colors, etc. will be presented in the same fashion or presented at all to your customers and partners.
Automatic replies in the Exchange admin center (Admins only)
This method is interesting, as it allows one person (e.g. an IT admin) to centrally manage OOF replies for all users, while using the advanced HTML formatting. The OOF reply editor in the Exchange admin center can be accessed by going to Recipients > Mailboxes > a user (for whom you want to set OOF up) > Others (tab) > Manage automatic replies.
Essentially, you can follow the instructions from the previous section, remembering that you should choose Microsoft 365 as the email platform (step 6) instead.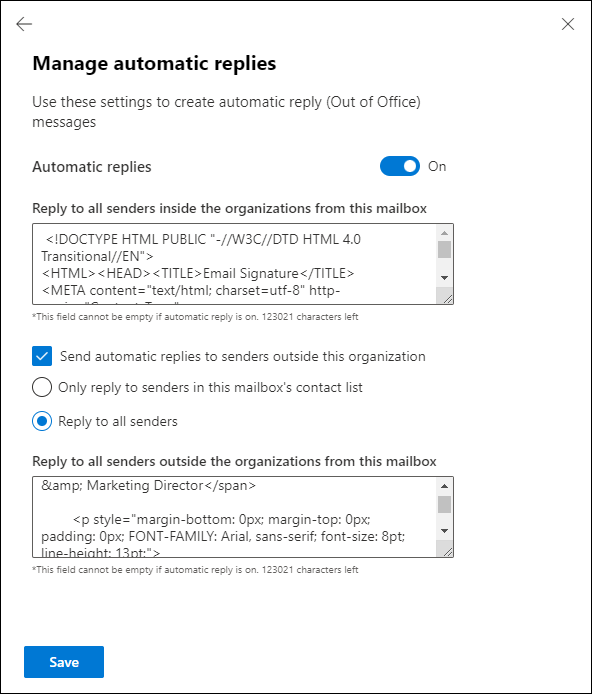 While this method looks nice on the surface, in practice, it poses a number of problems:
Lots of additional work for a person managing the OOFs on a daily basis.
No support for placeholders (aka AAD attributes) in Microsoft 365 – all personal details need to be entered manually for each user.
HTML & CSS coding skills required if you want to format OOF replies in any way.
Frequent problems with formatting across email clients – you might end up with an OOF similar to the one shown below.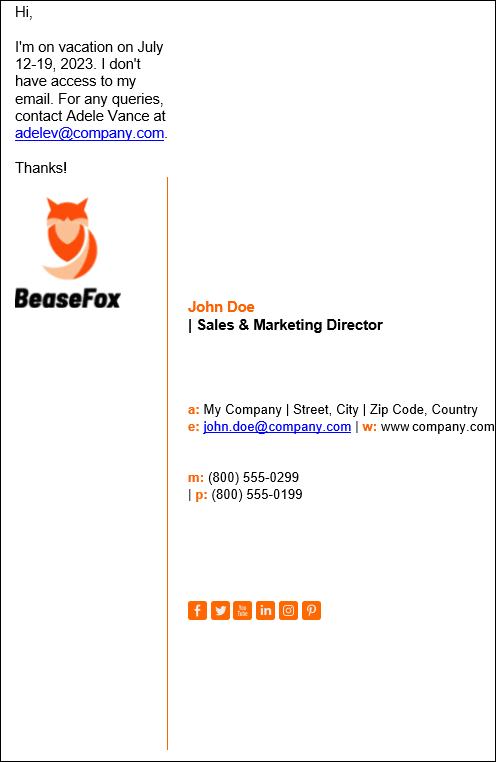 CodeTwo Autoresponder for Microsoft 365
As you can see, there is no perfect solution in Microsoft 365 that lets you set up nice OOFs in terms of consistency and branding. If the native means fail, the best idea is to turn to 3rd party tools designed specifically to handle professional OOF messages. For example, you can try CodeTwo Autoresponder (an integral part of CodeTwo Email Signatures 365), which is an easy way to:
centrally set up OOF messages for a single user, group of users, or entire organization,
freely design them visually or using HTML to ensure 100% customization and branding, regardless of your use case,
enjoy consistent and tamper-free OFF replies, where you're responsible for the entire design or you let your users activate OOF replies by themselves & fill in only basic information like OOF period, substitute name, etc.
use numerous conditions & exceptions to send different OOFs, depending on sender, recipient, domain, time period, etc.
use the Scheduler to automatically start and stop sending OOFs,
and more.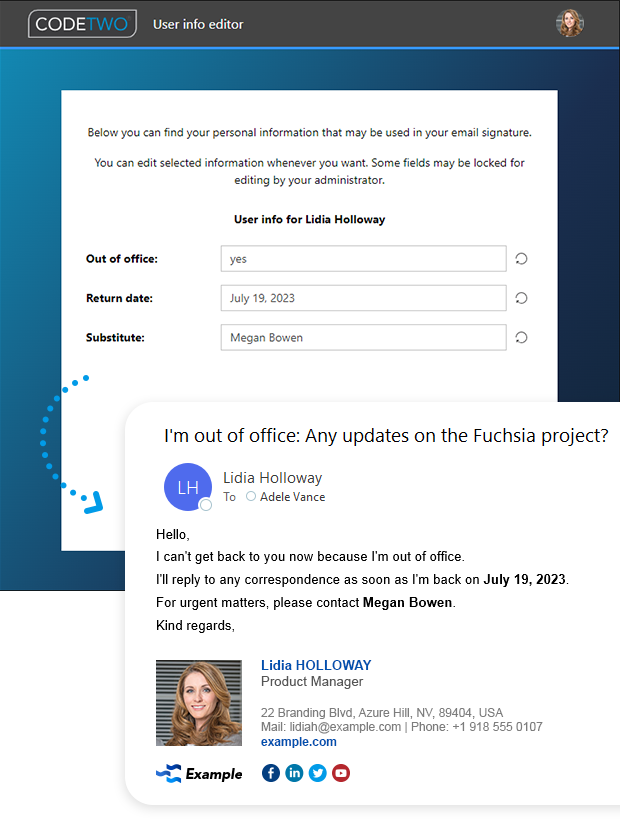 Autoresponder is a free add-on to CodeTwo Email Signatures 365, world's #1 cloud software for managing email signatures, legal declaimers, and email marketing campaigns for Microsoft 365 (Office 365), trusted by +110k companies worldwide.
To test CodeTwo Email Signatures 365 (and CodeTwo Autoresponder) without any limitations, start a free 14-day trial (no credit card required) that comes with 100% free customer support to handle all the questions you might have.
See also: