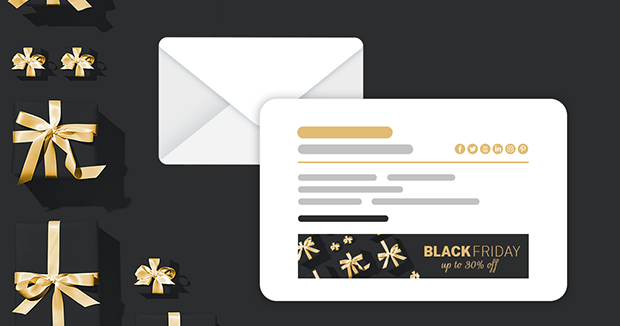 Black Friday shopping spree is coming! Everyone is saving up some extra money, checking advertising materials, and expecting the best deals to come. All around the world, spouses are being convinced that it's the best moment to buy a big, expensive, 9+ Lego set for their still unborn child; or that this 36th pair of shoes is an absolute must and is needed right here, right now. At the same time, teens are coming up with best negotiation tactics and hard data to show that this fantastic smartphone (or another gadget) will boost their school accomplishments tenfold. A lot is going on, no doubt.
It is also a busy season for the salespeople. All is revolving around marketing and promotion, and there are different ways to handle it. Of course, you can turn to all these common advertising channels as in previous years. But why forget about email signatures which are an effective and non-expensive marketing tool? Especially when your potential prospects' mailboxes are probably already teeming with mostly unread newsletters. Instead, you can use email signatures as a less intrusive promotional method.
To help you in this respect, we have prepared 4 attractive signature templates with seasonal banners you can use for free in promoting your campaigns & deals.
Best Black Friday 2021 signature templates
Black Friday is all about selling. That's why a perfect email signature for this occasion should include a special banner which tells all about your deals and encourages your customers to get at it. Let's see what we have in store for you.
Make your offer stand out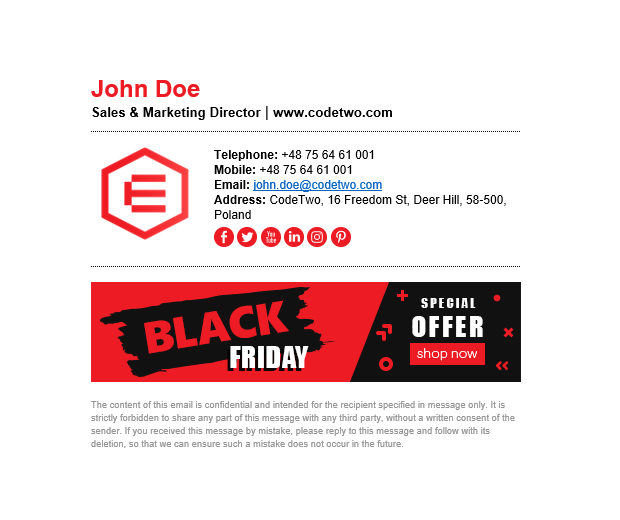 Nice, eye-catching banner with bold typography and contrast colors is a perfect recipe for a successful promotion of a Black Friday campaign. The promotional aspect doesn't make it any harder for your customers to locate the contact data. Don't forget about including your logo to work on that brand awareness. We've also included a sample legal disclaimer, so feel free to adapt its content to your needs and stay compliant.
Download this Black-Friday-themed template or edit it in our email signature generator completely free of charge
Simple & effective design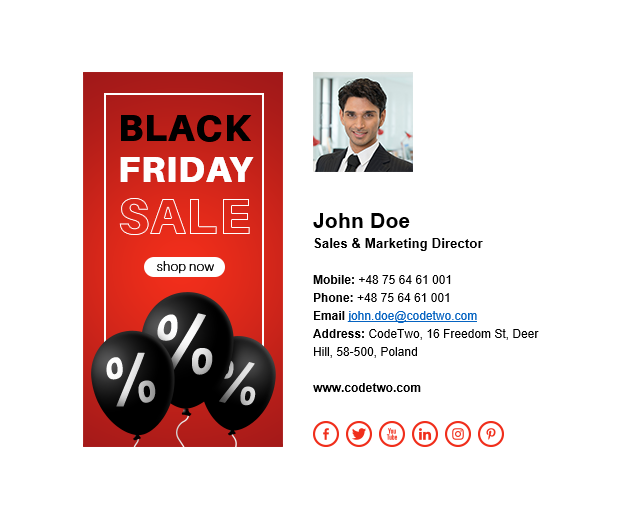 This two-column signature template is a proof that simplicity can go hand in hand with effective communication. The big banner on the left will grab the attention of your customers & encourage them to click the shop now button. And if they look for your contact information or company's social media links, they will find them easily on the right.
Grab this simple yet effective signature template and use it to promote your Black Friday campaign
Sell with good taste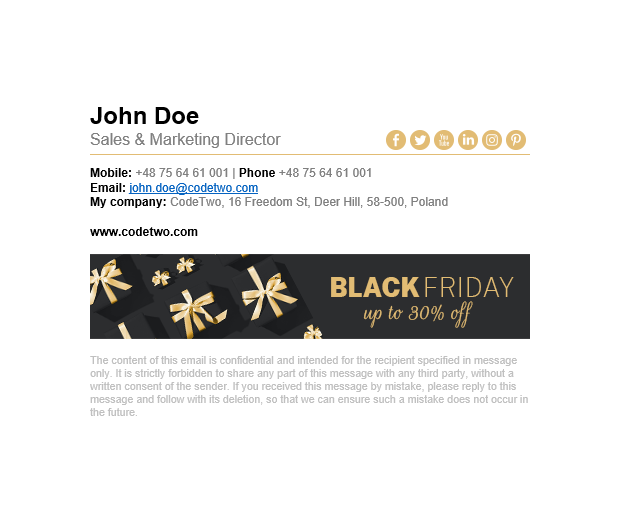 Is elegance an important 'ingredient' of your company's image? Do you sell premium products? Do your customers look for classy solutions? If you've answered 'yes' to at least one of these questions, we've got a template for you! The golden and black elements make a perfect combination to create a tasteful design which will encourage customers to buy from you. And if they want to contact you, they will easily find all the necessary information. Finally, this email signature looks equally good (if not better) when viewed in dark mode.
Download the template or adapt it to your needs with our email signature generator to enjoy premium experience in your email communications
Joy of buying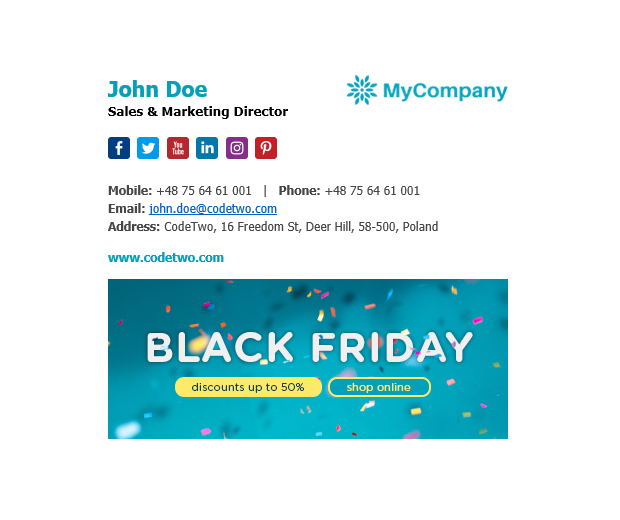 With this signature template, you'll put your customers into good mood. The banner is full of bright and vibrant colors to give your recipients a break from gloomy emails they are used to. The upper half is seemingly in the shadow but it's still clear, informative, and consistent with the banner in terms of colors. It's worth adding that the template works just as well in light and dark mode in Outlook (and other email clients, too).
Download this Black-Friday-themed email signature template and bring joy to everyone
See also