We have just entered a new decade and the changes in the business landscape it brought about affect the way we design and present our products and services. Of course, it doesn't mean that you must reinvent your entire brand's visual identity immediately. However, it is a perfect time to adapt it to the times we live in. One of the things you may wish to change are your email signatures. That is why we have prepared some examples of best email signatures for 2020 to get you inspired. Let's see what signature templates will be trendy this year!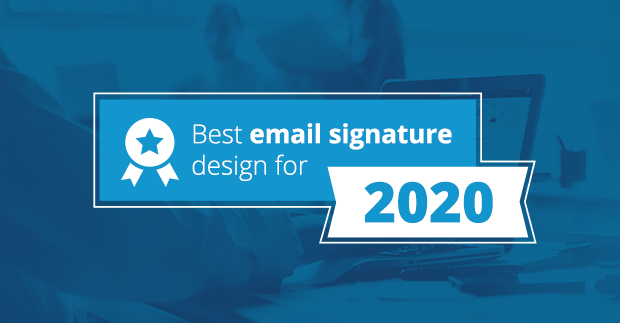 Trends in email signature design in 2020
Email signature design has definitely evolved since 2018. Even though it's been only two years and the same general rules of esthetics still apply in 2020, the designs have undergone some refreshing changes. To get a broader picture of what an up-to-date email signature template looks like today, take a look at the collection of modern email signatures below.
One email signature is not enough – make it two!
This advice doesn't apply to design specifically, but it has a huge impact on your recipient's experience when exchanging emails with you. You should be using two email signatures: one for new emails and one for replies within the same email thread. Why? When you send your first email, the signature should contain full contact details, marketing banners and social links. Like in the example below.
Inspiration 1
Using an email signature with all the bells and whistles is a must when the recipient first contacts your company. Make sure the signature contains your logo, social media links, website address, physical address, and any other contact details. You should also add a marketing banner. This works great if you want to advertise your products and services or share the news about events you will attend or about your recent awards – you name it!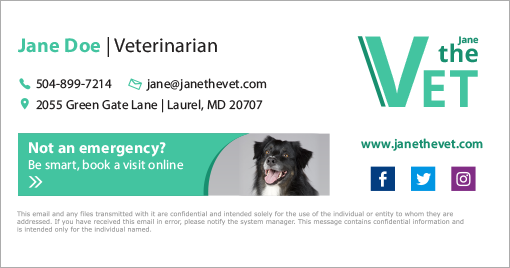 However, as the conversation continues, you don't want to "overwhelm" your recipients with such a complex signature repeating every time you reply. To avoid such nuisance, you should use a shorter signature, with less visual flare and only basic contact details. Look at the example below: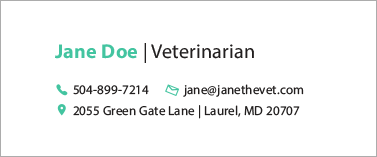 Feel free to adapt the reply email signatures to your needs and company policies. Use your company colors, change the font or add your logo.
Inspiration 2
This modern email signature template demonstrates how to design an informative signature for new emails. It contains full contact details, social media icons, a logo and a simple yet effective marketing banner. This is definitely a good way to get your recipients to know you.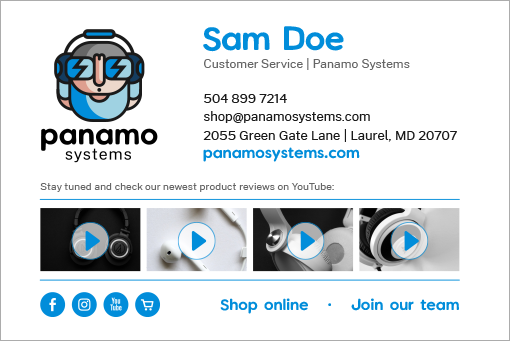 Below you can see how to convert this highly informative email signature into a concise signature for replies: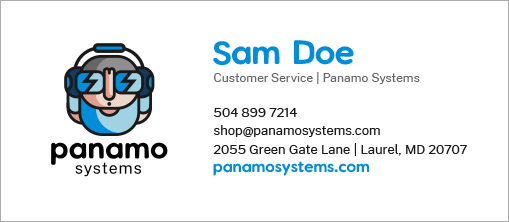 Feedback matters – opinions that influence your business
What others think of you matters greatly in today's world. People's opinions can make or break your business. That's why collecting feedback about your services, products or marketing campaigns is so important. It will help you your organization adapt to the everchanging business landscape in a timely manner. An easy way to find out what your customers think about your company is to use one-click surveys in your email signatures.
Inspiration 3
If you want to ask customers to rate your services but be quite subtle about it, a signature like the one in the example below is a perfect solution. Simply add a link in your email signature that will invite customers to write reviews.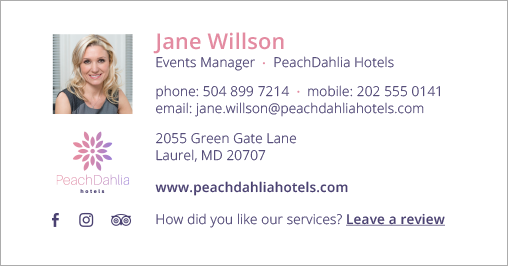 Inspiration 4
This example shows how to ask for customers' opinion more explicitly. Make sure to use some eye-catching graphics like smiling emojis or stars.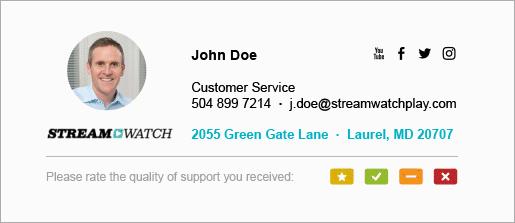 Invite customers to take action
When designing your email signatures, try to invite customers to interact with you. Give them a chance to contact you or access your services easily. An email signature is an ideal tool for that. Just add a small banner, or an icon with a link allowing your email recipient to quickly set up a call with you or book a dinner table for the evening in your restaurant. This will have a positive impact on your image of a professional and customer-oriented organization.
Inspiration 5
The example below demonstrates how nicely quick-contact links integrate with the rest of the signature. A minimalistic banner that directs users to your calendar or a contact form is the way to go in most email signature designs.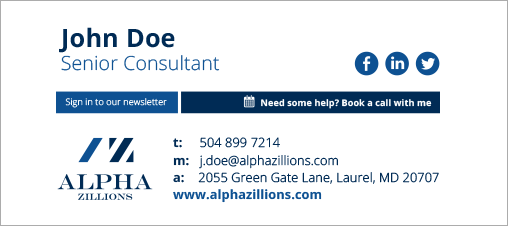 Inspiration 6
If you already have a banner in your email signature, you can add an icon and some text in bold font to highlight your call to action, as shown in the example below.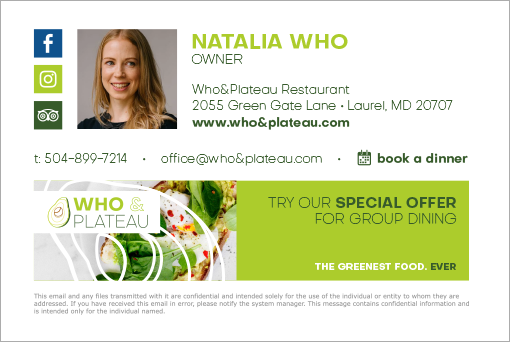 Catch people's attention with creative banners or animated gifs
Although the idea of using animated gifs in email signatures may seem too informal for professional business conversation, it is already gaining popularity. Well-designed and non-intrusive animations can introduce some freshness to your brand image. Meanwhile, as traditional marketing banners remain the more popular way of catching people's attention, take a look at some modern designs below.
Inspiration 7
Single-piece, wide banners are still in use and can be very effective, even though some recipients may already find them boring. Why not surprise your recipients by experimenting with your banner a bit and giving it a different shape. In the example below, we made it look like there are three separate banners. But there's more: you can actually use three different mini banners, each linking to a different product or service.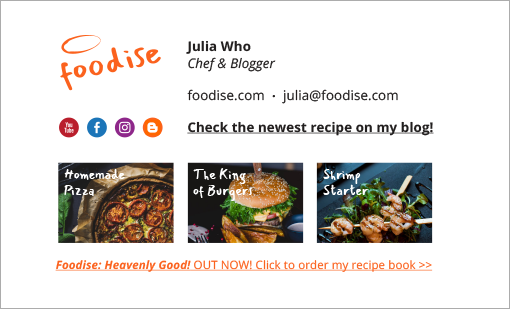 Inspiration 8
This email signature is a perfect choice for freelancers who want to stand out from the crowd. The banner explicitly invites the recipient to click it and see the portfolio of professional wedding photos, graphic-design projects or the spring-summer fashion collection.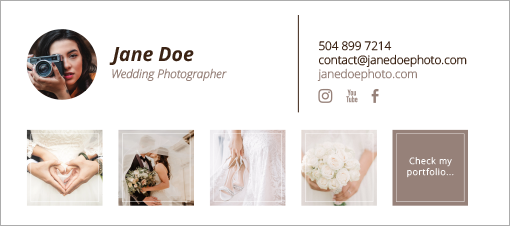 I hope these examples of our best email signatures for 2020 will inspire you to create your own modern works of art that will impress your customers and business partners.
Want more inspirations?
If you would like to see more examples of email signatures, browse through the signatures available in our email signature generator and signature template library – they are completely free.
Need an email signature solution?
If you are looking for a corporate email signature solution providing centralized signature management and signature design tools, we offer email signature software for both Office 365 and on-premises Exchange organizations. Don't hesitate to try them out!
See also: