If you are reading this, I guess you are already well aware of how important it is to have a corporate signature inserted into your business emails. That's great, but does the rest of your co-workers realize that, too? You can use your online correspondence as a platform to promote and spread your company's values. However, it will not be effective if all employees create email signatures on their own. How to solve that, then? All you need is an official, standardized template for the signatures coming from all your company's mailboxes. In this article, I will guide you through an easy email signatures standardization process.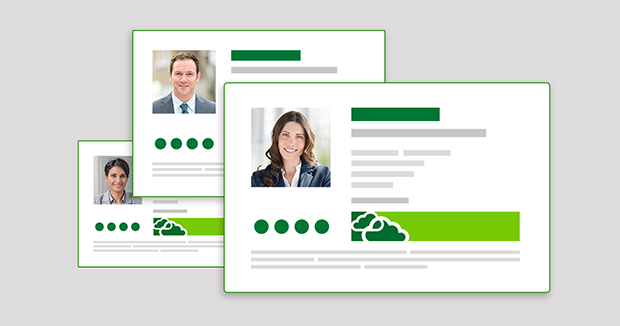 Unify
Your image is your selling point, so it is crucial to include it in every outgoing email. Create an original, yet consistent portrait that you'd like to present yourself with. How?
Delegate the job and put one person in charge of all the signatures.
Get rid of illegible or childish fonts, philosophical quotes, and family pictures from all employees' messages.
Make sure the signatures are not too long but include all required information.
Spend some time analyzing the relevance of every single item inserted in them.
Customize
As the signatures are your employees' electronic business cards, you have to adjust the included information to your users. It will be a sign that your company is well organized and professionally managed. Personalize your corporate signatures according to the senders' position, department, and scope of recipients of their messages. For example:
IT staff members' signature should include internal contact information and only the basic info. There is no need for disclaimers in the case of internal communication.



Sales team signature should include extended company details, corporate logo, marketing banners, social media icons, and a disclaimer.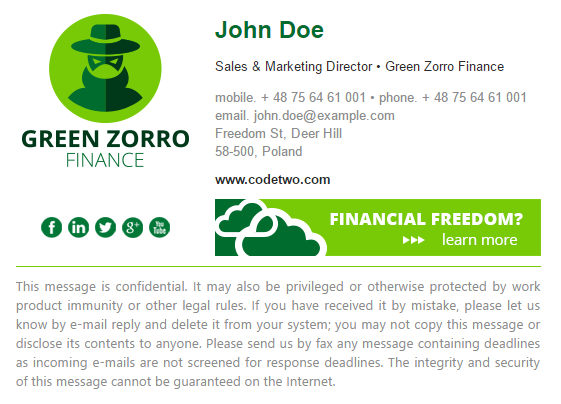 Use visuals
Eye-catching properties of well-designed graphics are not a secret, use them in your favor.
Add your company's logo to all signatures.
Make sure the logo is well-exposed and hyperlinked. This way, you are directing email recipients to your company's website handily.
Include users' portraits in your messages. They are proved to be trust-winning, making the online communication more friendly and humanized.
Insert links
When working on your clientele gain, do not forget to use hyperlinks.


Include the links to your most valuable online resources into your signature. Increased traffic on your webpage or a blog for instance, can significantly benefit your sales polls.
Find a spot for your social network icons.
Add a disclaimer
Providing detailed information about your company is often required by law. Other than that, well-written disclaimers protect your confidentiality and assert company's safety in many cases. Including them also generates a transparent, trustworthy corporate image to your clients. Read more on that topic.
Include disclaimers at the bottom of all your externally directed messages.
Don't make mistakes
Do you know how important first impressions are? That is why you should not allow yourself to make any mistakes.
Adapt your email signatures to different text formats, email clients, and devices.
Always test your signatures out before providing your end-users with them.
Remember to check if your signatures display correctly on mobile devices
Think of signatures as of marketing opportunities
Because most B2B communication is based on emails, email signatures can be a part of the most effective marketing campaigns. Keep that in mind while designing each template.
Make sure the information included in your signature, as well as its design, are up to date.
Prepare scheduled strategy for all your company external messages.
The process of email standardization, just like any other, will become what you make of it, and it does not have to be frustrating at all. Take a look at available methods of standardizing email signatures.
Email Client solutions
It is incredibly hard to have standardized email signatures inserted in all your company's employees emails when they are not centrally managed. The process will require you to:
Design the footer template and provide the end users with it (check Email Signatures Templates and Free Email Signatures Generator).*
Enforce the signature implementation across all individuals in your company.
Limitations of various Email Clients solution
The greatest problem with this method is that you either have to count on the employees to set their email signature right, with the template you provide or set the signature manually for them. See how difficult the signature deployment might be. On top of all that come the restrictions of particular email clients. For instance, signature design capabilities are often narrowed down to pre-fixed items. Finally, without access to HTML source code, it is hard to finely-tune the signature so that it is displayed well on every recipient's screen.
*In case your company end-users use more than one email client, you will have to prepare the signature design for each of them.
Centrally managed signatures solution
Exchange Server and Office 365 allow you to centrally manage and deploy decent signatures for any scope of mailboxes in your company. In order to include signatures in your end users' messages, you have to:
 Prepare the HTML source code of your email signature template including Active Directory placeholders (check the Free Email Signature Generator).
 Configure a mail flow rule which will add the template to emails.
Read more about deploying signatures in Exchange Server 2007, 2010, 2013, 2016.
Learn how to utilize signatures within Exchange Online.
Limitations of native Microsoft solutions
In this case, email signature central standardization is possible but crippled by some limitations. Neither Exchange Server, nor Exchange Online distinguishes single emails within a conversation thread, placing all signatures at the bottom of a message chain. None of them also supports the embedded, inline images. Furthermore, signatures are not visible in users' Sent Items folder. It makes all your corporate emails incompliant with some legal requirements for business. The hardest obstacle still is an expertise in writing HTML code needed to deploy professional and adaptable signatures. Those limitations may stand in your way to achieving effective and powerful email signatures.
CodeTwo Solutions
CodeTwo Email Signatures for Office 365 and CodeTwo Exchange Rules
CodeTwo Email Signatures for Office 365 is an administrative tool enhancing your ability to manage email signatures and disclaimers within Exchange Online. Using it, you will gain full control over your signatures content.
CodeTwo Exchange Rules is a signature manager designed to help you set up professional email signatures to all your mailbox users in on-premises Microsoft Exchange. Similarly to CodeTwo Email Signatures for Office 365, this software provides you with some useful and long-awaited features. Some of them being:
Easy yet complete central email signature management.
Solution to your piled-up signatures issue – CodeTwo intelligent software inserts signatures right under the latest reply without exceptions.
Signatures can be displayed in the end-users Sent Items folder, assuring them of the messages' final look. It will also prove that all the required information about the company and the disclaimer have been included.
An intuitive HTML Signature Editor to create all your signature templates without the expertise in code writing.
The ability to insert images and logos as inline attachments. The recipients will have them displayed automatically without the necessity to download or open images externally. Thanks to that, you can insert visual content into the footers, including banners, users' photos or call-to-action buttons.
Rules Scheduler which enables you to set up the exact dates when you want your signature rules to be applied. The software does it automatically on the provided date.
Management delegation feature which allows you to delegate signatures design and configuration e.g. to the marketing team. It will save IT staff members some time and trouble.
The possibility to implement users' data with placeholders pulling information out of your Active Directory. Additionally, the software supports inserting custom AD attributes and auto-removal of empty fields, along with signaling phrases.
The bottom line
Everything that was out of reach with native email signature tools is now possible with CodeTwo software. The centralized email signature solutions will assist you in creating outstanding signatures for your organization. This will boost your marketing campaigns and help with your brand building with every outgoing message.
Make sure to visit CodeTwo Email Signatures for Email Client, CodeTwo Email Signature for Office 365 and CodeTwo Exchange Rules official websites to learn more and try the programs for free immediately.
In the case of any questions, you can always contact us. We are open 24/5 from Monday to Friday.