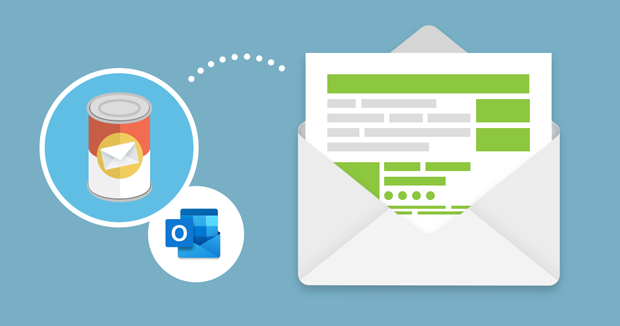 Canned responses can make your job much easier. They save you from having to do repetitive work and make it quicker to provide helpful answers to recurring questions. This article shows how to use canned responses with Outlook email templates (OFT files as well as with the My Templates add-in) and with email signatures. At last, I'll show you how to manage canned responses for the whole team or organization at the same time.
This is the second part of the article about canned responses in Outlook. See part 1 in which I explain how to use Outlook Quick Parts.
Outlook templates (OFT)
There are two kinds of Outlook templates: OFT and My Templates. I'll dive into the first variant first, as it is the better-known one.
OFT (Outlook file template) is a separate file which contains not only the email body but can also include a subject that you define. Here's how to use them:
To create a new OFT file, start composing a new email in Outlook. Once you prepare your email contents, click File and Save as.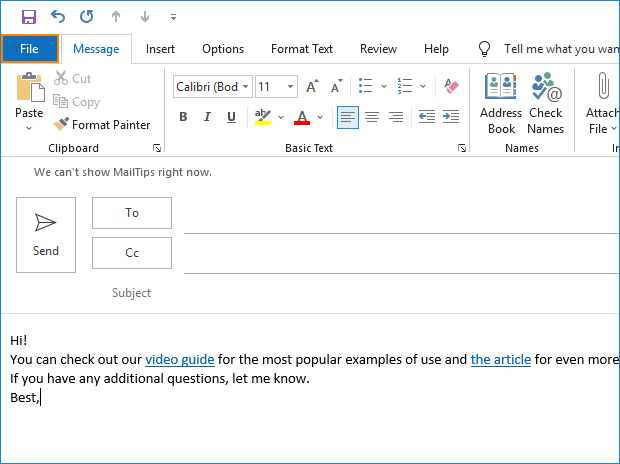 Now, from the Save as type dropdown, choose Outlook Template. Type in a file name and save the file.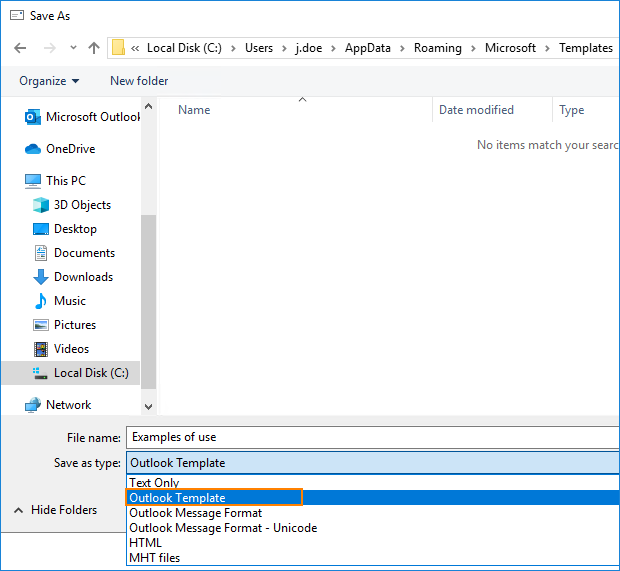 To use a saved Outlook email template, click New Items > More Items > Choose Form.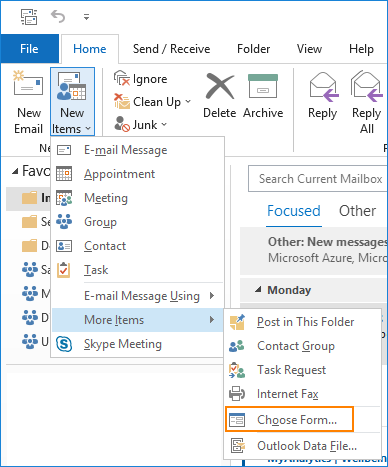 Finally, from the Look In dropdown, choose User Templates in File System, click the appropriate template and then click Open.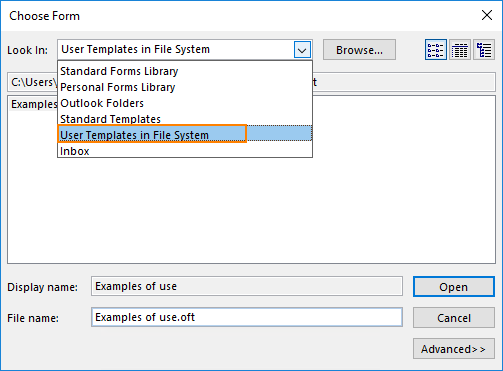 Pros and cons
Pros:
They support all the formatting options.
Fine for new emails.
Can be used in Outlook rules as an automatic response.
Cons:
Extremely troublesome to use them for replies and forwards (and canned responses are, by definition, replies).
No way to insert them directly into a reply.
Don't work in Outlook on the web.
No way to centrally manage them for a team or the whole organization.
My Templates in Outlook
My Templates is a built-in Outlook add-in which lets you add canned responses similarly to Quick Parts, but I find it a bit more intuitive. Here's how it works:
In a message composing window (it works in email preview, too), click the View Templates button. In the desktop Outlook, it's located in Message > My Templates, while in Outlook on the web, you need to click more options (the three dots icon) and then My Templates.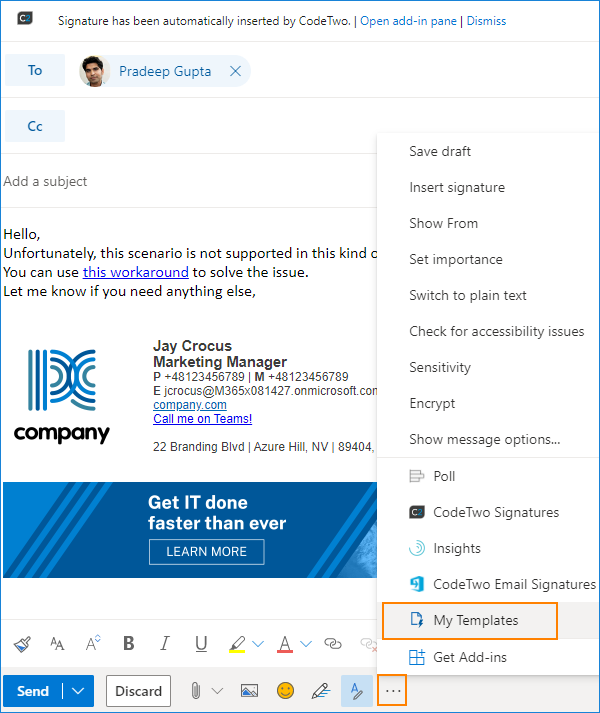 In both Outlook email clients, clicking this option will show up a new pane to the right. To add a new canned response, click the plus (Template) icon.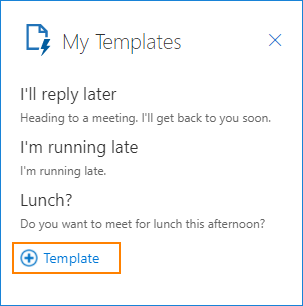 Now, the My Templates editor has no formatting options. You can use keyboard shortcuts to make slight adjustments (like Ctrl+B for bold), but it's easiest to simply compose your canned response in the standard Outlook new message window and paste the contents here. Click Save when you're done.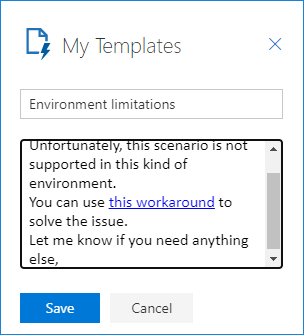 After your template is saved, all you need to do is open the My Templates add-in and click the template you want to use.
Pros and cons
Pros:
Similarly to Outlook Quick Parts, it's easy to use.
Can be used if you reply in the email preview pane (you don't need to open the message in a new window).
Works for both desktop Outlook and Outlook on the web.
Cons:
The editor does not support any formatting options. You can paste formatted text and images into the add-in pane, but it will not be displayed correctly in the preview box.
There's no way to centrally manage canned responses for a team or entire company.
Email signatures
I won't elaborate on how to add and use email signatures. You can refer to this guide if you need instructions on how to set them up.
The email signature feature is usually used for your professional HTML email signature. They often include contact details, company branding, a marketing banner, maybe a legal disclaimer. But if you dare to think a bit out of the box, the signatures feature is perfect for canned responses.
Pros and cons
Pros:
Support all the formatting elements and images.
Work in desktop Outlook and Outlook on the web.
Can be managed centrally for a team or entire organization!
Cons:
By default, you can set up only one email signature in Outlook on the web. However, in the next section I will show you how to fix that with a third-party tool.
Centrally manage canned responses for your team
If you want to centrally manage canned responses (via email signatures) for your team using native options, you can use the following solution:
VBScript: create an HTML Outlook email signature for the whole company – this method uses GPO to create personalized HTML email signatures for the whole company. You can use it to deploy canned responses as well. It deploys signatures to Outlook for Windows. The problem with this solution is that it requires some scripting and HTML knowledge. It also personalizes signatures based on local AD, which is a problem if you use Azure Active Directory. It's also quite problematic when it comes to updates.
Fortunately, there is a third-party alternative which doesn't suffer from those limitations.
CodeTwo Email Signatures 365 lets you create email signatures for the whole company directly from a web browser.
One of the out-of-the-box examples of use is to manage canned responses for a team or the whole company. You can set up as many canned responses as you need. They can include the message body itself as well as a signature and a relevant disclaimer. Each user (or users belonging to certain groups) will be then able to pick the canned response directly in their Outlook or Outlook on the web.
How to use email signatures as canned responses – see this guide to learn how to set it up.