Multiple email signatures in Outlook seem to be a very useful invention. Why? Firstly, you may need them when sending emails from different email accounts in Outlook. This is a quite common practice when working for more than just one company. Secondly, you may need to respond to some emails as a member of a certain business team or on behalf of that team – it's not hard to guess that you would need to use different email signatures depending on the recipients. Finally, you may opt to use different signature for internal and external emails – a simple one (for internal messages – it may just include first name, last name, title and phone fields) and an extended one (for external emails – it will contain all contact details, images, logos, etc.).
Let's then find out how to create multiple email signatures in Microsoft Outlook!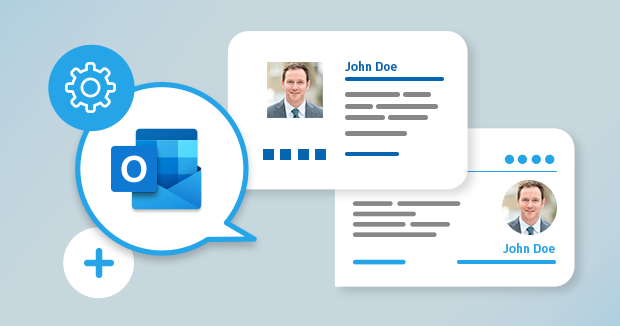 How to create many signatures in Outlook?
As you can see, multiple email signatures can be a very helpful work facilitator in every day communications – both personal and business. What's more, it is not very complicated to build different signatures in Outlook. To create email signatures in Microsoft Outlook 2016, 2013 or 2010, repeat steps II and III from this article. To get some design ideas or a bunch of ready-to-use templates, use this free email signature generator.
Insert different signatures to your emails
As already mentioned, depending on a situation, you may need to use various signatures. Once you have created all necessary signatures in Microsoft Outlook, you can insert them to a new email message. The process of selecting signatures is simple as 1, 2, 3:
1. In your Outlook, open a new email message. Under the Message tab, go to the Include section and click on the arrow in the Signature button. A list of signatures will appear.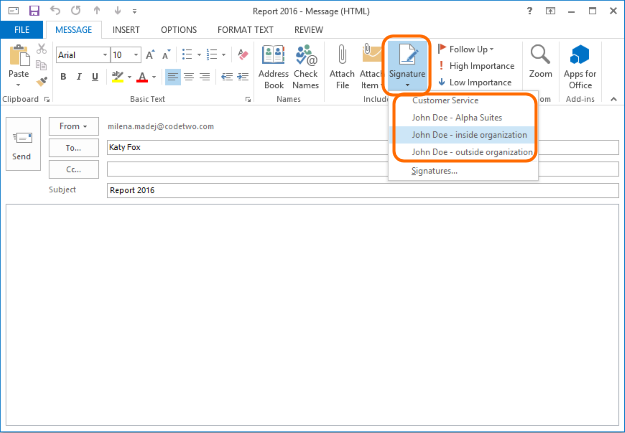 2. From the list of signatures, select the one you want to use in a currently composed email message. To insert it to your email, simply click on it.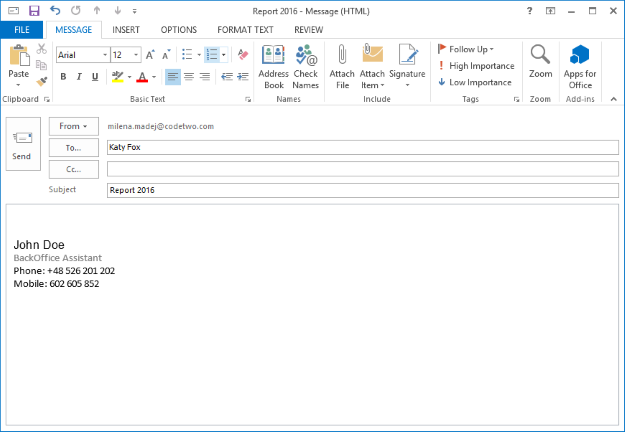 3. The signature should immediately appear in the message body. Now, simply compose your email message and click Send.
However, this way of using email signature may be troublesome. It is no secret that managing multiple email signatures manually can cause problems. By problems, I mean user-generated mistakes or oversights such as inserting a wrong signature (not appropriate for currently selected recipients) or using signatures that slightly differ in design from other signatures used in the organization. Additionally, it may not look professional if a business partner or a potential customer receives such emails. Better safe than sorry.
Risks of using multiple email signatures that are managed manually
Take a look at the below list of risks and problems that may arise when users set up and manage email signatures by themselves:
signatures may include incomplete or outdated data
inconsistent design of email signatures sent outside your company
signatures without legally required information (no legal disclaimer)
updating email signatures is time consuming (it needs to be done individually on each workstation)
And the list does not end here. If you, however, are aware of those limitations you may want to change the way multiple email signatures are managed in your company. The solution to go with can be deploying central and automatic email signatures.
Benefits of central and automatic email signatures
Managing email signatures in the organization can be a challenging task. The more challenging, the more employees need a professional email signature. Fortunately, there are applications out there for central email signature management that simplify the entire process and reduce the risk of user-made mistakes.
If you need some examples to see the difference, refer to the list below. It shows how you can benefit from using multiple email signatures managed centrally over signatures added on the user's side:
You stay assured that all email signatures look the same (you build your corporate visual identity)
You know that each signature sent outside your company looks professionally
If there are any changes made to signature design, you can implement those changes from one place for all users
Implementation of changes does not take much time
You don't need to worry whether email correspondence in your organization ensures legal compliance (your emails are automatically equipped with legal disclaimers)
Signatures are added to emails only if they meet certain criteria (you do not need to worry that a wrong signature reaches a wrong recipient)
These are only a few examples of advantages, which come with central email signature management. To implement such a solution, you need to use third party software like the ones from CodeTwo. Once the application is deployed, you gain even more benefits.
Use CodeTwo software to manage email signatures centrally
To manage your email signatures in a more professional and organized way, you can implement one of the CodeTwo solutions. The applications bring a bunch of helpful features that nicely complement the above-mentioned list of benefits. With CodeTwo software:
you can create a signature within a built-in Template Editor (the editor has a fully graphical interface, with a set of useful formatting tools)
you can insert email signatures right under the latest response (no more signature piles at the end of email conversations)
email signatures can be equipped with users' photos, logos, images, marketing banner, social media icons, or any other graphics (they are embedded, not added as attachments)
you can use email signatures in three formats: HTML, RTF and plain text
you can be sure that all email clients and devices are supported to send emails from (if emails go through the Exchange Server or Office 365)
Of course, these are only some example features that can facilitate email signature management in the company – CodeTwo applications offer a wide range of capabilities that improve native solutions. To check that for yourself, simply test one of the programs in your environment. Each program has a trial version available.
Suggested reading: