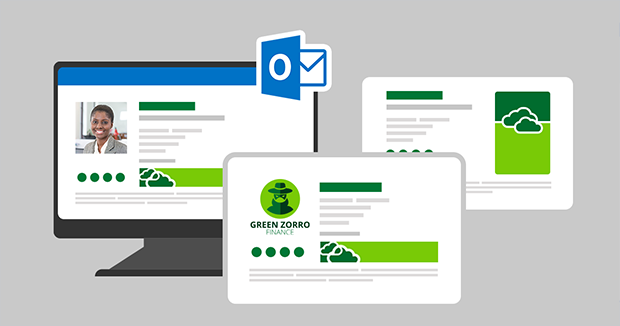 Setting up your own email signature is not a strenuous task for a single user (please see how to create or modify an email signature in Outlook 2010 and 2013). However, the perplexities may build up if you aim to set up several individual signatures for various email addresses you operate on in the same Outlook client.
In Outlook 2013 the easiest way is through adding a specifically edited signature for each user in File > Options > Mail and then, Signatures…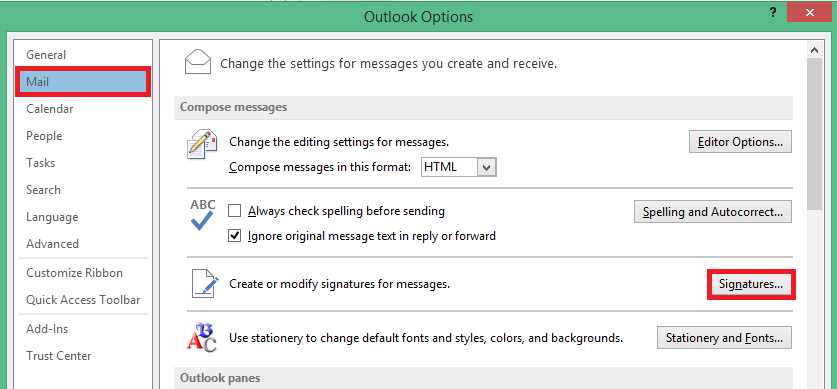 Compose a signature for each account by clicking on the New button, and then setup signatures to each account separately. It can be easily done by:
1. First selecting an email account in the Choose default signature part on the right hand side in the Signatures and Stationery window.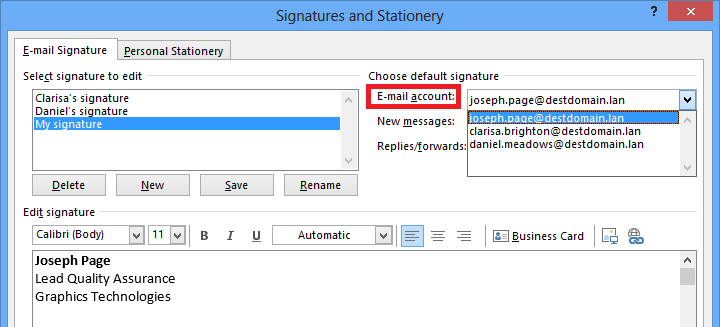 2) After the selection of an email account, choose a predefined signature for this account in New messages and in the following Replies/forwards option.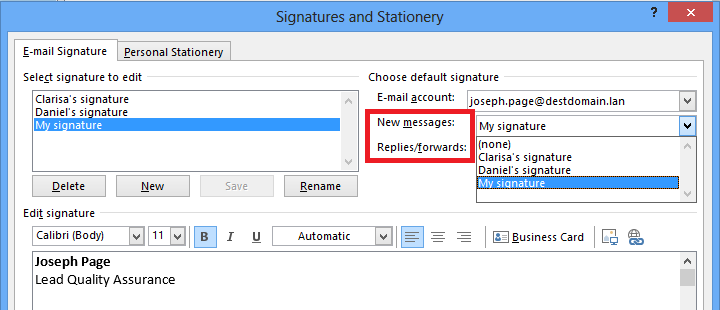 Please note that for Replies/forwards purposes you can choose a pre-modified (shorter) version of the actual signature for new messages; or even set a completely new one.
3) For the subsequent email accounts please repeat steps 1 and 2.
Having completed all above mentioned instructions, remember to confirm your setup by clicking on the OK button at the bottom of the Signatures and Stationery window.


Well done! You've just managed to arrange all specified signatures to your individual email accounts on your Outlook client. But before we go into high-fives there's one more thing to consider. What if the exact number of your active email accounts on your Outlook exceeds rational amounts? And manually setting up such a number of signatures would be an enormous effort? In that case there are a few solutions that should put you at ease.
First of all, you should try to establish rules on your mail server, which will automatically manage signatures for all outgoing messages (see these tutorials for Exchange 2010, 2013 and Office 365 platforms). If you cannot arrange it yourself, contact your mailbox administrator and ask him / her to fulfil this task if convenient.
Just bear in mind that Outlook and native Exchange Server tools have rather scarce possibilities in terms of modification and general optimization of signatures. The easiest way would be to use third party solutions like CodeTwo Exchange Rules Pro (for Exchange Server) or CodeTwo Email Signatures.
See also