It is very likely that for many of you this year has not been the best of all years, but let's cheer up. 'Tis the season to be jolly, after all. Now is the perfect time to share some happiness with your work colleagues, business partners and clients. So, grab one of the signature templates we prepared for you and deck your mails with boughs of holly. Fa, la, la, la, la, la, la, la, la!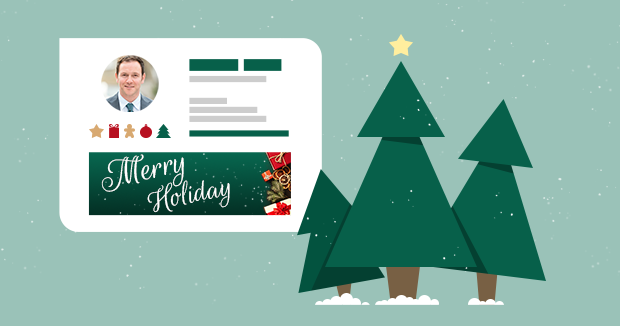 This year we prepared some new festive email signatures which you can use in your private and business communications to adorn your messages with stars or presents or gingerbread cookies. Our signature templates are absolutely free to download and you can use them as they are. But if you're feeling particularly creative, you can open them in our editor and treat them as an inspiration for your own holiday project.
Now, follow me in merry measure and let's take a look at what we've got for you.
Presents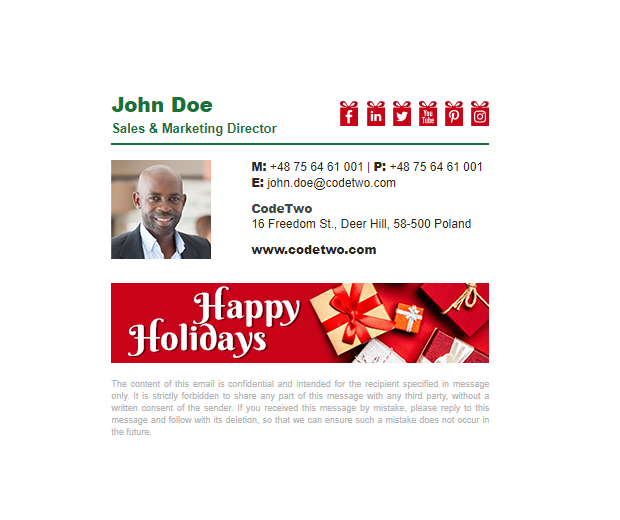 Everyone loves getting gifts and many enjoy giving them to others! This signature is a holiday season classic with bright red being the main color and with social media icons in the form of presents that will bring joy to anyone who gets an email from you. This template will work great if you've prepared a holiday treat on your Facebook, Twitter, or Pinterest profile and want to invite your readers to take a look.
Download this email signature or edit it for further adjustments
It's snowing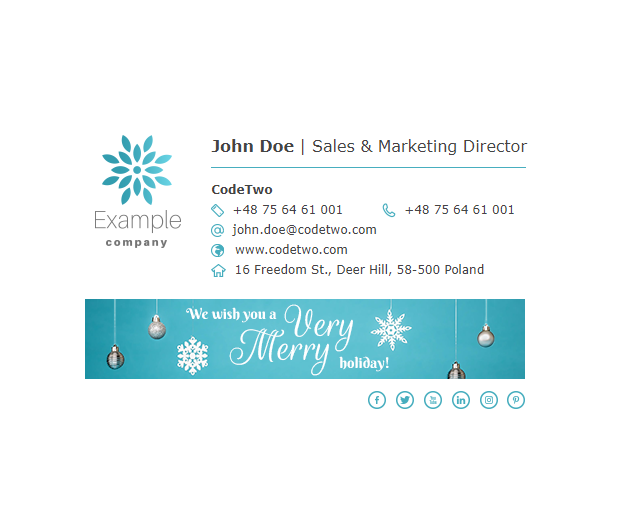 Imagine a beautiful winter landscape. Imagine the snow falling gently from the sky. Imagine the frost patterns on your window pane. Our wintery email signature will take you to that place. Share the joy of a beautiful cold winter morning with the recipients of your emails by using this signature template.
Download this email signature or use our editor to adjust it to your needs
Holiday decorations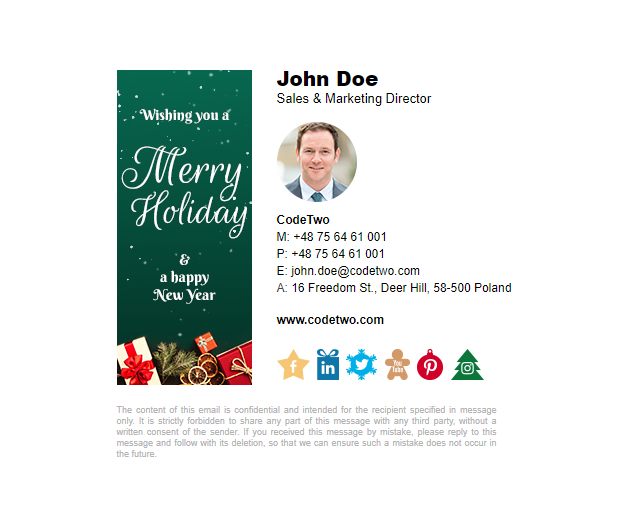 In the holiday season we decorate our homes with colorful stars, toys, snowflakes and gingerbread cookies. So, why not add the same touch to your email signature? This template has them all, plus a nice holiday banner to share your best wishes with everyone you write to.
Download this email signature or edit it to your liking in our online tool
Classy holidays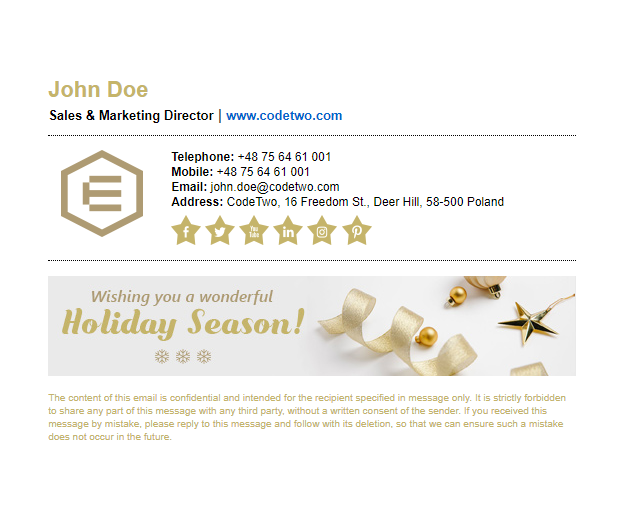 For those special occasions when your holiday emails must be more formal and elegant, we have this classy template in the colors of gold and white. If ever you need to write to your most important client, this is the one to choose.
Download this email signature or modify it in our editor
See more holiday signature inspirations in our previous articles: