For many of us spring is the most eagerly awaited time of the year. No more snow, and finally the sight and smell of fresh green grass, blooming flowers and the sound of happy chirps of birds outside the window. You can literally feel that spring is in the air when the sun finally lights up your room (or office) warming up the atmosphere. Why not share some of this joy with others? Although we still live in difficult pandemic times, you can always send some positive thoughts to your customers and colleagues with these heart-warming signatures.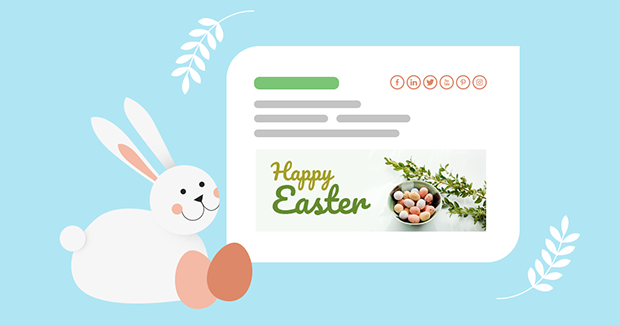 We prepared a bunch of free Easter and spring-themed templates, which you can use any way you like. You can use the free seasonal banners we prepared for you as they are or become inspired with our ideas and unleash your own spring creativity. Feel free to customize the designs directly in our email signature generator or download the templates and create something special on your own.
Let's take a quick look at these blooming templates that will brighten your company email signatures with some spring vibe!
Spring-green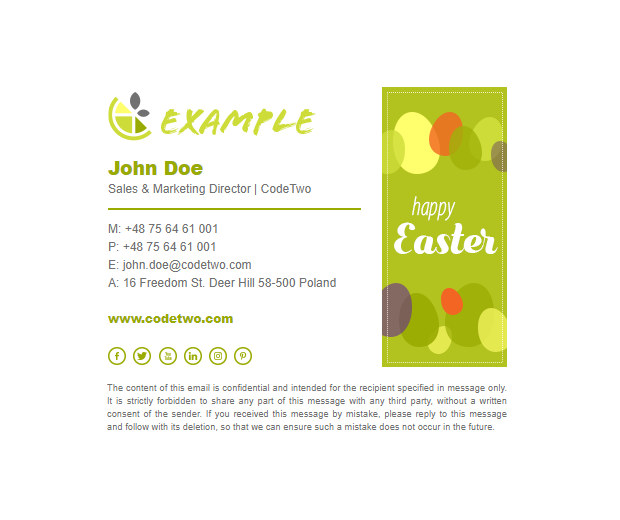 When you see green, you think about spring. This fresh and vibrant color creates associations with nature and positive feelings. By using a green-themed email signature template, you can add some happiness to your recipient's mailbox. The bright and colorful promotional banner with Easter greetings and an abstract composition of egg-shaped forms will surely attract attention.
Click to download or edit this signature in our email signature generator.
Egg hunting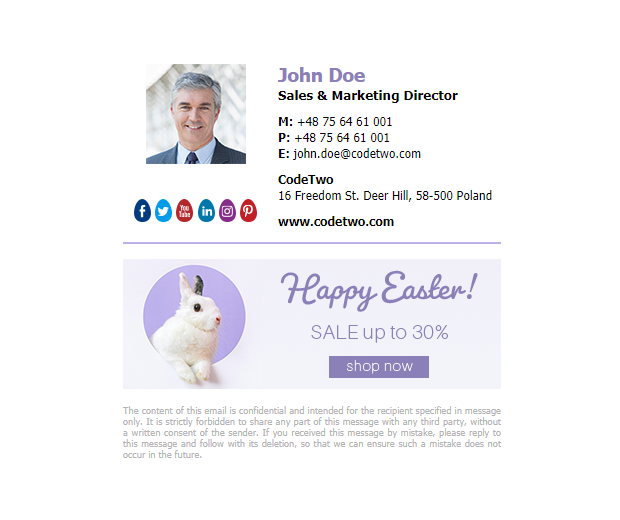 This traditional Easter game brings joy to children and adults all around the world. Searching for hidden, colorful eggs and exchanging them for sweets or presents is a nice way to celebrate the time we spend with our nearest and dearest. Why not share some festive joy using this Easter email signature? With this template, your recipients can also join your egg hunting game.
Download this email signature or modify it in our editor just as you like.
Spring celebration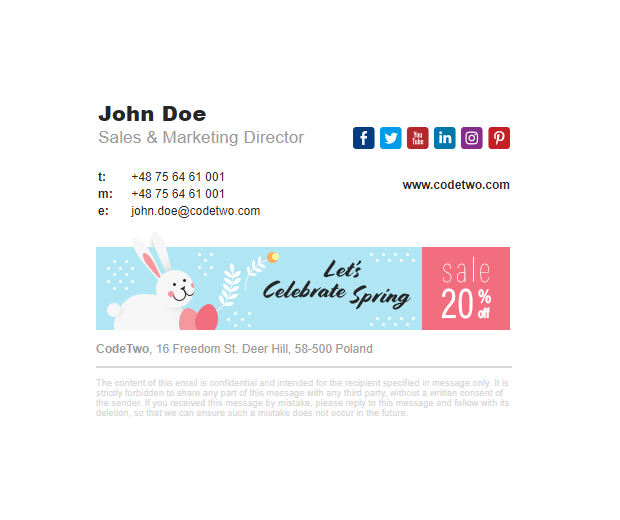 Spring is celebrated as the time of new life and new beginnings. We enjoy this special season by spending more time outdoors, catching the sun as it returns after the long dark winter. We look after the plants in our gardens and tidy up our homes. Celebrate the spring season in the company of a fluffy bunny hopping around our promotional banner and make your company email signature bloom with color.
Download this email signature from our template library or edit it to your liking.
Traditional Easter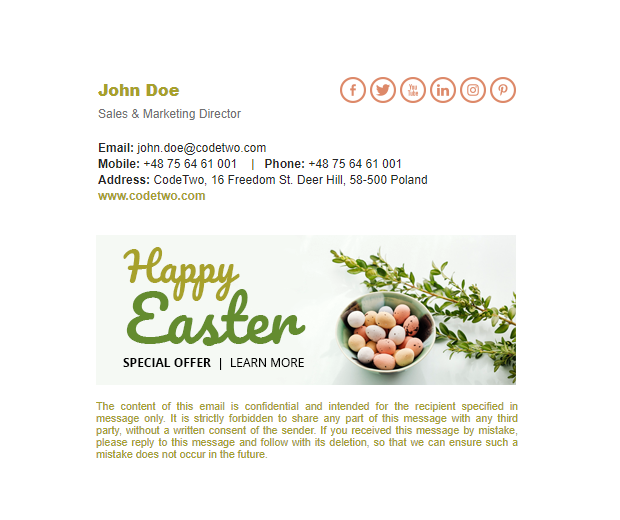 If you are looking for an elegant theme for your emails, this signature template perfectly captures the essence of Easter. It's traditional, natural, and symbolic. It brings to mind Easter customs and the time we share with our families.
Click here to edit the signature or download it and start using it right away.
See also:
Need some help designing your company email signature? Take a look at our previous articles: