Nowadays, similar to other holidays, Halloween has become not only a time for family celebration, but also a great business opportunity. Let's back it up with some figures from US's National Retail Federation (NRF). From 2015, the total Halloween spending in the US has been generally on increase (except for 2020 due to the COVID-19's impact). It amounted to $6.9billion in 2015 and rose to $8.4billion in 2016 to eventually reach $9.1billion in 2017. The following years saw the stabilization of the trend at around $8-9billion. In 2021, Americans are expected to spend up to $10.1billion in total.* Obviously, masks and costumes are still very popular products but, interestingly, party food and drinks are now having the greatest share.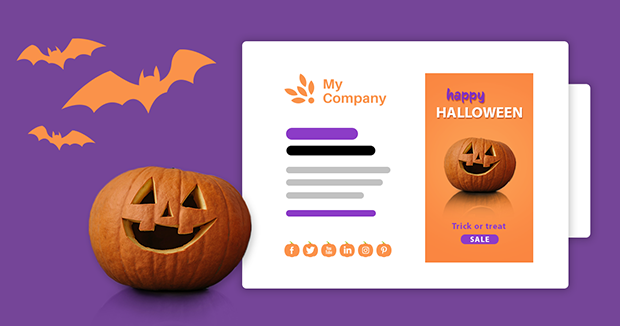 All in all, there's a rising trend in Halloween sales, and you can use this trend to promote your business or an organization you work for. There are a lot of ways to do that, e.g. through TV advertising or ecommerce platform campaigns, but we often tend to forget about email communication. Company's email signatures are a perfect marketing tool to engage customers and promote campaigns. And they are easy to set up if you use these professionally designed, Halloween-themed, free signature templates.
The brighter side of Halloween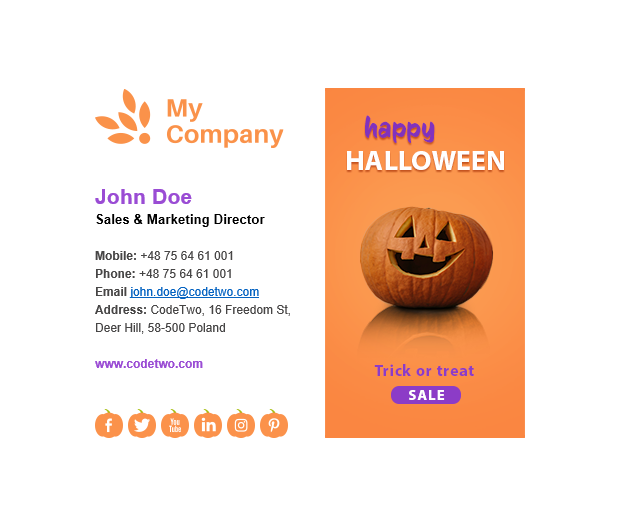 Who said a company email signature for a Halloween sales campaign has to be dark and serious? After all, this celebration is also about having fun by taking part in parties or colorful parades. With this free template, you can put your customers into a positive mood. And being as happy as a smiling pumpkin, they will be more eager to click the SALE button and engage with your offer. It's a win-win situation!
Download for free or edit this Halloween-themed template in our free email signature generator
Celebrate with style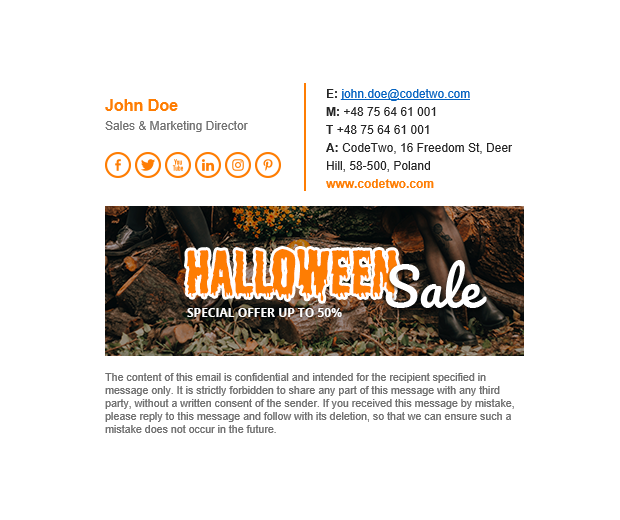 With lots of parties, parades, and other dress-up gatherings, the Halloween season is a good period to promote costumes, masks, and accessories (or garments and shoes in general). If you wish to launch a stylish campaign, go for this free signature template with an elegant banner. Interesting fonts and an intriguing background will only make your customers more captivated and engaged.
Download this sample email signature from our library or edit it however you like
Orange pumpkins everywhere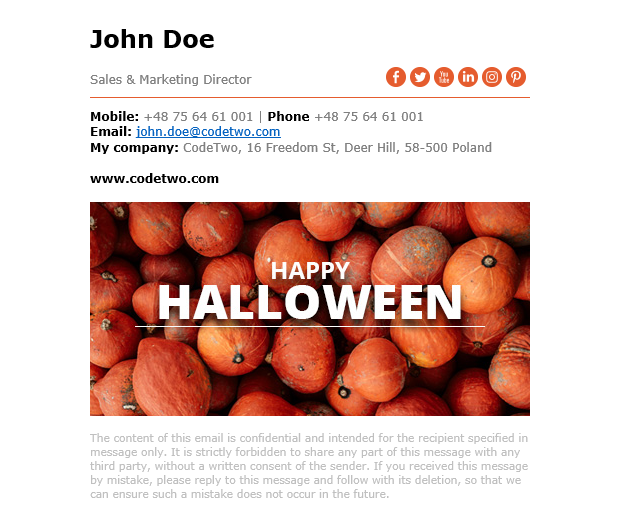 This signature template with a banner full of fresh pumpkins in a vibrant orange color and the happy Halloween greetings will surely make everyone cheerful and engaged in email communication with you.
Click here to download this free email signature template or re-design it according to your liking
Halloween in a class of its own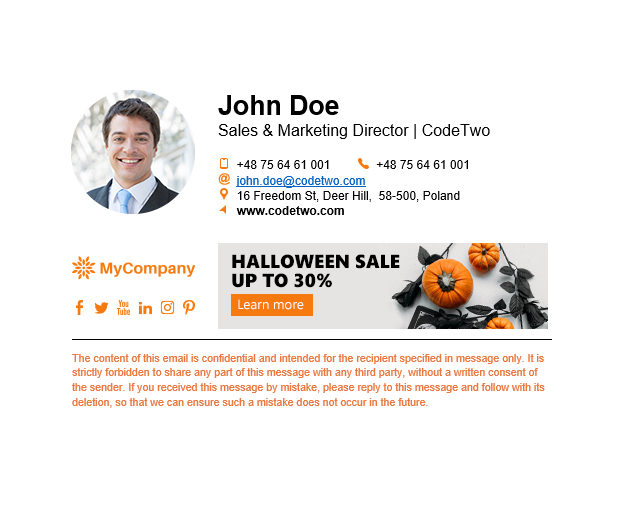 Some people don't like the Halloween vibes because of cheap plastic masks, badly designed costumes, or kitsch horror movies on TV during the season. If you share their view, you can make your email communication far from tacky by choosing this sample signature template. Your customers will appreciate minimalist, orange icons and an attractive banner.
Download this free Halloween email signature or adapt it to your needs with our web signature generator
See also:
*Visit this National Retail Federation (NRF) website to access data from 2015 to 2021.