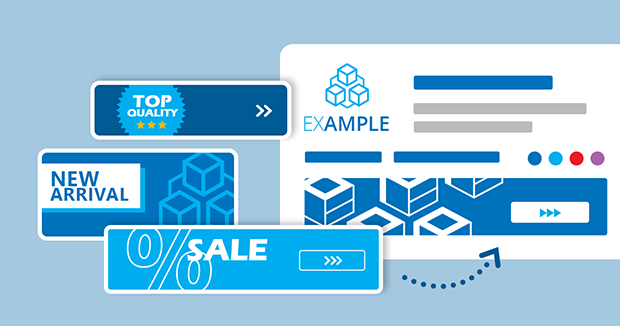 I recently came up with a small marketing hack, which lets the Marketing department run and switch ad campaigns in emails without the help of IT. Nothing too complicated (or ominous, as the title might suggest) – some marketers out there may already be doing it. But it saves a lot of time, resources and gives marketers a little more freedom to get creative.
In previous articles I discussed the support for images and setting up server-level email signatures on Exchange or Office 365. If you give them a read, you will realize that to modify any aspect of organization-wide email signatures you have to get your system administrator to apply the changes you want directly on the server. Not a very efficient method, obviously. However, when it comes to banners and other images, it is possible to limit your sysadmin's involvement to only 1 action. Here's how it's done.
1. Design the body of your HTML email signature template.
The banner or image you use has to be hosted online and inserted via the HTML <IMG> tag. For the purpose of this particular hack, you have to use a web server, which allows for substituting the image file with a different one with the same filename.
You can hyperlink the image by putting an <A HREF> tag around the <IMG> tag.
Remember that some popular email platforms (e.g. Microsoft Exchange Server and Office 365) come with personalization capabilities. Use variables such as %%FirstName%%, %%LastName%%, etc. to have users' personal information automatically pulled into their signatures.
2. Ask your sysadmin to deploy the template in your organization.
3. When it's time for a new banner campaign (or any other image like e.g. a new logo), just prepare the new image, give its file the same name and extension you used in the <IMG> tag in step 1 and upload it to the web server.
IMPORTANT: Make sure that the resulting image URL matches the one you used in your email signature template in step 1.
That's all. No more inter-departmental tasks, endless email exchanges and waiting weeks for email banners to be changed.
Hyperlinks in email signatures rotated behind IT's back
It's not possible to skip IT in modifying a URL that has already been included in an email signature HTML template. This leaves only imperfect workarounds such as: creating a marketing campaign blog with a static URL, maintaining a dedicated landing page with rotating content, or setting up a mock URL with temporary redirects to rotating marketing campaign sites.
Email signature management software for marketers
To extend your direct control over organization-wide email signatures to aspects other than banners/images you have to use dedicated software.
CodeTwo Exchange Rules (for Microsoft Exchange) and CodeTwo Email Signatures 365 allow marketers to manage server-level email signatures without requiring the system admin's assistance. Some of the applications' key features include:
Central management via intuitive Administration Panel
WYSIWYG HTML signature template editor
Rule-based automatic email signatures
Wide range of rule conditions
Automatic personalization thanks to support for users details' variables
Start your free trial:
CodeTwo Exchange Rules – 30-day trial
CodeTwo Email Signatures 365 – 14-day trial