Halloween is coming! With its rich and colorful traditions, everyone is bound to have fun choosing costumes, carving pumpkins, trick-or-treating and partying. Although, given the current circumstances, some of these activities might be limited to your home and family. Or you can go virtual with this year's celebrations. So, how about some spooky decorations for your emails?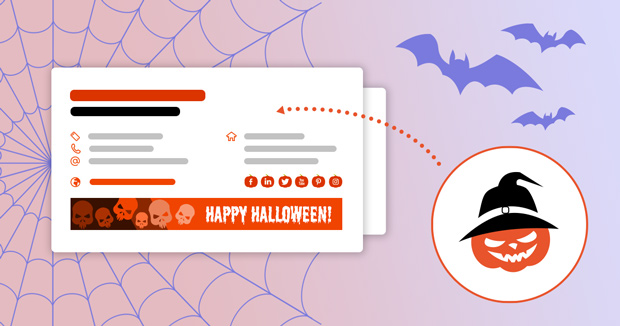 If you would like to add some (pumpkin) spice to your mail signatures, take a look at our Halloween specials. These new free email signature templates reflect the Halloween spirit, so choose the one you like best and share it with your customers, business partners and colleagues.
You can use the Halloween-themed banners provided in our templates for free if you like. Or, if you are in the mood to get creative yourself, be sure to use our signature templates as an inspiration.
Download these free signature templates or customize them directly in our free email signature generator and have fun this Halloween!
Pumpkin Spice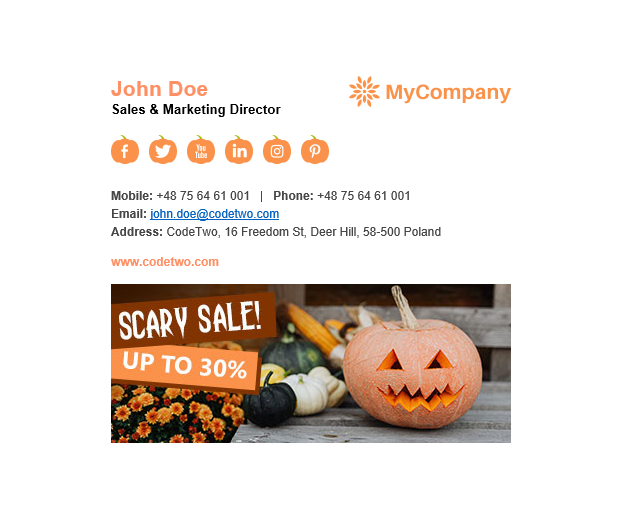 A pumpkin lantern is the most famous symbol of Halloween! So, this thematic signature template uses tiny pumpkins as social media icons. It is also designed with a large banner in mind, so you can unleash your seasonal creativity, just as our designers did with the Scary Sale graphics.
Download this email signature from our template collection or edit it to your liking.
Night and Day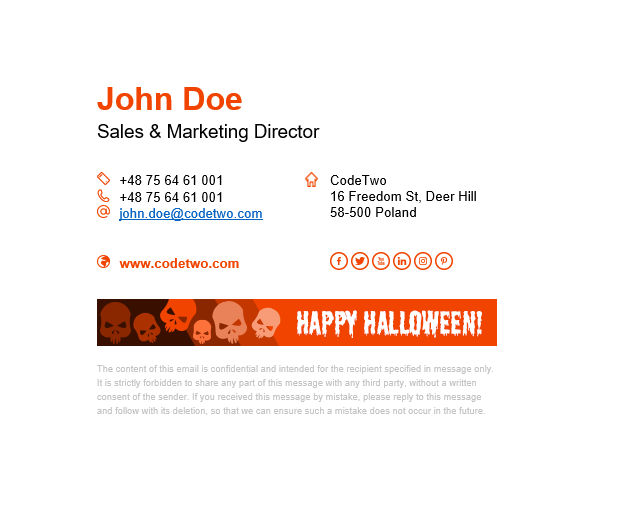 If you need a signature template that looks equally good in standard mode and in dark mode, look no further. You can use it in your everyday communications if warm tones are what you like or you can use the Halloween banner included with this template in your seasonal communications. Download and try it for free.
Click to download or edit this signature in our email signature generator.
A Ghostly Tale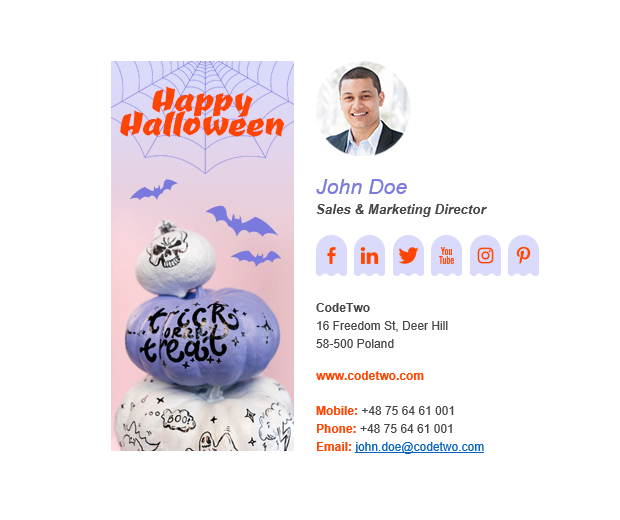 For those who are not afraid of ghosts, we present this scary signature template. With spirits roaming among the social media icons, this is truly a Halloween special. You can download this template for free and use it in your emails to see if you can scare your colleagues, or edit it for use in fun seasonal emails you will be sending to your customers.
Click to download this signature template and edit it as you like.
Happy Halloween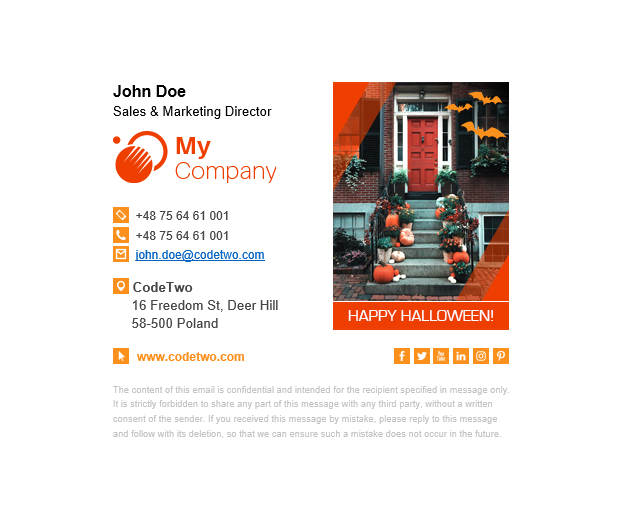 We also prepared a slightly more serious signature template. It was designed for those who would like an email signature for those occasions when you don't want to joke around. Still it immediately brings Halloween to mind by using the right colors. This template will provide space for all the information you need and a legal disclaimer and depending what banner you choose, its overall vibe can be still quite festive.
Download this signature template and start using it or edit it to best suit your needs.
See also:
If you are looking for some more Halloween inspirations click here.