Previous years showed us that Black Friday (often paired with Cyber Monday) becomes more and more popular as an opportunity to make a great deal-hunting right before the Christmas madness. It's also the best time for businesses to creatively promote their products and make some seasonal sale of stocks. Although this year is not encouraging customers to visit hundreds of shops for a price deal, it made many companies focus on their online sale. That's why we've created some email signature designs for you to help you easily promote your Black Friday and Cyber Monday offers.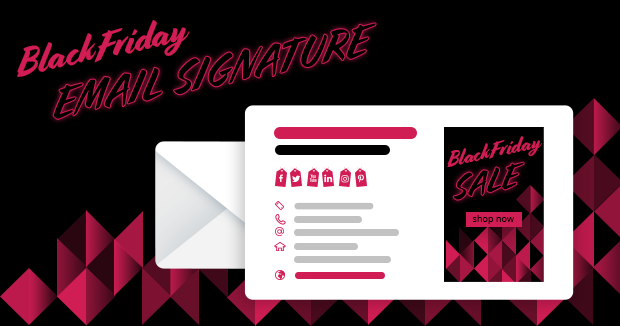 Black Friday email signature designs for 2020
Black Friday is a great opportunity to give your email signature a little refreshment and invite your clients to pop into your online store. Take a closer look at our free email signature templates. You can use one that fits you best or get inspired by our Black Friday promotional banners and badges. When you find a design that you like, you can use it freely in your company email signature.
Coral template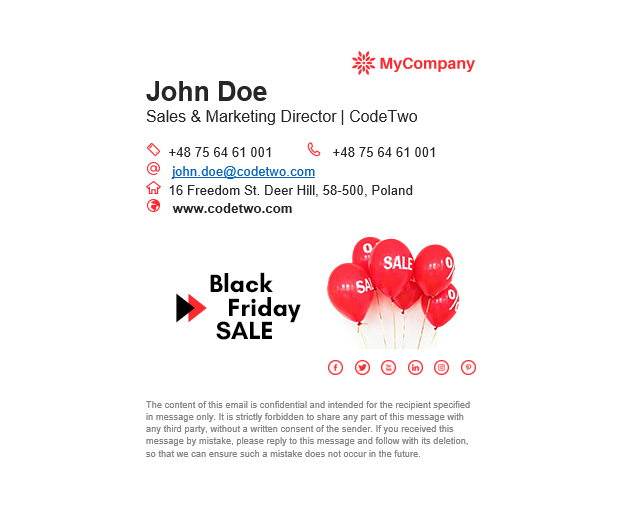 This one-column email signature uses 3-dimensional effect to draw attention to the Black Friday promotional banner with a bunch of balloons popping outside the frame. It's a creative way for a business to grab customers attention by showing they can think outside the box. Overall, the template design is still simple and looks perfectly both in light and dark mode. Coral-colored icons clearly organize space, so the contact information is visible and easy to find.
Download it now or edit it with our free email signature generator.
Neon-pink template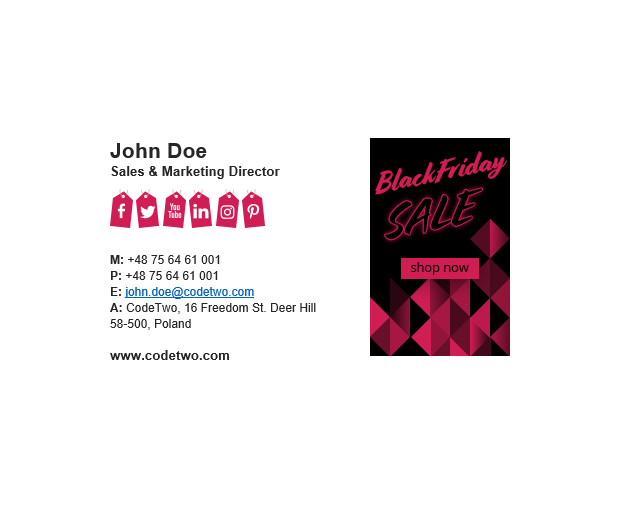 Black Friday and Cyber Monday signatures should grab recipients' attention. That's exactly what this free email signature template is about. First thing that is hard to ignore is a vibrant, vertical banner in pink tones with a CTA button directing to the online shop. To break through the clear look of this signature, we added fancy social icons that look like price tags to enhance some deal-hunting mood. Thanks to that, this template can satisfy companies that sell their goods or services on the Internet and through social media. And it's dark mode friendly!
Download it now or edit it with our free email signature generator.
Blue & yellow template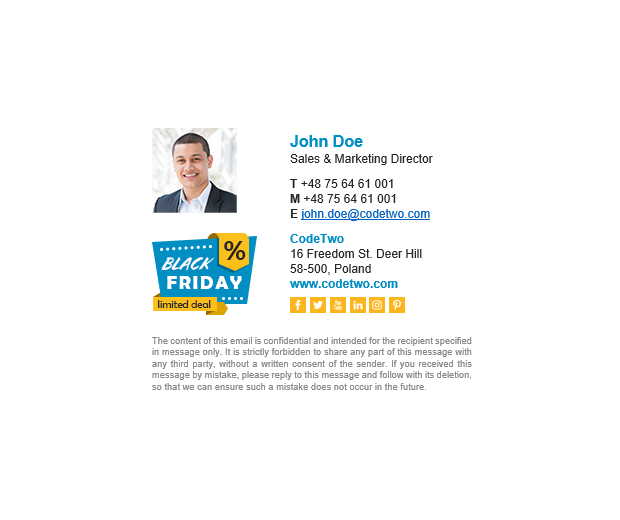 Both your customers and employees deserve to be the priority. This two-column email signature template shows the sender's photo first and a promotional badge right next to it. The blue and yellow badge can link to a page with your Black Friday limited deals and offers. To keep visuals consistent, this color theme is also used to highlight social icons and most important contact details: employee name, company name and website.
Download it now or edit it with our free email signature generator.
Red-white-black template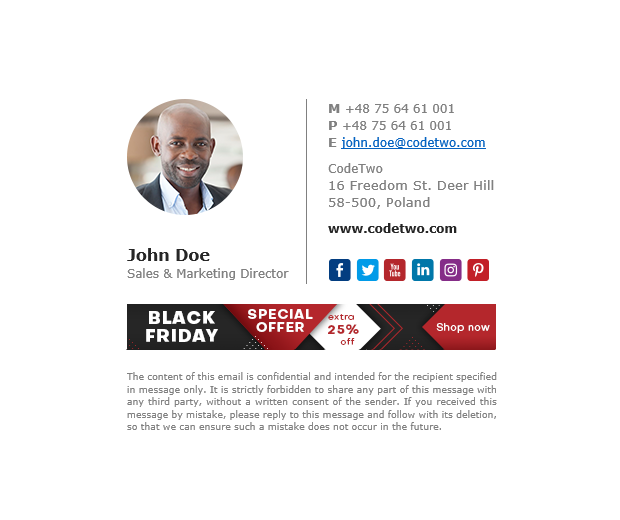 This elegant email signature template is a good choice for your Black Friday and Cyber Monday campaigns. The template contains every element that makes a perfect signature: an employee photo, contact details, social icons, a promotional banner and a legal disclaimer, although it's still clear and modest. Stylish horizontal banner draws our attention to the special offer and directs us to shop online with an extra discount. Its minimal design, bold typography and vine-red color accents give this signature template a sophisticated look. Don't forget to try it out in the dark mode for even better experience!
Download it now or edit it with our free email signature generator.
See also:
If you are looking for some more Black Friday signature inspirations, click here.
Useful links: