Is there really anything special about email signatures for lawyers or attorneys? Actually, there is. Email signatures are like your digital business cards, only they tend to last longer than their paper equivalents. Lawyers send a considerable number of emails all the time and if their signature isn't perfect, their reputation is at stake. If you want to learn how to design a good email signature for an attorney or see a sample lawyer's email disclaimer, read on.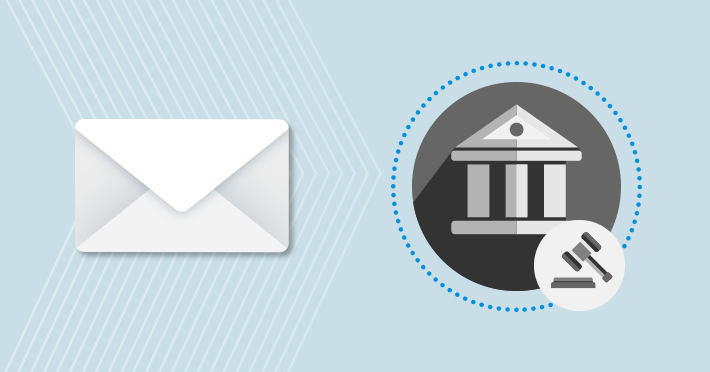 What are the priorities in creating email signatures for lawyers
When designing an email signature for a certain profession, you need to think about this person's priorities. A graphic designer or a web developer should pay extra attention to using the perfect layout which will look well in every email client. You would expect attention-grabbing banners from marketing experts, and so on.
So, what's the priority when it comes to lawyers or attorneys? The highest level of professionalism. This means that you should pay close attention to even the tiniest detail in your email signature. But let's start with listing the elements to include in a lawyer's email signature.
What elements to include in a lawyer's signature
There are some items that should be added to every legal professional's email signature:
Contact details – as obvious as it sounds, surprisingly few people pay attention to providing contact details selectively. Instead of listing phone numbers and addresses of each and every company office around the world, you can either use targeted email signature campaigns or use a link to your contact page.
Email disclaimer – although an email disclaimer has been ridiculed over the years as a redundant nuisance with no practical purpose or legal power, there are some good reasons to use it. As a legal professional, you surely know best what to include in a disclaimer and when to use it. Just remember, your clients will not appreciate it if you send them a two-word email with an essay of a disclaimer, written in two languages and occupying the whole screen. One good way to avoid such situations is to send targeted emails, based on the recipient's domain. Click here for some email disclaimer examples…
Graphic elements – images, such as banners or logos grab attention and should definitely be used in a lawyer's email signature. Just bear in mind that it's usually best to keep the graphics toned down and compliant with your corporate identity. Also, instead of just promoting your services, you might, for example, showcase your awards and provide a link to your online portfolio.
Social media icons – linked social media icons are a good way to boost the number of your profile's visitors. However, the most important thing about them is that they give your recipients a chance to relate to you and develop a connection. Although you can link to any social media channel, as long as the profile you link to is professional of course, the one most legal professionals are expected to use would be LinkedIn.
User's photo – adding a photograph to an email signature is a good way to let your recipients know you. Call it vanity if you must, but that's how human beings work – we simply like to know the faces of people we work with.
How to design an email signature for a lawyer
You can design an email signature from scratch if you want to. Should you decide to follow this path, the articles below provide some general tips about good HTML signature design:
If you want to make your life easier, you can choose one of the well-formatted email signature templates from our library. Thanks to a wide selection of templates, you can find the perfect email signature template for a lawyer, an attorney or any other professional. You can also use the free email signature generator to make the designing process as easy as one-two-three.
No matter if you use one of our templates or design your own, there is still a couple of steps you should remember:
Proofread your email signature – making a typo, even in something as short as an email signature, is easier than you think. It's always good to let someone take a fresh look at your email signature or to review it on your own on the following day. What's more, because you see your signature pop up in every email conversation, it quickly becomes invisible to you. Unfortunately, while noticing a typo may be nearly impossible to you, it will be quite easy for your clients who see your signature for the first time.
See what your signature looks like in various email clients – this is especially important if you have created your HTML email signature from scratch and you would like it to look good on every email client and device. It might surprise you how different a signature may look in various email clients.
Sample email signature templates for lawyers
Here are some examples of what a good email signature for a lawyer looks like.
Example A – simple and social
This template shows that "simple" doesn't necessarily mean "bad". While there is little bling to this signature, you still get the most important contact details and links to social media profiles. What's more, you can enjoy the muted colors and clear professional fonts as they are the focal point of this template.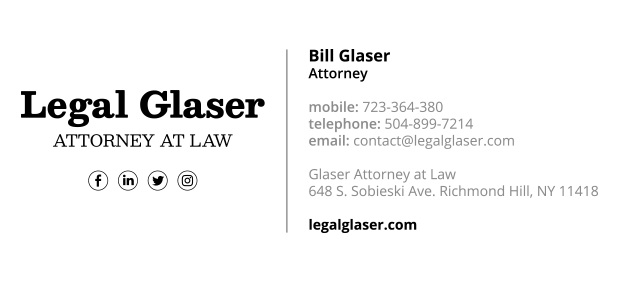 Example B – attract attention
The second example introduces some colors. This will make the signature stand out in an email. Here, the logo is in the spotlight, helping build your brand awareness. The other parts of the signature are designed in contrasting colors, encouraging your recipients to explore what's there. You should be rather careful with such contrasting colors – some combinations simply won't work and using any more colors than in the template below may result in a signature more fit for a clown than for a lawyer.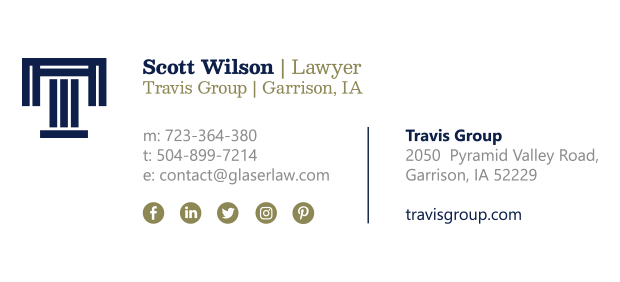 Example C – grab your opportunities
I've saved the best for last. I think this is the email signature design a lawyer should go for. It has everything – a photo, social media icons, an "award banner" linking to your website and a professional disclaimer. The only problem with this design is that it might be a bit too much if repeated in every email in a longer conversation. That's why it's best to use such complex signature in opening emails and add its modified, shorter version to follow-up emails. See how easy it is to set this up in Office 365.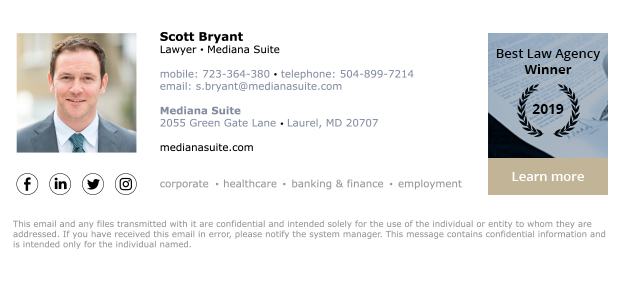 Suggested reading