As a blogger you must have already seen other bloggers leaving comments on your blog. In most cases, the reason they leave comments under your posts is to let you and your readers know they also have a blog that is worth visiting. Some of them put a link to their website directly in the comments, some of them try to look less aggressive and place the link in the signature. The signature is a separate part of your comment, which is not related to the comment itself. In general, it contains the blogger's name or nickname and the link to their website.
But the blogger also have to communicate with the world out there. Most of the times the communication is via email. Your readers may email you for a variety of reasons. However, before you hit the send button when replying to those emails, be sure to include your email signature as well. Some of the readers may be your future business partners, so it is worth taking care of your good self-presentation straight away.
Below you will find some examples of how you can boost your email signature to look more professional.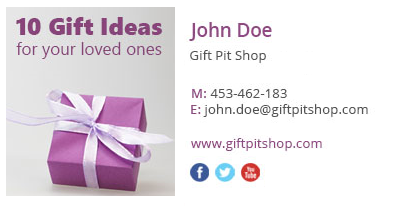 Include only necessary information
If someone is mailing you, they perhaps already know you are a blogger. They may also have seen your blog or website and know general profile of your interests. That is why there is no need to overload your signature with unnecessary information. Keep it short and concise. Adding your first name, last name, your blog name, mobile and email address will suffice. This way recipients will get a smart email signature with only important details included.
Add images to your email signature
Your email signature can look attractive. To make it more reader-friendly, add an image to your signature. This can be your logo, photo or maybe an image from your blog. It's up to you. And when selecting a photo, be sure to keep the balance between the image dimensions and the rest of your email signature.
Use readable fonts
Do not let your recipients get annoyed by trying to decipher your email signature. Creative fonts can be attractive but in email communications use fonts that are easy to read. Following the rule '"the less ornaments and curls, the better" will help you build a nice and professional email signature.

Add social media icons
There is no need to explain how important for bloggers social media are. Including clickable icons to portals where your fans (or potential fans) can find you is a great opportunity to reach wider audience and get more recognized. You should link each icon directly to your social profile. In this article, you can find out how to insert social network icons to email signatures.
---

---
Following the above tips, you will make your email signature look more professional and businesslike in everyday email conversations. Simply build your signature directly within an email client or use this email signature generator. The signature generator have a bunch of predefined email signature templates, which you can freely use to compose your own email signature for bloggers.
If you need to automate the process, use one of the email signature management programs.
See also: