As every other professional, teachers should use email signatures in their email correspondence. In modern schools, teachers not only teach, but also need to take care of more administrative tasks. These tasks include e.g. contacting with parents, organizing school trips or discussing new student books with sales representatives. And, in most cases, teachers have these contacts via email.
In this article, you will find out why you, as a teacher, should include email signatures in your emails and what details your email signature should contain.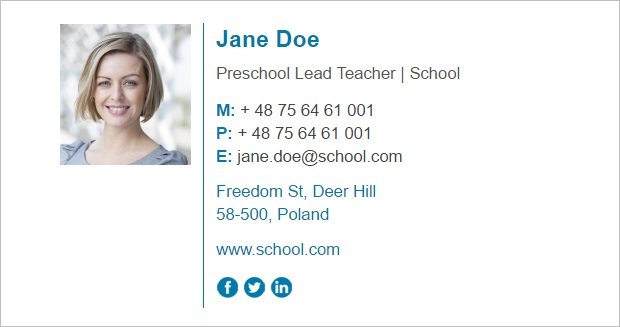 Why you should add signatures to all emails?
Thanks to email signatures, recipients know who they are exchanging emails with and can easily find the way to contact you back, if necessary. When sending emails to student's parents, other schools or organizations, remember to add your email signature to every message. This way you can avoid walking into bothersome situations – e.g. when someone has to send you additional emails asking for help in finding your contact details or for information about the post you hold. This kind of information should be available in your email conversations from the outset.
What details should email signature for teachers include?
Your email signature should include basic personal information like first name, last name and job title. You can also add the name of a school subject you teach, which will be especially helpful when communicating with students' parents. Adding a photo to your signature will make the signature more attractive and bring a little of human touch to the online conversation. As for contact details, be sure to provide a school address, a school phone number and your personal school phone number, if you use one. Don't forget to add your email address as well. Optionally, you can also include social media icons that link to your school-related social accounts.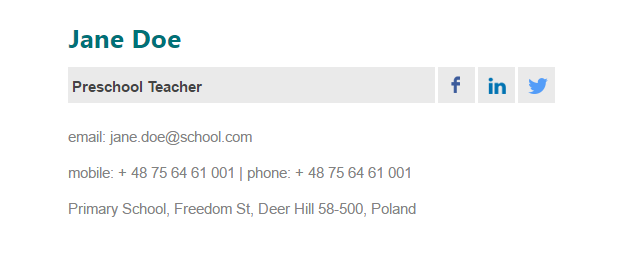 Create an email signature directly in your email client
There are plenty of email clients in use. In the list below, you can find the most popular ones such as Outlook, Gmail or Thunderbird. Select the one you use to learn more on how to create email signatures directly in a certain email client:
Use online email signature generator (free)
If you don't feel like designing an email signature by yourself, you can take advantage of an email signature generator. The generator has a bunch of modern email signature templates that can be freely used to build your own personalized email signature. The best part is that you do not need to have HTML knowledge to use this tool. Everything is presented in a user-friendly, graphical way – the only thing you need to do is to provide information you want to include in the signature.

See also: