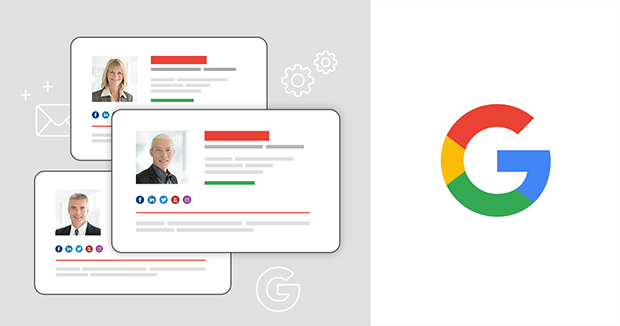 [Update]: This article was updated on December 3, 2020
Google Workspace (G Suite) has the option to add automatic email signatures to all or chosen users. It is included in all Google Workspace plans, apart from the legacy Google Apps Free edition.
To set company-wide automatic email signatures for your Google Workspace organization (or whole domain) using the Append footer option, follow the steps below.
Log in to your Google Admin Console at admin.google.com and click the Apps icon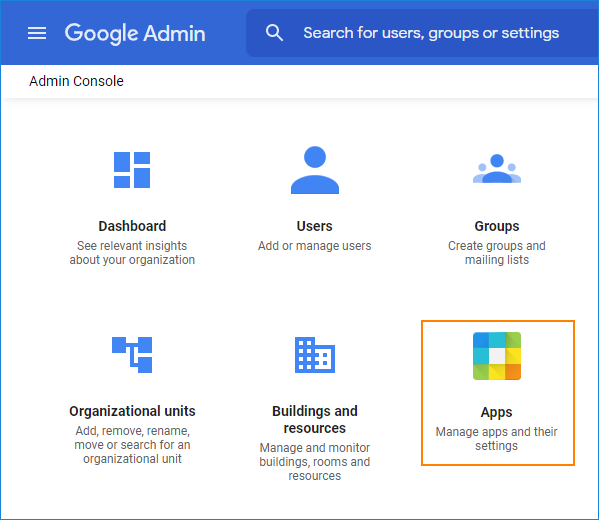 In the resulting page click Google Workspace.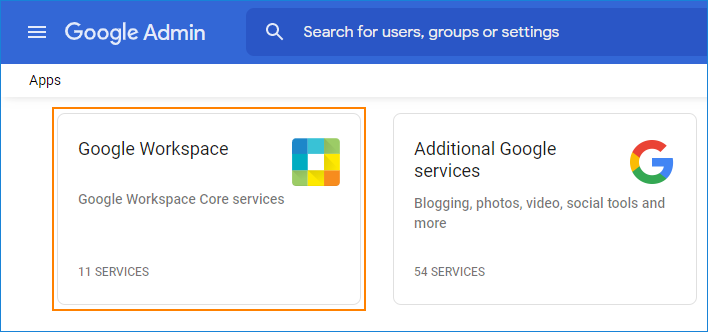 Now, choose the Gmail icon. Note that the Status on the right side should indicate it is turned on.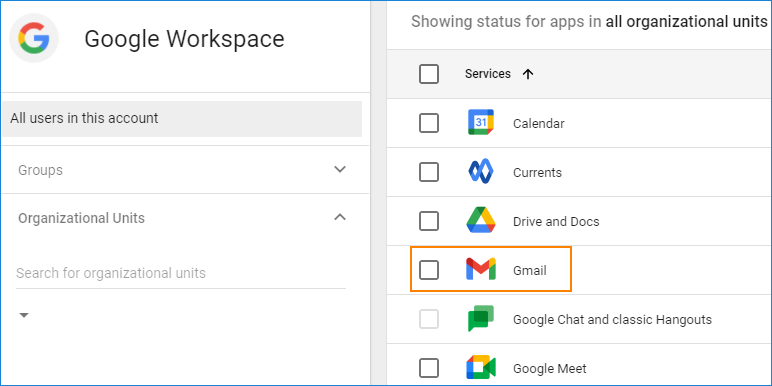 Scroll down and click the Advanced Settings button.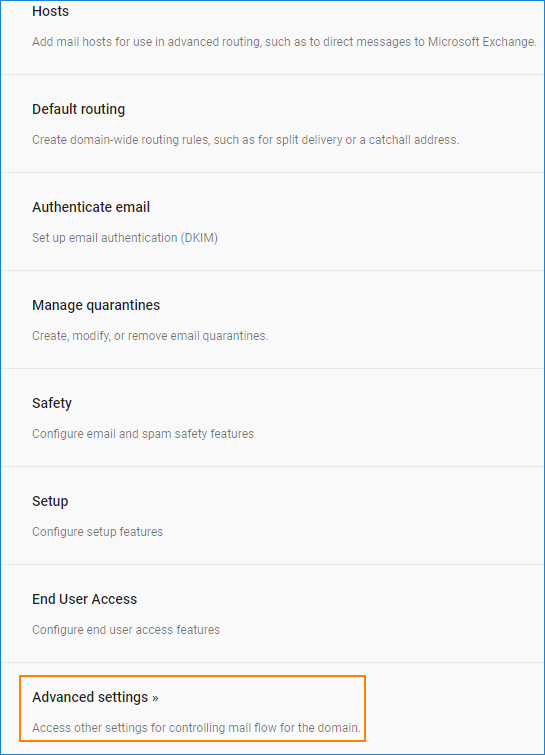 You have just arrived at Advanced Settings for Gmail. Under Organizations select the domain or organization you want to create the signature for (child organizations will inherit the setting) and then type append in the search box or just find the Append footer bar. Click the Configure button, which appears when you glide over the Append footer bar.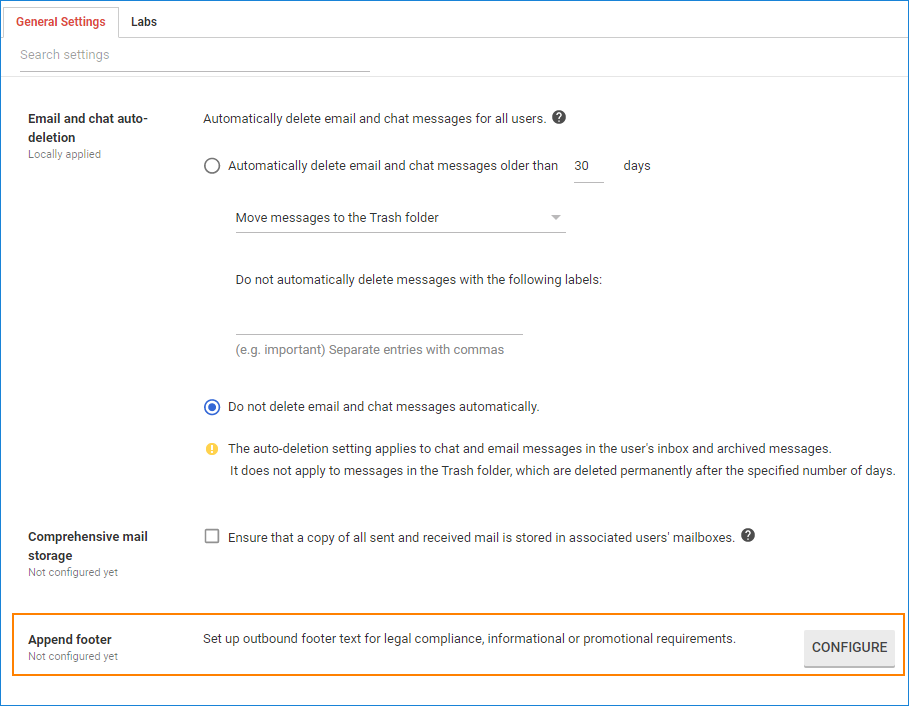 In the pop-up Add setting window, you can compose your signature. The editor is very similar to the one which is used to compose email signatures in Gmail. The signature can contain text, hyperlinks, and images. Keep in mind that the footer will be identical for all your users, so it is best to include only general information.You also have to add a description to the setting (e.g. 'Company-wide signature') and decide whether the signature will be added to internal emails using the Append the footer to messages being sent within your organization option.Click Add Setting when finished.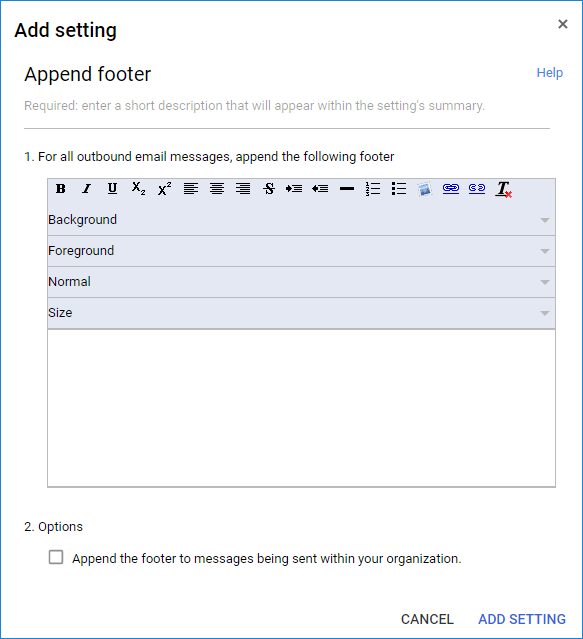 The pop-up window will close automatically. Click Save changes at the bottom of the Advanced settings page.
Your signature is now ready. Perform a test to make sure it works, but keep in mind that it will not be displayed when users compose new emails (Fig. 5). This is because it is attached on the server level. Incidentally, this means that your Append footer setting will apply to Google Workspace mail regardless of the email client (Outlook, Apple Mail, Gmail, etc.) used.
When the email reaches the recipient, the signature is already there. Mind that when the message users send an email message in the plain text format, the signature will also be in plain text format. In other words, the images and hyperlinks defined in the Google Admin Console editor will not be visible, leaving only the text part of the signature.
Limitations of the automatic email signatures in Google Workspace
Features missing from the email signatures applied by the Google Admin Console editor:
Display name and email address variables updated by information in individual users' profiles;
Tables;
Hyperlinks and tooltips in images
HTML source access.
Email signatures visible while composing a new message and in the Sent Items folder.
Read more: