When deploying email signatures for multiple users from a central place, you need a way to easily include these users' personal information like names, titles, departments, addresses, etc. in the signatures. This is achieved using placeholders integrated with a central directory that stores users' personal details (e.g. Active Directory), and including the placeholders in signature templates.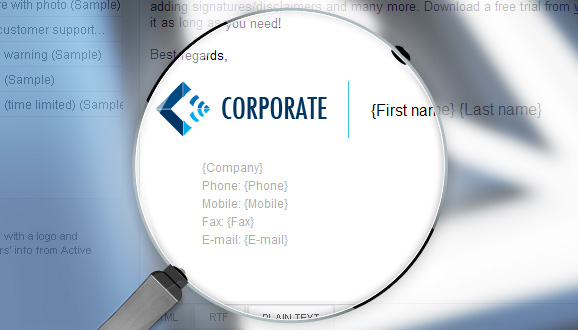 Both Microsoft Exchange Server's and Office 365's built-in email signature management solutions do exactly that, i.e. download data from Active Directory (or Office 365 user directory) into the signature based on who is the sender of the given email.
Unfortunately, Exchange and Office 365 do not support all AD user account attributes. But I think that the ones that they do support, are enough to convey the most important details.
Here is the full list of attributes supported by Exchange's and Office 365's email signature management solutions. I divided them into sections that correspond with tabs in the Active Directory Users and Computers object Properties window. In the right column I've put the Active Directory Domain Services names of attributes (use them when deploying the signature template via a VBS script).
IMPORTANT: When setting up email signatures in hub transport/mail flow rules in Exchange 2016, 2013, 2010, 2007 or Office 365, remember to enclose the ADAttribute (left column of below table) in 2 percent signs, like so: %%ADAttribute_name%%
Active Directory attributes in Exchange and Office 365 email signatures
used in mail flow rules
used in a VBScript
General
DisplayName
AD DS: displayName
FirstName
AD DS: givenName
Initials
AD DS: initials
LastName
AD DS: sn
Office
AD DS: physicalDeliveryOfficeName
PhoneNumber
AD DS: telephoneNumber
OtherPhoneNumber
AD DS: otherTelephone
Email
AD DS: mail
Address
Street
AD DS: streetAddress
POBox
AD DS: postOfficeBox
City
AD DS: l (as in "location")
State
AD DS: st
ZipCode
AD DS: postalCode
Country
AD DS: co
Account
UserLogonName
AD DS: userPrincipalName
Telephones
HomePhoneNumber
AD DS: homePhone
OtherHomePhoneNumber
AD DS: otherHomePhone
PagerNumber
AD DS: pager
MobileNumber
AD DS: mobile
FaxNumber
AD DS: facsimileTelephoneNumber
OtherFaxNumber
AD DS: otherFacsimileTelephoneNumber
Notes
AD DS: info
Organization
Title
AD DS: title
Department
AD DS: department
Company
AD DS: company
Manager
Returns the common name (cn) of the object defined
in the manager AD DS attribute
Attribute Editor*
CustomAttribute1-15
AD DS: extensionAttribute1 through extensionAttribute15
Note: Some Active Directory attributes (e.g. otherTelephone, otherHomePhone, otherFacsimileTelephoneNumber and postOfficeBox) support multiple values. In the case where more than 1 value is provided, the output will include all values separated by semicolons.
* To see this tab in AD Users and Computers, switch on Advanced Features: https://docs.microsoft.com/en-us/previous-versions/technet-magazine/gg456494(v=msdn.10). Custom attributes can also be defined via Exchange Management Console (in users' Mailbox Properties) or Exchange Management Shell: https://docs.microsoft.com/en-us/exchange/custom-attributes-exchange-2013-help
More Active Directory data in email signatures
To be able to include more Active Directory data (than just the attributes listed above) in your centrally managed Exchange signature use CodeTwo Exchange Rules. Other benefits of CodeTwo Exchange Rules are:
✔ A built-in WYSIWYG template editor with easy AD field insertion
✔ Email signatures inserted directly under latest reply/forward
✔ Automatic removal of lines containing blank AD fields
✔ Signatures visible in users' Sent Items folders