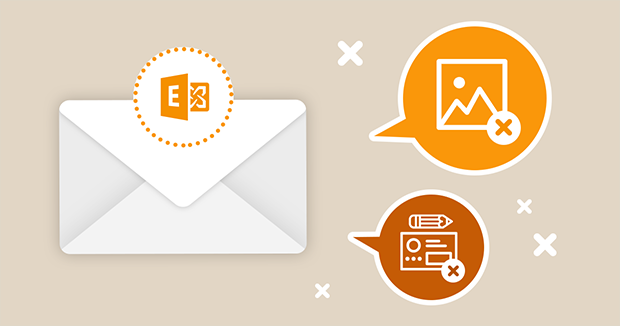 Email signatures have always been there, along with problems connected with using them. Ensuring that all users have the same signature and disclaimer template requires some effort. Fortunately, Exchange 2010 enables central management of signatures and disclaimers. This option makes the task of unifying signatures much easier. However, you have to keep in mind that you cannot do everything using native tools only. Here is the list of drawbacks that Exchange 2010 centrally managed signatures have:
No WYSIWYG HTML editor. Graphic designers do not have to be skilled HTML code users. Therefore, it requires a highly skilled and versatile person to make genuine graphics and ensure that they display in a neat, appealing way. The email signature editor looks like that: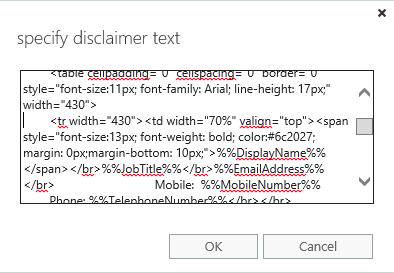 Delegation of signature management impossible. In some companies, administrators make the world go round. They have a lot of work, with requests overflowing in their mailboxes. Adding signature management to their list of responsibilities might cause them to have too much on their plate. Unfortunately, there is no native option of delegating just this aspect of mail flow to someone else.
Cannot add signatures directly under replies/forwards. Have you ever seen email conversations with a dozen signatures/disclaimers stuck to the bottom of correspondence? Or with just one signature at the very bottom? That could be an e-mail sent from Exchange, as those are the only natively available options. If you wanted your conversations to look nicely as those forum discussions, you cannot do it natively.
No inline images. Editing disclaimers in HTML format gives the possibility to include any kind of graphic material in them. Concept arts in the background, users' photos, company/product logos…
You can use it all to create perfect signatures and banners. However, there is no built-in option to attach those graphics to messages. Therefore, recipients will often see that the images are not displayed. In other words, most email clients block graphical content and substitute it with red x icons. This greatly limits the number of people who can marvel at your beautifully designed signatures.
Cannot add signatures as side banners. Ability to design banners for headers or footers creates a lot of opportunities. However, there is some space which usually remains empty, and which (if edited) could provide a great experience for the viewers. Sadly, you cannot create side banners in Exchange 2010.
No scheduling. Each transport rule defining disclaimer insertion has to be applied manually. If you want a rule to start processing emails from Friday, you have to activate it on Friday. If you want the rule to reoccur, you have to switch it off and on, accordingly. Hard to automatize processes and save precious time.
Signatures are not visible in Sent Items. Exchange signature processing tool adds signatures on server level after messages are sent. However, it does not enable senders to see disclaimers and signatures in the Sent items folder. Therefore, you have to be very careful before applying mail flow rules and test them thoroughly. And even then, there is no guarantee everything will work perfectly in all scenarios because those disclaimers tend to work differently in various email clients.
Empty Active Directory fields cannot be removed automatically E-mails can include much information valuable from both sender's and recipient's viewpoint. In signatures, contact details are almost always preceded with a signaling phrase. In case an Active Directory placeholder is empty (i.e. a user does not have an access to a landline, or a mobile phone), signaling phrases are not removed. It can make your signature look unprofessional, with all those empty fields.
No Active Directory placeholder picker. Exchange can pull users' data from Active Directory, but you need to know placeholders' names. It would be much easier and quicker if you could just pick a variable from a list. Apart from that, it would also be safer, with no chance of typos.
No custom Active Directory placeholders. If you wanted to add unique placeholders, like "favorite quote", or implement badges automatically added for your best employees (for internal communication only) or modify your signature in your own, unique way, Exchange 2010 will not offer such possibility natively.
Cannot force email format. Exchange does not support converting a plain text type message into an HTML type. Because of that, keeping company signature unified is a bit hard in case mobile phones are used to send e-mails, as most of them support only plain text format for outgoing messages. As a result, HTML designed signature cannot be appended or prepended to them.
It is quite clear, that although Exchange 2010 disclaimers and signatures can fulfill their role, there are many effects that cannot be achieved natively.