In the modern world, being a software developer is prestigious. You know it. So whether you maintain work connections, or just contact someone on a more casual basis, remember – there is no shame in showing off. I will show you just how to create a perfect email signature for a software developer.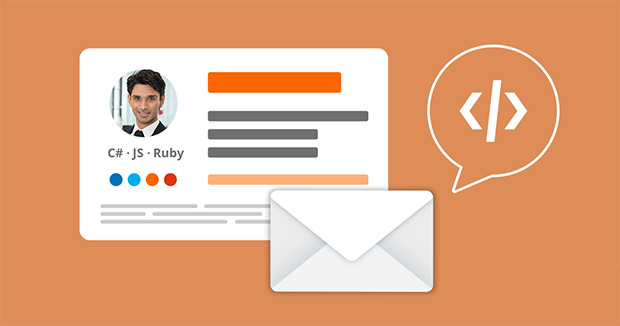 Why focus on email signatures? Emails are the base for professional communication. Email signatures are necessary. They provide contact info and check how professional you are. Yes, people will judge your professionalism and skill, basing on your email signature. You may say it has nothing to do with your abilities, but in fact, it is an exam of your attention to detail. What is more, people have learned to expect a professional email signature as it shows you care and respect your recipients.

This email signature for a software developer has been created by our free Email Signature Generator. You can use the Generator to save yourself troubles with creating a well-designed email signature.
Enclose your contact details
Do not forget to provide information on how to contact you. Phone numbers come in handy if you want to stay in touch in case of an emergency and you are out of office. Some issues require a real-time talk, and it is your responsibility to provide a number which makes such a talk possible. The next contact detail you should include is your email address. You could argue that this is redundant, as the email address is always there when you send an email. However; in conversations (especially longer ones) this email address from the message header usually disappears. Adding an email proves you are foresighted and try to make life (and work) easier for other people.
Show your design skills
As a software developer, you know the importance of a good design. Like good software, good email signatures need to be well-composed. The effect should look well under every message you send. The problem is people might view your messages in various email clients and using mobile devices. Different email clients interpret HTML code on their own, and if you are not careful, you can end with email signatures which look nothing like you planned.
Learn how to create a good email signature in HTML,
Use your photo
Adding a professional photo to your email signature can benefit you in quite a few ways. First, using your image shows self-confidence and works like a charm if you want to build your personal branding. Next, like all graphical elements, it might be problematic. That might be a good thing! Because it is problematic, people appreciate well-formatted pictures (if they are also displayed correctly). Finally, our brains are programmed so that they register faces more easily than they do other graphics. In other words – a photo is a great attention grabber. It would be a shame not to use this attention.
Learn how to make images display correctly in email signatures
Make connections
As your email signature is already getting the attention it deserves, you can use it to make some valuable connections. Add social icons and link them to your accounts. Why is this a good way to expand your professional network? You can choose which emails will have a signature with your social icons and which will not. It is easy to carefully select people you want to encourage to connect with you. You can also use those icons to give your traffic a little boost and promote your webinars, blogs, or anything else you like.
Unified email signatures for your dev team
Creating email signature for a software developer is not that difficult with the help of this article and the guides I linked to. The real problem begins when you want your whole team or organization to have a nice, unified email signature. In the world of branding, promoting visual identity through every means possible is a must.
You can use a free Email Signature Generator with tested, working templates. The Generator provides instructions on how to implement email signatures in Exchange or Office 365 organization. Mind that the native methods of unifying email signatures are more of workarounds than solutions. Because of that, they have some limitations: they can pile up on the bottom of conversations, usually, do not work on mobile devices, do not attach users' photos… If you want to centrally manage your email signatures without those limitations, you need a third party product, like CodeTwo Email Signatures 365, or CodeTwo Exchange Rules.