Email signatures must be appealing. They should be designed in relevance to the department and position one has in the organization. Now, how could the perfect CEO email signature look like?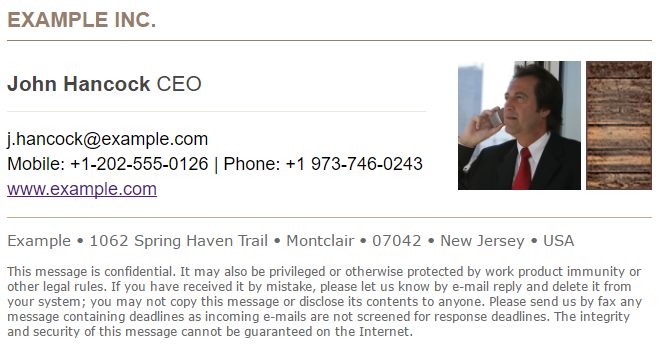 Download this example, for other templates available free of charge, follow this link. You can also use this free email signature generator to create your own signature templates.
Why is it well designed? Let us analyze it quickly in sections
Colors
Look at the toned down colors. It does not include a great variety of colors, and they are quite neutral. Thanks to that, you can incorporate the email signature quite well into a message and graphic content does not overwhelm the recipient. Furthermore, it includes quite a lot of space for manager's photo, so that people can easily associate it with the name. For those who already know you, it provides a means to a swift identification.
Layout
The layout of the signature is clear: It starts with the Company's name, following with your name and title so that clients know immediately who they deal with. The photo is easily noticeable, stressing that the mail is sent by a living being and not an automaton. What is more, three clear sections are reader-friendly, enabling recipients to scan for what they need in an instant.
Data
This template incorporates optimal amount of data: there are contact details and information about the company is highlighted. Thanks to that, it combines the feeling of authority with high promotional value. It is especially suited for those important partners who might get discouraged by straightforwardly promotional banners.
---

---
Disclaimer
Although many people question the necessity of disclaimers in e-mails, it is a common feature in professional correspondence. Legal departments insist on inserting them into messages. For some, it helps to quickly find out if the message is formal or informal. In fact, without the disclaimer, most e-mail messages would simply look unfinished.
Different departments look for different features in their signatures. Therefore, the best practice in a company seems to be setting different signature templates for different departments, changing some of their features, while keeping some common elements to unify company's signatures. Learn more about applying central email signature and taking your branding to a whole new level in this guide.
Software tip
The task of managing email signatures in an organization can be extremely easy with CodeTwo software. Rich signature templates library contains lots of ready to use designs and is a great place to look for inspiration for those who want to make signatures on their own. In addition, templates editor makes designing an easy and pleasurable task. Finally, you can use CodeTwo software to apply different signatures for different departments.