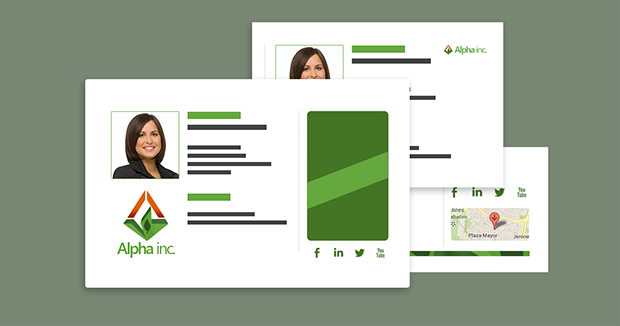 These days a good-looking email signature seems to be an essential part of any business. More and more companies want to create a professional-looking signature as they know that it can tell the recipient a lot about the organization depending just on the way it is presented.

Below you can find some guidelines on how to create a professional-looking business email signature.
First of all, the less the better
Of course, in the signature, you should put all the necessary information such as first name, last name, job title, mobile, email address and/or website, your company's logo and social media buttons linked to most popular portals. It seems to be overwhelming when the signature consists of more information than just mentioned above. It is recommended to avoid many images placed all over the signature – it may be distracting and for some people even annoying.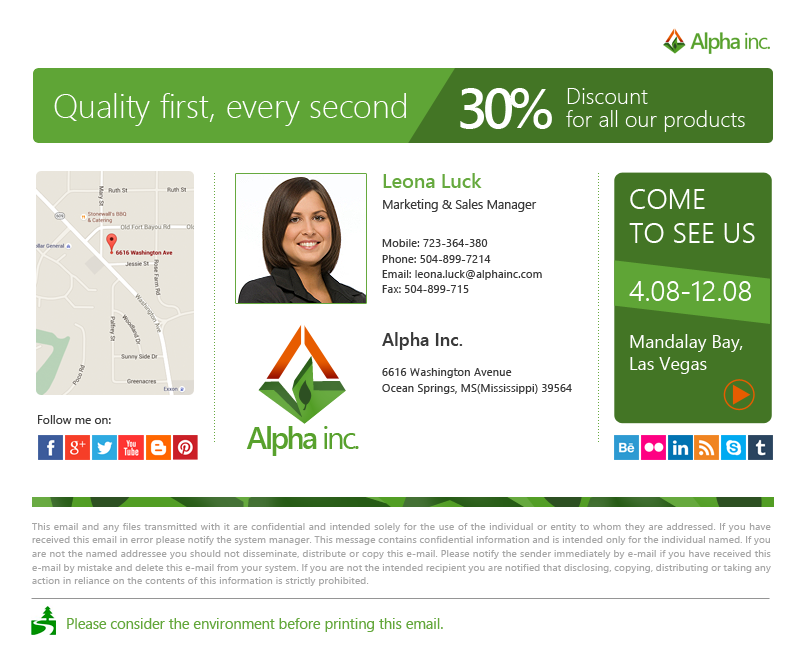 Use a common font to avoid problems on the recipient's side
Making use of some uncommon fonts may be troublesome. Let us assume that you want to create a signature that is special and stands out from other companies' signatures. To achieve that you decide to use one of those fancy fonts instead of the safe ones. Please don't do that. Why? There is a greater chance that the recipient of your email will not have this font installed on their computer. Effect? The signature, instead of being outstanding, looks really bad or the email client changes the font to a standard one as the one you have chosen is not available on the recipient's side.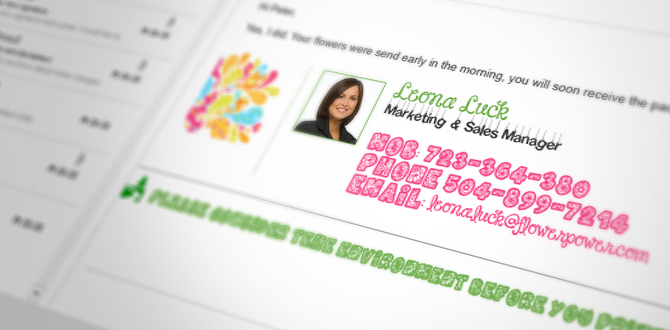 For replies and forwards use a simplified form of your signature
In long e-mail conversation strings, it may be inconvenient to use the full composition of your signature. In reply/forward messages, it is better to keep the signature as short as possible. One of the advantages is that you do not need to scroll down through the whole conversation chain trying to find a piece of information hidden somewhere between signatures. That is why, for replies and forwards, it seems to be more than enough to include just your first name, last name and job title (optionally mobile can be included as well).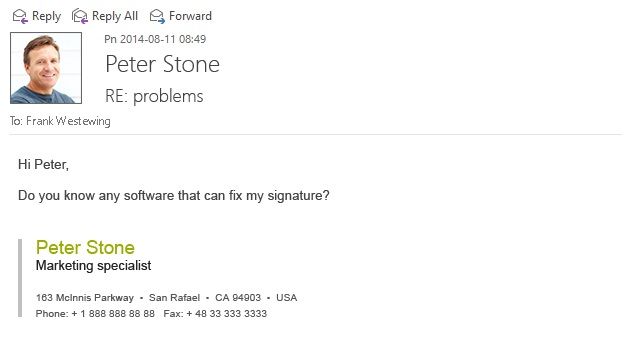 Use the online resource for images inserted in the signature
Can you imagine a worse thing than the image not displaying properly in your signature? Unfortunately, this seems to be a quite common problem, especially when images are inserted from the local disks. A simple solution for that is to choose an online resource as the storage for your signature image and provide an URL of that picture. Thanks to that, you can be almost sure that the image will be displayed correctly on the recipient's side.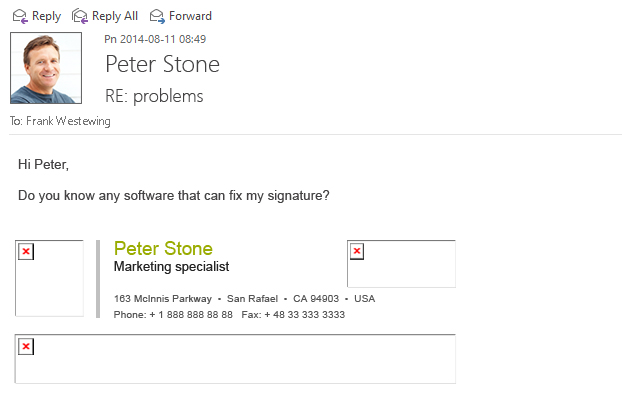 Make sure that all employees in your organization use the same signature
It sounds obvious but not for all. Sometimes we allow the employees to create their own signatures which are added directly at the sender's side. In small companies, it may not be considered a huge problem but in big organizations it can be troublesome to control everyone's signature in order to stick to the standards. That is why more and more companies decide to manage signatures centrally to have a full control over their corporate visual identity. Microsoft Exchange server users, for example, can achieve that by adding a transport rule directly on the server.

To learn more on how to configure email signatures in specific email clients or systems please follow the links below:
Exchange 2013
Office 365
Outlook 2010 or 2013
Google Apps
However, as native signature solutions have some limitations you can consider using a third party tool like CodeTwo Exchange Rules (for Exchange Server) or CodeTwo Email Signatures 365 (for Microsoft 365).
See also