[Update]: This blog was first published on January 20, 2017. It was updated with new disclaimer examples and some additional information.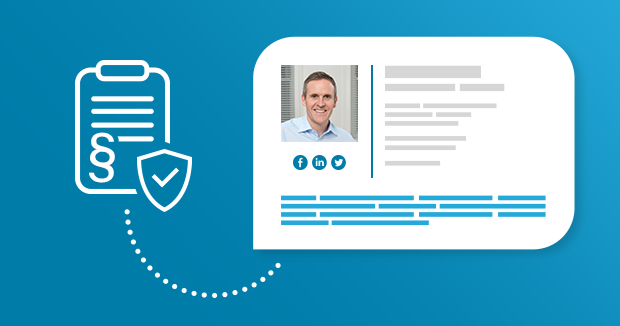 Email disclaimers have been around for a long time, and for a good reason. Despite the ongoing discussion on their legal effectiveness and enforceability, legal teams insist on inserting them into emails. Disclaimers inform recipients about what they can and cannot do with the emails sent from your company. A humble request to inform the sender in case the message was intended for someone else will usually work. Thanks to that, you could e.g. learn that something is wrong in your newsletter subscription list or even save a deal after simply misspelling your client's email address.
If you have a task to create an email disclaimer or signature for your company and your mind went blank, fear not. We are here to provide inspiration.
First of all, do not forget to insert your company's data into the disclaimer. This serves more than one purpose. Providing information on your company is required by law in some countries. For more information on legal requirements for email disclaimers, please consult this article. Apart from the legal aspect, there is also a high marketing value. Including your company's name and other information in every email makes your brand more and more recognizable and reinforces the bond between you and the client.
In this article, you can find text content for your disclaimers. If you want to give them a nice graphic design and combine with a good looking email signature, you can do it with our free email signature generator. Here, provided email disclaimers examples are divided into sections depending on what they apply to:
Confidentiality
One of the most important things to mention in a good email disclaimer example is confidentiality. Simply speaking, it is to state that the message should be read only by the original recipient and that sharing its content is strictly forbidden. Keep in mind that simply adding such a disclaimer doesn't guarantee the email won't be shared or forwarded. If you're sharing strictly confidential information, it's better to use mechanisms such as encryption.
The content of this email is confidential and intended for the recipient specified in message only. It is strictly forbidden to share any part of this message with any third party, without a written consent of the sender. If you received this message by mistake, please reply to this message and follow with its deletion, so that we can ensure such a mistake does not occur in the future.
This message has been sent as a part of discussion between [Sender's name] and the addressee whose name is specified above. Should you receive this message by mistake, we would be most grateful if you informed us that the message has been sent to you. In this case, we also ask that you delete this message from your mailbox, and do not forward it or any part of it to anyone else. Thank you for your cooperation and understanding.
Security
This is a reminder for the addressee that they should check the message and attachments against viruses. This may either prevent clients' computers from infection, or the company from being sued for the damage caused by viruses.
[Your company] puts the security of the client at a high priority. Therefore, we have put efforts into ensuring that the message is error and virus-free. Unfortunately, full security of the email cannot be ensured as, despite our efforts, the data included in emails could be infected, intercepted, or corrupted. Therefore, the recipient should check the email for threats with proper software, as the sender does not accept liability for any damage inflicted by viewing the content of this email.
Contracts
Sometimes, it might happen that when someone asks for a quotation, the recipient assumes that it equals entering an agreement. In other situations, an employee might get carried away and promise something that oversteps their authority. Those email disclaimer examples help both parties avoid misunderstandings.
This quotation request is sent to compare available offers and does not imply entering into a legally binding contract.
No employee of [your company's name] has the authority to conclude any binding contract without an explicit written consent of their supervisor. Therefore, any will to enter into an agreement must be confirmed by the [Sender's name]'s manager.
Environmental
Those email disclaimer examples are very short and with a nice green icon can support the environment and show that you care.
Please do not print this email unless it is necessary. Every unprinted email helps the environment.
Is it necessary to print this email? If you care about the environment like we do, please refrain from printing emails. It helps to keep the environment forested and litter-free.
Employees liability
This email disclaimer offers the company help when e.g. an employee writes something offensive. It is a safety measure against the company being sued for personal viewpoints of individuals in the company.
The views and opinions included in this email belong to their author and do not necessarily mirror the views and opinions of the company. Our employees are obliged not to make any defamatory clauses, infringe, or authorize infringement of any legal right. Therefore, the company will not take any liability for such statements included in emails. In case of any damages or other liabilities arising, employees are fully responsible for the content of their emails.
The opinions and beliefs expressed in this email are mine and do not have to reflect opinions and beliefs of the company.
Estimated response time
Estimated response time is usually added to emails sent from shared mailboxes which observe an intensive mail flow. A good example is a technical support email address. Information on when to expect a response is often added to a disclaimer found in the automatic response.
Due to an increased number of support requests we are currently receiving, it may take up to X days to receive a response. We always respond to licensed users first. We apologize for the inconvenience.
Email disclaimers in newsletters
Those are especially important, as they deal with subscribers' lists. According to regulations concerned with email spamming and privacy, you have to provide an easy way to unsubscribe from such a list. Are you perhaps wondering what could happen if there is no unsubscribe mechanism? Or if you do not provide information about your company? As an example, according to Canada's Anti-Spam Legislation (CASL), sending a commercial electronic message within, from or to Canada without such mechanism can result in criminal and civil charges, as well as in huge penalties. For more information, you can visit this site. Below, you have some email disclaimer examples to show you how to put it into words.
You have received this mail because you have subscribed for a newsletter at [your website's address]. You can always unsubscribe from our mailing list, by clicking on Unsubscribe You can also reply to this message, including unsubscribe in the topic.
This message is sent to you because your email address is on our subscribers list. If you are not interested in receiving more emails like this one, just hit Unsubscribe.
Thank you for subscribing to our newsletter. [Your company name] team will work hard to deliver good quality information in the fields you have specified upon subscription. However, if you decide that you no longer want to receive such emails from us, feel free to click the link below. Click here to unsubscribe.
If you manage your subscribers' list on your own, you can easily create an unsubscribe link. Just create a hyperlink on the unsubscribe text and link it to: mailto:example@example.com?subject=unsubscribe
Full content email disclaimer examples
---

---
In many cases, you will want to have a disclaimer which falls into more than just one of the listed categories. In such a case, there is a great risk that your disclaimer becomes annoyingly long. The task of keeping such a disclaimer concise and comprehensive is not an easy one, so here is an example you can make use of:
Company ● Street ● City ● Postal Code ● State ● Country ● Website
The content of this message is confidential. If you have received it by mistake, please inform us by an email reply and then delete the message. It is forbidden to copy, forward, or in any way reveal the contents of this message to anyone. The integrity and security of this email cannot be guaranteed over the Internet. Therefore, the sender will not be held liable for any damage caused by the message.
Company
Street
City
Postal Code
Country
website

Information included in this email is reserved to named addressee's eyes only. You may not share this message or any of its attachments to anyone. Please note that as the recipient, it is your responsibility to check the email for malicious software. Finally, the opinions disclosed by the sender do not have to reflect those of the company, therefore the company refuses to take any liability for the damage caused by the content of this email.
Bad disclaimer examples
The legal effectiveness of email disclaimers is subject to many discussions. One of the main reasons for that is a popular misconception that email disclaimers are like a legal contract. They are not.
The three most common bad uses of the email disclaimer are:
a page-long (and I've seen even longer) disclaimers in various languages, which attempt to list each and every possible wrong use of an email. It's especially bad when added to a one-sentence-long email.
Aggressive demands, which are meant to scare a coincidental recipient. They are likely to backfire more than anything else.
Humorous or unprofessional disclaimers added to business correspondence.
Some of the bad disclaimer examples:
It's strictly prohibited to share, copy, print, or otherwise process the content of this email without a written consent from the sender.
This email was sent from an ancient stone tablet.
If I find your email interesting, I'll respond right away. If it's another standard business email, please allow 4 business days for a response.
It doesn't matter what I write here, since nobody reads disclaimers anyway.
How to manage disclaimers for the whole company
In order to automatically insert personalized email disclaimers and signatures or set up fully-branded automatic replies, you could use CodeTwo Exchange Rules Pro (if your company uses Microsoft Exchange) or CodeTwo Email Signatures 365 (if your company uses Exchange Online from Office 365 as a mail server). Those programs let you create and centrally manage email disclaimers that are automatically added to all emails sent from your company. The fact that the email disclaimers can be added at the server level does not require the users to remember to design them, and to add them to emails (even the ones sent from mobile phones). What is more, CodeTwo solutions include a library of already made graphically appealing email signatures and disclaimers. These tools also allow you to create different email signature templates for various departments, automatically using certain disclaimers depending on the recipient's email address and offer much more functionalities. To find out more, go to:
CodeTwo Email Signatures 365 (this software also can operate in client-side signature mode, allowing your users to choose between different signature and disclaimer variants when composing an email in Outlook desktop apps)
Read more: